By Tom Rohrer

Participating in the country's oldest marathon is always a profound and special experience.
However, given the shocking and devastating events at the finish line and in the days following the race last April, this year's Boston Marathon was as significant as any in its history.
Thurston and Grays Harbor counties were represented in the 118th running of the famed 26.2 mile race last week, an experience which created enough memories to last a lifetime.
"Before starting, there was an observed moment of silence and at that point, I was thinking 'wow it's here, this is real and I'm a part of it,'" said Mark Vessey, a McCleary resident who works for the Washington State Historical Society in Olympia and Tacoma. "It was such an honor to be part of such a historic event, especially after last year and it's an honor that I will always remember."
"It was easy to see and feel the courage and love in the city, and (Boston) has definitely recovered with resiliency," said Terra Perkins, a certified running coach who lives in Olympia. "The people are there for the runners, and the runners are there for the people.  They've done what they've needed to do to remain a strong community and not change what the marathon stands for."
For both Perkins and Vessey, it was their first time running in the Boston Marathon, allowing them to fulfill a long standing goal to compete in arguably the world's most famous and prestigious race.  The dream to compete in the marathon had been years in the making for the two runners.
"It always been a goal in back of my mind, really for ten to fifteen years.  I've ran since high school and it's one of those things I've always wanted to do.  It's the Holy Grail for runners." said Vessey, an Aberdeen High School graduate. "In 2011, I made my first attempt to qualify for Boston (and) missed by seven minutes. I took 2012 off, 2013 rolls around and I figured I'd give it another shot. So in 2013, a week after the Boston Marathon, I ran in Eugene, qualified and then had to wait until September to see if I got in.  I knew if I was selected, I would be going."
"After I ran in the 2010 Salt Lake City Marathon, I was sitting at the finish line, icing my knee, and I thought it would be a great idea to qualify for Boston.  At that point, I had to drop time," said Perkins, who's originally from Morganton, N.C.  "Boston is exciting because it's the first ever marathon in America. Each person there reached their goal and that's something everybody can celebrate. You don't just pay a fee, you've had to have worked hard to get there."
Like all marathons, the journey to the finish line is a physical and mental challenge on the participant.   However, in a race where an estimated 1 million people line every step of the course boundaries, adrenaline and inspiration is in high supply, especially over the last two miles of the course.
"There are definitely spots where adrenaline kicked in…times where you got an extra push," said Perkins.  "Running those last two or so miles, the crowd gets really loud during the last half mile. They're loud and emotional already, but it's so encompassing when you're on that last stretch. It fills your body with their enthusiasm."
"At mile 24 or 25, I had my hamstrings lock up for the first time ever and my body stopped. I couldn't move. I was about ten feet from the (race) edge and the crowd was telling me to get up and go," Vessey said.  "You feel the emotion, the energy, and the support. It was the support of crowd that pushed me along."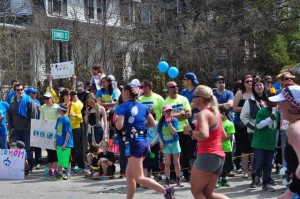 Even with the crowd support, adapting to the course, in particular the high temperatures (for Olympia standards) was an extreme challenge.
"I had to stop and stretch and a police officer asked me if I was ok. I said yeah, it just feels like the dead of summer for me," said Perkins of the high 60s, low 70s conditions in Boston the day of the race. "He thought I was joking."
Despite the far from temperate weather in the area, both runners felt prepared by their extensive training in Thurston County.
"When I found out I was accepted (to compete in the marathon), I used a Boston training program," said Vessey.  "The Boston program is very intense. I jumped on that.  It's a 12-week training course and I felt very prepared."
"I trained for four months, focusing on speed work, tempo and going on a series of long runs each week," said Perkins. "I had friends who would come out and do portions of long runs, those are great friends."
Having the support of friends and family in Boston meant a lot to the pair of contestants.  Vessey was joined by his parents, his fifty-year-old brother, a few cousins and a friend.  Perkins ran with her friend Larissa Ralph from Seattle and consistently greeted other acquaintances from her time on the distance running circuit.
"My brother had never been on a plane, subway, or really traveled, so this was a big experience for him.  In all, I had seven people there supporting me," said Vessey.  "To actually have the family there and form a rooting section was fun.  I know they had a great time being there, so it was enjoyable for everyone."
"A running (friend) traveled with me. She was my pit boss and my navigator and organized travel details like where we needed to be for busses and where we would meet at the end," said Perkins of her good friend, Chrissy Gourley.  "All I had to do was run, so it was nice to have someone do all of that and it eliminated so much stress."
The sheer will and determination to finish the Boston Marathon was developed on runs around the Olympia area, which Perkins believes highlight the positive nature of the sport.
"I think that Olympia in general has a culture of healthy living. The population out here has a statistically higher level of health and exercise despite the rain," said Perkins. "The fact we can't wait for good weather means that we don't let excuses like that keep us from doing things we enjoy. That's basically long distance running. No excuses just do it."
There were plenty of excuses for Vessey and Perkins not to finish the marathon: fatigue, high temperatures and the pressure of competing in such a high profile event.  The two stood up to those challenges, and were able to take part in the most enjoyable part of every marathon.
"By far the best part of the race is finishing," said Vessey with a laugh.  "There's nothing quite like that moment when you cross that line."