By Leslie Merchant

If Frasier and Niles Crane were still premiering in Seattle today, the distinguished duo would be intrigued to learn that Western Washington is gaining rank in the elite club of artful winemakers. The Crane boys might have convinced their decidedly snobby and exclusive wine club to venture out of its' big city comfort zone and take a trip down I-5 to the Chehalis Valley for some local tastings. For real life wine aficionados, the chance to sample what this region has to offer is coming up during the 7th Annual Chehalis Valley Wine Tour (CVWT) on May 3 and 4.
Thurston County residents are fortunate geographically to be within 15 minutes of Western Washington's burgeoning wine country. It's no wonder wine enthusiasts are capitalizing on the unique location to produce specialty wines with historical roots (figuratively and literally).
"What a lot of people don't know about Tenino is that the main highway to get from Portland to Seattle was this little highway right here," says Scatter Creek Winery owner Andrea Keary. On the first weekend in May, between 350-500 wine lovers will follow the wine trail from Tenino to Toledo. The Chehalis Valley Wine Trail features six boutique wineries each with its own unique flair including Agate Creek Cellars, Bateaux Cellars, Birchfield Winery, Heymann Winery, Scatter Creek Winery and Well's Winery.
For an unbeatable deal of $20 per person, participants take a self-guided tour of all six wineries over the course of two days. Each venue offers one of a kind wine tasting along with an appetizer for the all-inclusive ticket price.
The Chehalis Valley Wine Tour started seven years ago with five wineries and has grown since. Keary says, "Wine touring here is so much fun because each wine is handcrafted from grape to glass. There are so many boutique wineries nestled all over Puget Sound.  The experience is very personal." Keary says that the tour is very fortunate to be sponsored by Lucky Eagle Casino, and that the casino is very supportive of all the local wineries.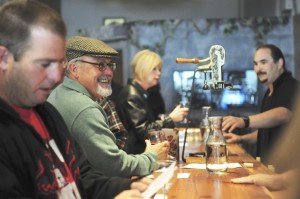 Tasters can choose to do the tour in one or two days. Keary says that many folks choose the two day option so they can spend time taking in Tenino's rich history that began when it was a stop on the Oregon Trail.
Historians will appreciate the sandstone buildings built from the local sandstone quarry and the wooden emergency scrip issued during the Great Depression by the Tenino Chamber of Commerce.
The Chehalis Valley Wine Tour kicks off May 3 at 11:00 a.m. Tickets can be purchased through Scatter Creek Winery 360-264-WINE or Lucky Eagle Casino & Hotel by calling 1-800-720-1788. Please mention the code WINETOUR when calling the casino. For additional information, click here.
And since the television series "Frasier" ended in 2004, the coveted title of "Corkmaster" is up for grabs.