By Sara Hollar, Olympia High School Intern to ThurstonTalk
When picturing a ballerina, a bubbly high school freshman with a love of milkshakes and an obsession with Beyoncé may not come to mind, but Anna Thornton proves that she's just as much of a "bunhead" as the next girl. Thornton's hard work, natural stage presence and long history with ballet have allowed her to become a talented dancer. Earning roles such as the Sugar Plum Fairy in "The Nutcracker" and Odette in Ballet Northwest's upcoming production of "Swan Lake," Thornton is finding fame in the dance world at the young age of fifteen.
Ironically, Thornton almost didn't begin dancing after a late arrival to her first ballet class at the Lacey Community Center when she was just three years old.
"My mom made me go but I didn't really like it. I thought it was horrible but decided to take it again. I hated it then too so I just quit," she remembered.
Once her family moved to California, Thornton took up dance again, this time choosing to take hip hop class which she enjoyed much more. After returning to Washington when she was in kindergarten, Thornton continued to dance. She attended the jazz/tap class offered at Johansen Olympia Dance Center, because hip hop wasn't available for her age group.
"Jazz/tap was alright but then the next year I could finally take hip hop again. Nancy Rawson was my teacher and she's my jazz teacher now. She said I should take ballet, probably because I was really bad at hip hop," Thornton joked.
In reality, ballet is recommended for all dancers because it provides a foundation for each different type of dance. Thornton tried taking ballet again and immediately loved it. She has been taking classes ever since and has never looked back.
Since those first few years of classes, Thornton's love of dance and involvement with ballet have just escalated. When she was eight years old, Thornton was in her first production of "The Nutcracker" and a few years later she joined the Ballet Northwest company. Having classes several times a week and rehearsals on the weekend can be trying but Thornton says it all pays off it come performance time.
"I like that ballet gives me something to do every single day. I always feel happier when I leave than I do when I'm going. I really like to perform too, it's my favorite part of dancing. I feel like Beyoncé," Thornton laughs. "Seriously though, I like classes and performing but my friends at dance are also really important to me."
One of the most significant parts of dancing for the Olympia High School student is the community of support that Thornton has built. She reminisced about taking trips to Seattle for performances, going out to dinner between productions of "The Nutcracker" and having dance parties on stage before the curtain goes up.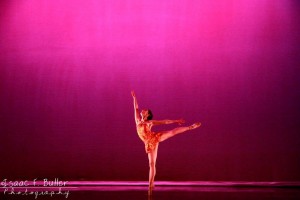 "I love the people at dance, they're more like a family than a friend base. I think my favorite times in life are with my dance friends. We have so many adventures during rehearsals and outside of them. We get along really well because we're all so different yet we all share the same love for dance," shares Thornton.
In addition to connecting with her peers at dance, Thornton has cultivated a special bond with her teachers and the artistic directors of Ballet Northwest, Ken and Josie Johnson. It's their support that makes dance such a welcoming environment for her.
"Ken and Josie are just really great people to be with every day. They have become close with all of us. It's so nice to have such a good relationship with them," Thornton said.
In turn, the Johnson's think just as highly of Thornton. Their confidence in her ability is obvious as they cast her in more difficult roles. They say it's been fun watching her grow as a person and a dancer over the years.
"Not only is Anna a great dancer, but she is a wonderful part of the Ballet Northwest company. She is always very positive, has a fantastic work ethic, and is respected by her peers. We're excited to see her portray Odette, the Swan Queen," said Ken Johnson.
Thornton's first memory of performing on stage, a dance to the song "Tiki Room" in hip hop, is a far cry from her upcoming role in "Swan Lake." She dances the role of Odette, a woman cursed to be a swan, who falls in love with a prince. Thornton feels ready to take on the challenge of bringing this classical ballet to life this Mother's Day weekend. In fact, she loves dancing the famous part.
"Swan Lake is so much fun. I love being a swan because I feel like a princess," Thornton said. "The fact that it's a very classic ballet makes it seem like I'm a real ballerina."
Tilia Fu is one of the ballerinas who dances Odile, Odette's evil counterpart. Fu loves working with Anna to make "Swan Lake" come alive. They both enjoy taking on contrasting personas and dancing opposite each other. Besides admiring Thornton's talents at ballet, Fu gushes about her friend's personality.
"Anna is one of the funniest people I've ever met. She's so sweet and kind. It's very fun dancing with her," Fu shares.
The Johnson's and Fu aren't the only ones to recognize Thornton's strong talent and character. This summer she is attending San Francisco Ballet's summer program for the second year in a row. The program is a rigorous intensive that required Thornton to audition in Seattle before she was selected.
"Last time I was in Program 1 and that was three weeks so this year it's going to be a week longer and more intense. I'm gearing up and getting excited. I really like San Francisco, I'd love to dance there when I grow up," Thornton related.
Despite knowing that she'd like to dance in San Francisco, Thornton isn't really sure if she wants to dance at all as a career. She says that dancing professionally is a tough life but she'll see where the next few years take her. She has a few other careers lined up just in case, including an entrepreneur, owning her own small business. Her other choice jobs aren't quite as practical but she wants to chase them anyway.
"My dream job is being a princess in Disneyland. I feel like people don't take to that idea as kindly as I would hope. That dream is kind of a work in progress but that's okay," she laughs. "My other life goal is to be a Beyoncé back-up dancer but at this point that's not looking like a great possibility either."
Whatever Thornton ends up choosing to do in the future she knows that the lessons she learned through ballet will stick with her for the rest of her life.
"Ever since I got involved with ballet I've worked super hard in school, I've always gotten good grades.  With ballet it's so difficult to fit everything in that there's really no time to be lazy," she explains. "It's been a journey and I've worked really hard to get to this point."
Anna Thornton's strong work ethic and passion for dance make her a joy to watch as she brings characters like the Swan Queen to life on stage.
For tickets to the show at The Washington Center, click here.