By Jennifer Crain
In the middle of a season of spending, it can be dispiriting to try and come up with meaningful holiday family activities. Gifts and shipping costs are expensive, after all, sometimes leaving little for the festivities that are supposed to surround the holidays.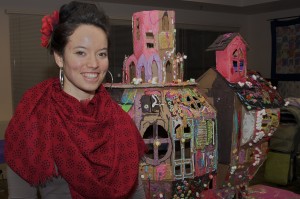 The library is an exception during a time that can be rife with consumerism. Family programs at Timberland Regional Library branches around the county draw people together around free family activities. And done as part of a community, they take on a festive air.
To take part, my son and I headed for the Lacey Timberland Library after school yesterday. When we arrived, kids were already gathered around three cardboard ("gingerbread") structures, baggies of frosting and fistfuls of marshmallows in hand. My son circled a castle-like house that was already sided with graham crackers, the shutters striped with purple and green frosting.
Since Monday, kids and parents have been dropping into the activity room and decorating the giant versions of the traditional holiday gingerbread house, constructed by Youth Services Library Associate Rachel Ikehara-Martin. Once they're finished, the houses will be displayed at the Lacey branch.
Brittney Schramm, a Lacey parent who attended the event yesterday with her son, says the library is a big part of her family's life.
"Where we lived before there was only one library and there weren't really any activities," she says. "Now that we live here, about once a week some member of our family comes to the library to check out materials or attend the events."
Libraries are one of the best resources for families on a budget, says Katheryn Dunham, Senior Librarian for Youth Services at the Lacey branch.
"Public libraries are a bargain because we do not charge for programs," she says, "They are absolutely free."
Throughout the year, parents and caregivers can attend fun programs at local library branches for kids from infants through teens. But did you know that library youth programs are also well researched and aim to meet both the needs of the community and the goals of the library?
For instance, Dunham says, "story times are planned using literacy-based skills, important tools when children are learning to read. All programs keep Timberland's mission in mind, providing a place where people can 'read, learn, connect and grow.'"
Working on gingerbread houses may sound like spun sugar, but for kids who may be more interested in the Wii than Mercy Watson, it's a great way to promote literacy and community by getting them to a place where they're surrounded by books and other kids.
Your kids have one more chance to deck the walls on the Lacey Library gingerbread structures: this morning at 11:00. If you can't manage that, try to make it out for their Greeting Card Program next Thursday, December 20th at 2:30 p.m. And keep your eyes open for more family library programs throughout the county in the months to come.
Upcoming family events at Thurston County library branches: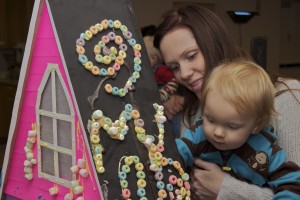 Tenino Timberland Library
Wednesday, December 19
(this event repeats every Wednesday)
3:00 – 5:00 p.m.
Lacey Timberland Library
Thursday, December 20
2:30 – 3:30 p.m.
Olympia Timberland Library
Friday, December 21
1:00 – 4:00 p.m.
Olympia Timberland Library
Thursday, December 27
2:00 – 2:50 p.m.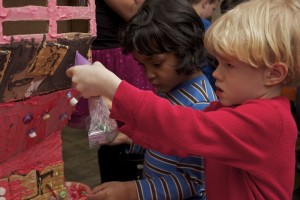 Laugh Yourself Into the New Year
Olympia Timberland Library
Friday, December 28
3:00 – 3:45 p.m.
Tumwater Timberland Library
Saturday, January 12
2:00 – 2:50 p.m.
Storyteller Naomi Baltuck Presents: He Can, She Can, We Can!
Olympia Timberland Library
Saturday, January 26
3:00 – 4:00 p.m.