When Olympia native Mike Auderer downsized from his four-story Victorian home, he really downsized – to a 550-square foot houseboat on Martin Marina in Budd Inlet.
Bobbing directly behind Olympia Seafood Company, the two-story floating home – dubbed "Sweet Pea" by Auderer, inspired by its vibrant green hue – fills its 15' x 40' foot boat slip.
"The whole thing probably started in my head two or three years ago," Auderer says. "I went to Seattle and burned 1,500 pictures of all the houseboats up there. I just walked around and took pictures; then I read some books."
Auderer is a general contractor and his company, Olympia Construction, takes on challenging building and remodeling projects all the time. But a houseboat was a first for this water-loving adventurer.
"You just do it. That's kind of been my whole life," he says. "You learn about it, you do all your homework." Part of Auderer's research involved living on his 34' CHB trawler, the Largo, last winter. He quickly knew he was sold on the lifestyle switch.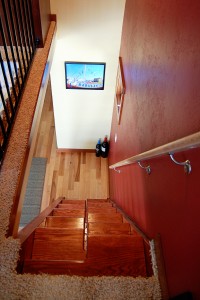 Built over 4 ½ months at Swantown Marina and Boatworks, the 32,000-pound floating home went into the water on January 1st.
Now well into his water-living adventure, Auderer has no regrets about scaling back his square footage and ditching solid ground.
"There's a lot to be said for it," Auderer says of houseboat living. "I waste less food, use less energy, and have less of a footprint. I'm not cutting trees down, I'm not developing dirt, and I'm not worried about drainage, because it's just rainwater going down into the bay where it would normally go," he says.
And living in the core of Olympia means restaurants, parks, and recreation options are right outside his door. "I eat out. I walk to what I need. I don't drive as much," Auderer says. "My footprint is much smaller and I feel like I'm contributing more to the economy of Olympia."
Just a stone's throw across the marina from his houseboat is Auderer's trawler; he'll tie up his speedboat next to the house in the summer months.
"I've been a boater and a water person all my life," says Auderer, who was a rescue swimmer in the navy.
For times when not traveling by foot or boat, Auderer's car is kept in a parking spot close by, which comes with his moorage fee.
The houseboat's hull is 13' x 38' and three feet tall, only 17 inches of which are underwater. The entire structure weighs 32,000 pounds.
There is movement on the boat, but it's not unsettling or even very noticeable. Auderer stands up and strides back and forth across his kitchen, starting a soft swaying. "See?" he says with a laugh. "The precious wine bottles aren't bouncing around."
The main floor, made up of a bathroom, large entry closet (housing laundry, a small freezer, ice machine, and general storage), kitchen, and living room, is 350 square feet. The ceiling height is a very comfortable seven feet eight inches.
The bedroom makes up the second floor and at 200 square feet there's ample room for a walk-around California king bed and two closets. Auderer built a bed frame with drawers for extra storage. The ceiling height slopes from seven feet to six.
Both the living room and bedroom have doors leading out to decks with stunning water and mountain views.
The floating home doesn't lack any modern day conveniences, from a full-size dishwasher and top-of-the-line washer/dryer combo to wi-fi and a flat-screen TV.
The décor is contemporary, warm, and unfussy. A bold rust-colored wall is balanced by taupe elsewhere, and Auderer has added punches of pizzazz with colorful pillows and a vibrant red leather chair.
"This is a great kitchen," he says, giving the grand tour. Clean lines, stainless steel appliances, eye-catching light fixtures, dark wood cabinetry, and sleek pulls all play off a modern tile backsplash. There's a lot more counter space than one might expect.
Auderer and his designer, Diane Gassman thought out every detail of the kitchen to make it both functional and handsome. A slim pull-out cabinet holds spices, while a beverage fridge frees up space in the stainless steel refrigerator drawers.  Toe kick lights throw a soft glow onto the kitchen floors below the cabinets, providing ambience and a functional night light.
What's it like on a houseboat when it's lashing rain outside, as it so often does in the Pacific Northwest?
"It's very cozy," Auderer says. "We'll make popcorn and watch movies. Or we'll put our raincoats on and walk to Lemon Grass or Little Da Nang or Mercato. Hey, you live in Washington, you're going to get wet."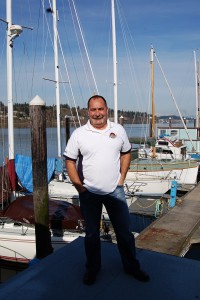 The drop in expenses between his grand old Victorian and the brand new houseboat amazed Auderer. Aside from the cost of building the floating home, his expenses – for insurance, moorage, utilities, Internet, satellite dish, and weekly sewage pump-out – is just $650. Winter heating bills alone at his old place climbed as high as $800.
Right now, there are only four floating homes on Budd Bay, but Auderer would love to see that change.
"I think it's important to have more live-aboards," he says. "Because when there's activity down here, drug addicts and criminals and all those people who don't want to be around activity, they disperse."
Follow Auderer's Affordable Floating Homes Facebook page to see photos of the construction phases of his home and keep tabs on future projects.