Greene Realty Group is now Olympic Sotheby's International Realty, and it's an exciting new development for clients, agents and owner Jim Greene. Yes, that's right, the same Sotheby's renowned for luxury marketplace items and high-profile auctions created the subsidiary Sotheby's International Realty in 1976 bringing that well-known luxury to real estate. The new brokerage house is gaining superb assets that enhance the excellent service they already provide Olympia and the surrounding area without losing their local connections.
The Prestige of Sotheby's International Realty with Local Ownership
Jim Greene started Greene Realty Group on Olympia's westside near the auto mall in 2005. With a half-dozen employees, he too focused on luxury boutique real estate services and built a clientele by investing in the people and community around him.
While continuing to call West Olympia home, the brokerage has also continued to grow. Greene started considering the next phase for his agents, which would include expanded technology and networking with a broader reach. "My agents are the backbone to the company," Greene says. "I wanted to provide them with greater exposure and tools, which will in turn benefit their clients, which is the most important reason I did this."
Such assets and resources are usually beyond the means of most independent real estate companies but having them would help Greene Realty expand its vision. Therefore, when the time was right, Greene looked towards becoming a franchise as the next step. After considering many different franchise options, he felt that Sotheby's was the right choice.
"I have always strived to create a real estate company known for a high level, concierge type of service," Greene says. "When I decided to join a franchise, the only company that spoke to me was Sotheby's. They are known for a luxury type of service to their clients but also to their brokers as well. I wanted to provide that to this market."
Olympic Sotheby's International Realty has a Global Reach
On opening day, the 40 agents at Greene Realty instantly enter a global resource network of 26,000 Sotheby's International Realty agents. They also gain a back-end intranet system of marketing, design, and educational tools. Their reach extends to new social media groups, added print and digital media coverage and the use of the Sotheby's International Realty branding materials.
Though time zones apart, each community that Sotheby's International Realty serves is a local one. Networking may reach across the globe, but that energy resonates here in the South Sound, among all of the buyers and sellers here.
"I grew up here, and I have been known as a local company with local agents," Greene says. "Most of my agents were raised here in Thurston County. I think the agents are what makes a company local, not just the brand."
The appeal of Greene Realty Group to Sotheby's International Realty was an alignment with a company recognized as the locally known company. They liked what Greene Realty was doing in the community and wanted to add their name to it. Whether an agent has six acres, a three-car garage and family home or a waterfront getaway listed, each property is attended to with excellence at a Sotheby's luxury level, with local attention and knowledge. Paired with a new, extensive support base, the possibilities are grand.
New Changes Arrive with Olympic Sotheby's International Realty, and Familiar Features Remain
Good things from Greene Realty continue with Olympic Sotheby's International Realty. People will begin to notice that the new name isn't relegated to luxury prices, it means luxury service. Residential real estate sales will continue as Olympic Sotheby's International Realty while Greene Commercial and Greene Property Management will continue in their same location as wholly owned subsidiaries of Greene Realty Group. Agents remain at the same location in West Olympia too. Embracing local connections and supporting local businesses continues with the Greene Giving Fund. Blue sales signs at listed properties indicate Olympic Sotheby's International Realty is here among the community, and the stellar service everyone knows from Greene Realty will find it only more robust.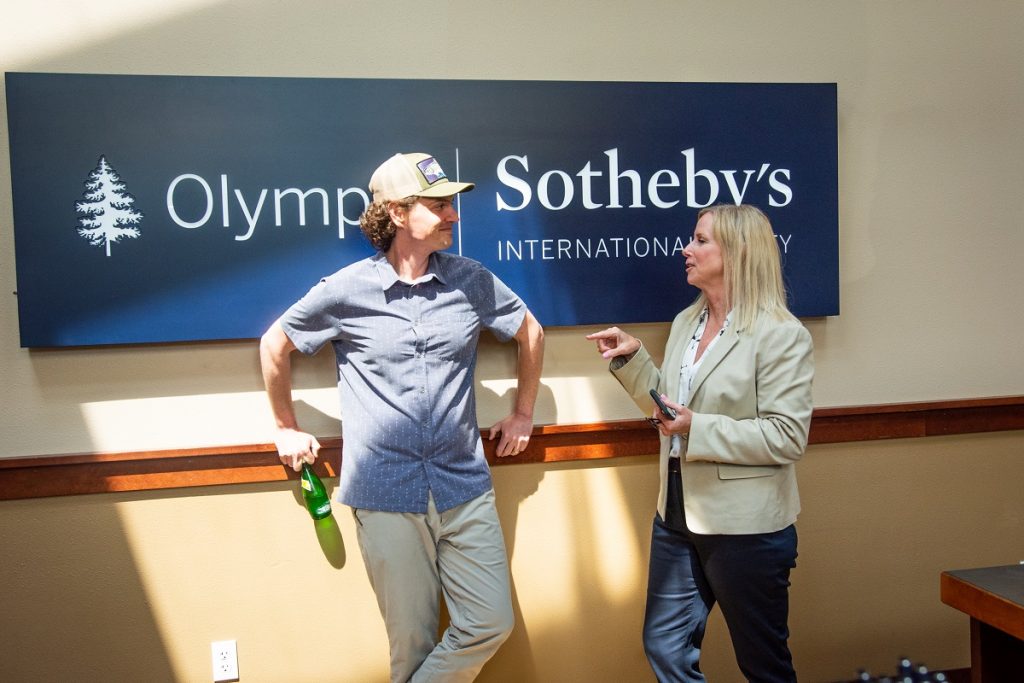 Though visual brand changes will happen to signage and the website,Greene says what makes a real estate company is the people. "I have 40 agents, and every one of them is on board," he says. "They are all staying here. They are all excited with 'Okay, let's do this,' and it's going to be them who go out there and resonate with their clients. I know it's not going to come down to what their business card looks like or what their sign looks like, it's going to come down to them."
The tagline "As Unique as the Northwest" marches forward with Olympic Sotheby's International Realty. Agents continue to provide luxury service for every client with every type of property. Furthermore, now they go forward with global exposure and top-notch tools that also allow them to maintain their local ties and be the knowledgeable resource upon which their clients depend.
For more information, visit their new, Olympic Sotheby's International Realty website.
Sponsored