This holiday season we're especially grateful for the little things. It's hard to believe that we once took togetherness and in-person activities for granted. But despite the long, unsettling months of COVID-19, we can use the upcoming celebrations to give thanks for friends, family, loved ones and community. Celebrate this year's theme of "Hope & Joy" at the annual Providence Christmas in the Forest and give through their online auction.
Christmas in the Forest started in 1988 and is an annual opportunity for businesses, groups and individuals to sponsor, decorate and bid on gloriously crafted Christmas trees. This year's fundraiser will be exclusively online with an auction and virtual gala event benefitting the hospital's Foundation.
This year's designated Fund a Need is the Providence St. Peter Hospital Respite Care Program. "The respite care program provides a safe place for people to recover when it is no longer medically necessary for them to be in the hospital, yet they do not have a safe place to be discharged to," explains Stacey Genzlinger, events manager for the Providence Southwest Washington Foundation. "The respite program also provides wrap-around services, linking patients to benefits, obtaining identification and housing. The goals of this program are to both prevent patient recidivism to the emergency department by allowing complete healing, and also to make much needed hospital bed available in our community."
This is a new program for our hospital and will start with four beds. Staff estimates that nearly 50 people will benefit within the first six months. They're modeling a similar strategy currently used at a Providence location in Spokane where it has been successfully run and expanded multiple times in its busy five-year history.
The online auction opens Monday, November 29. Log-in and bidding information can be found at the Christmas in the Forest website. There will be a video program on Thursday, December 2 beginning at 7 p.m. and all bidding closes at 7 p.m. on Friday, December 3.
Some auction items include "stunning 7.5-foot themed trees, wreaths, themed and decorated 2-foot tabletop mini-trees, and a few experience packages," says Genzlinger. "You can bid on a Seattle Kraken package, an overnight stay for four plus meals at the Lucky Eagle Casino, a Downtown Olympia shopping spree package, and more. A new unique item offered this year is lunch with the CEO on the rooftop of St. Peter Hospital! Besides the online auction, we will also accept online donations."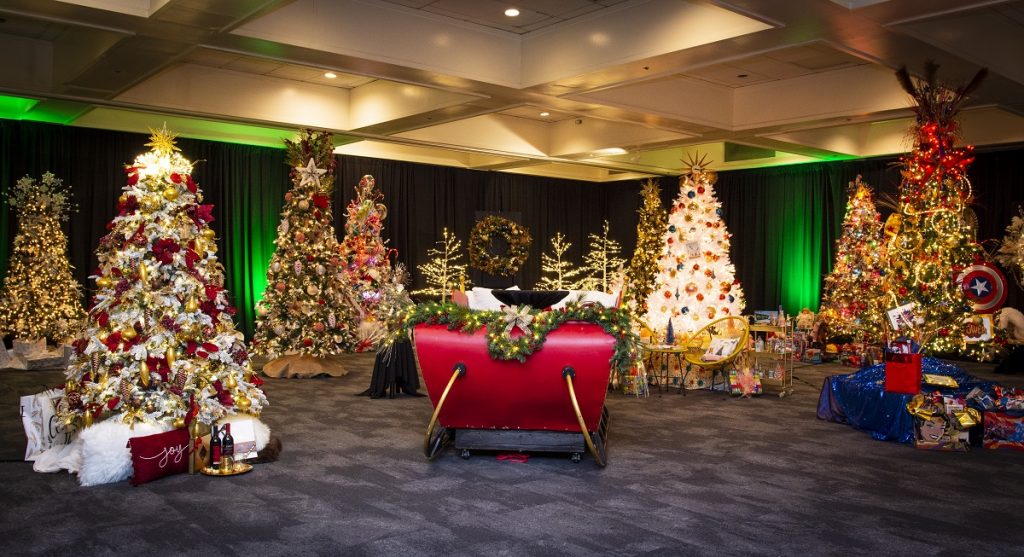 Genzlinger and the Providence team are excited for this year's auction and Christmas in the Forest. But, she admits, it's a community-wide effort. "We are fortunate to have so many supportive and generous local businesses in our community. We thank Harbor Foods, Radia and Starbucks for their Platinum level sponsorships. Of particular note, Coldwell Banker Evergreen Olympic Realty, Frost & Co, and Olympia Federal Savings have been a sponsor of Christmas in the Forest for all 34 years, since 1988. Honorable mentions go to Heritage Bank, Port Blakely, and The Rants Group, each for sponsoring close to 30 years. We are grateful to these local businesses, plus the countless others that have supported the Forest over the years."
All of these groups are working to make Providence a hub for caring, service, health and welfare. "Providence is in the planning stages for significant growth to meet the needs of our growing region including expanding capacity and programs of St. Peter and Centralia Hospitals, to include oncology, cardiology, neurosciences, mental health, emergency services and others," says Peter Brennan, chief philanthropy officer for the Providence Southwest Washington Foundation. "Community support through philanthropy will be key to our ability to meet current and future needs and the Foundation will be leading that effort. Supporters of the Forest are also supporting these advancements."
It's too late to host a tree this year but if you'd like to participate in 2022, simply contact the Foundation office by calling 360.493.7981. Safely social distancing but still want to help with the new Respite Care program? You can donate to the cause directly through their donor portal.
No one anticipated yet another holiday season impacted by the Coronavirus. But safety is paramount and that's why the Providence team are sticking to remote options. "Like all nonprofits that have been forced to shift their fundraising events to a virtual format, the need remains great, if not greater," says Genzlinger. "The services provided by Providence Foundation and other nonprofits continue. These events are important for maintaining a relationship between the organization and their supporters and the community. I know I am not alone in wishing for the time when we can host in-person events again."
Until then get in the festive spirit through the Providence Christmas in the Forest auction. Hope & Joy can be yours even without party clothes and hors d'oeuvres. Who knows? Yours might be the lucky bid that wins a stunning tree or prizes galore. Either way, your generosity provides respite for community members in need.
Sponsored