The South Puget Sound Community College men's basketball team will look to get back in the win column when the Clippers travel to Eugene, Oregon to face Lane Community College on Wednesday, December 1.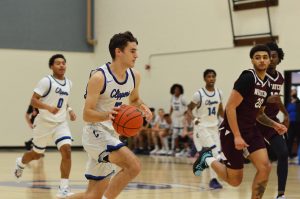 The game will be one of eight road games in December for SPSCC. The Clippers will follow up their game against Lane the next day playing at Chemeketa College before returning to play their lone home game of the month on Saturday, December 4 when they host visiting Everett Community College.
The Clippers will also compete in a pair of holiday tournaments, traveling to Clark College for three games in mid-December. They will close out the year at Clackamas Community College for a three-day tournament beginning December 28.
SPSCC (1-3) is coming off a 90-75 home loss to Edmonds College on November 23. Justin Hicks, a freshman out of Black Hills High School, scored a career-high 21 points and added 10 rebounds to lead the Clippers. SPSCC also received 10 points and seven rebounds from Mekhi Speller-Hale and nine points from O'Shae Barquet.
Against Edmonds, the Clippers led 38-34 at the half and took a 3-point advantage on a Speller-Hale bucket 90 seconds into the second frame before falling to an 11-0 run by the Tritons. The SPSCC deficit reached double digits following a Squeeky Johnson 3-pointer with 11 1/2 minutes to play, which pushed the Edmonds' lead to 58-46.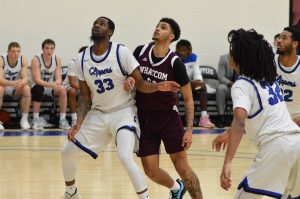 The Tritons' lead ballooned to 17 points with 8 to play. Behind two 3s from Barquet and a triple from Aaron Alexander, the Clippers pulled within 7 points on a Hicks layup with 98 seconds left in the contest, but were unable to get any closer.
This will mark the second meeting between South Puget Sound Community College and Lane over the last 11 days. The teams faced off at Tacoma Community College on November 20 with the Titans claiming a 90-76 victory on the neutral court.
Speller-Hale paced all scorers, scoring 23 points while pulling down 11 rebounds. SPSCC also received 13 points from Jackie Simmons and eight apiece off the bench from Barquet and Hayden Wakefield in the loss. Cole McAninch scored a team-high 14 points for Lane (1-1), which also received 13 points and 11 boards from Khalil Chatman and 10 points from both Tyshawn Ford and Isaiah Wallace.
Sponsored