It's definitely time to get out of the house a little, while still maintaining safe social distance. Intercity Transit's fast, free and clean buses are a great option but as the weather clears, why not combat spring fever with a bike ride? IT sponsors the Bicycle Commuter Challenge (BCC), Walk N Roll rides, Bike Rodeos and many more adventures for riders of all ages and abilities.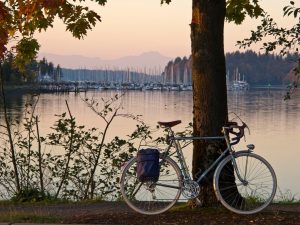 The BCC started in 1988 to be exactly what its name infers. It's a fun, county-wide challenge to ditch your car and ride bikes to work, school and running errands. Intercity Transit has been hosting the fun since 2006 and it's a highlight of their community calendar.
Duncan Green coordinates the BCC and other related events. As with many things in a COVID-19 world, this year's format is a little different than most. "This year, our events are the Winter Bicycle Challenge, the Bicycle Art Challenge, and the Bicycle Commuter Challenge in May, which is also National Bike Month." Most activities have virtual components this year and activities are still available online.
"Did you know there is a new Bike Boom happening now?" asks Green. "Many people have realized that getting out on a bicycle is a fantastic way to get out of the house, get exercise, fresh air and have fun, all in one! Bicycles are also a perfect transportation solution for anyone looking to build some exercise into their commute, save on the costs associated with driving, or do something good for the planet."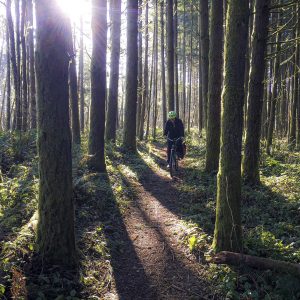 And with longer, warmer days around the corner, the time is now. "Spring is a great time to get your bike out and tuned up, and start a new habit," Green shares. "Participating in the BCC in May is lots of fun and you can win prizes and feel the camaraderie of our vibrant local bicycling community. The Bicycle Commuter Challenge is open to all Thurston County residents, and all types of bike rides count this year, whether it is for transportation, fitness or recreation. The bike shops are busy, and new bikes are in short supply, so shop early for your new bike, or get your old one tuned soon!"
Rider Michelle Swanson eagerly looks forward to the event each year. "I love participating in the BCC, because it helps me feel like part of the community. Riding a bike brings me so much joy. I'm a veteran cyclist, and I love to meet people who are new to cycling and watch them discover that same joy."
And like many of us, the first step—or pedal—is the hardest. "If you're on the fence about giving biking a try, sign up for the BCC anyway," Swanson encourages. "You'll be in a friendly, supportive group, and you can get connected to resources that can de-mystify cycling. E-bikes absolutely count, too, and they're a great way to flatten the hills!"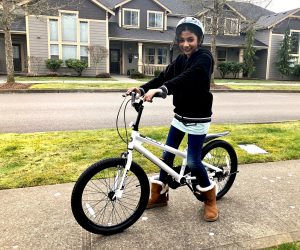 Walk N Roll is a youth education program encouraging kids and families to get out and get moving. Kerri Wilson is IT's youth education specialist. She believes events like these are an opportunity to create enthusiasm for cycling as the weather gets nicer and kids prepare for summer break.
New this year, due to social distancing guidelines, is the Youth Bicycle Challenge. All kids who ride 10 days during May will win fun prizes. Send a photo of your kids riding and they'll receive a bonus gift as well. To participate, download the form, fill it in, then email it to walknroll@intercitytransit.com by June 1. Prizes will be mailed out soon afterwards.
Mom Veronica Jarvis has started biking her son to school each morning: "It's a wonderful way to start our day. We both get fresh air, a little exercise and some carefree time together. Since he's a 6-year-old, getting some energy out before sitting at school can really help him focus. And since I'm a little older than six, I need that fresh air to wake me up and get me motivated for a day of work. Biking is faster than driving for us, and for many families around schools—I encourage everyone to give it a try!"
As more riders take to the roads, IT reminds drivers to take extra precautions. "Drivers can help make our streets safer this spring by becoming Safe Streets Ambassadors," says Wilson. "By making our streets safer, we encourage more people to bike and walk, which reduces the number of cars on the road, reduces pollution and makes our streets better for everyone."
Exercise, fresh air and time spent safely with friends and family benefits everyone. Dust off your bike, helmet and determination to take that first step through one of Intercity Transit's bicycle programs. While you're at it, bring a few family members and friends along for the ride too.
Sponsored