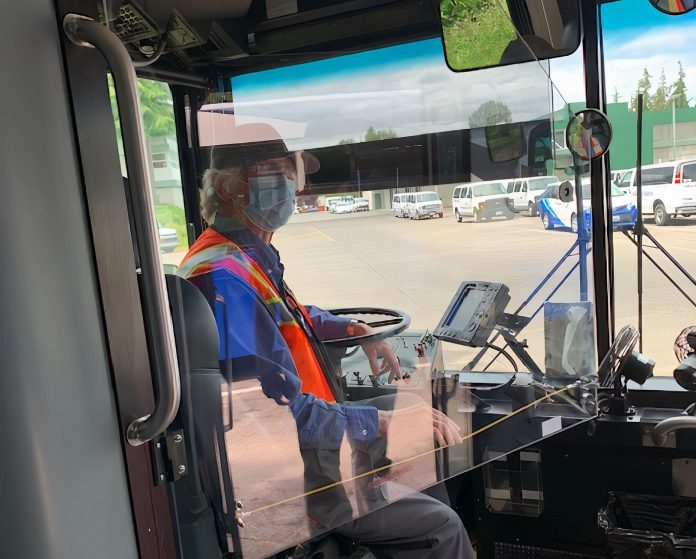 Even with ongoing restrictions to shopping, dining and entertainment, there are still appointments to keep and errands to run. With finances tight for many individuals, taking the bus is an easy, convenient and free option to get to the store, bank or doctor's office. And Intercity Transit (IT) is working hard to keep your journey clean and your family healthy.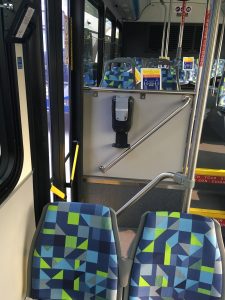 Like most businesses, IT has changed their day-to-day operations to meet Washington's Coronavirus guidelines. To minimize exposure, they closed office hubs and the Olympia Transit Center, moved public meetings online, and temporarily suspended Village Vans service. However, most daily bus routes are now running throughout Thurston County.
In addition to masks being required, IT's Marketing, Communications and Outreach Coordinator Nicky Upson explains that passengers must enter through the rear of the bus away from the driver (unless they have mobility issues, or travel with a stroller) and use specially-marked, socially-distanced seats.
"We share the responsibility of keeping our system safe and healthy with our passengers," says Upson. "We rely on them to follow the rules and do their part (like staying home when they are sick and wearing face coverings properly). Our ability to provide bus, Dial-A-Lift and Advanced Reservation Service depends on keeping our drivers healthy, so it benefits all of us to follow health and safety guidelines."
Buses are cleaned more frequently as well. They use electrostatic sprayers and hospital-grade disinfectants daily; wipe down high-touch areas frequently throughout the day; screen staff before each shift; and have installed Plexiglas barriers, mask dispensers, and touchless hand sanitizer dispensers on all buses and Dial-A-Lift vehicles.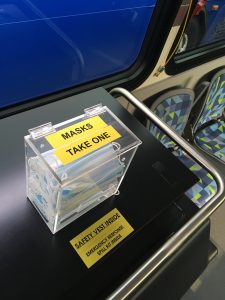 As might be expected, due to COVID-19's Stay Home, Stay Healthy Safe Start guidelines, overall ridership is markedly lower. But that's ok, says Upson. "Yes, ridership on buses is down since the start of the pandemic. However, we are providing reduced service right now due to a shortage of available drivers. Many are out because they are at high risk of complications from COVID, are caring for family members who are in high risk groups, or have to be home while schools are providing distance learning."
"The [COVID-19] Pandemic has caused us to look at many aspects of our business from different perspectives," admits Director of Maintenance for Fleet and Facilities Jonathon Yee. "These new perspectives have created opportunities to implement several procedural improvements to ensure that we are providing safe vehicles, bus stops, transit centers and offices for our employees and passengers."
Overall, buses are a safe way to travel even during the outbreak. In September, the American Public Transportation Association (APTA) reports that "No direct correlation has been found between use of urban public transit and transmission of COVID-19. A review of studies from around the world indicate minimal risk from using public transit, especially where specific safeguards are in place, such as face coverings, well-functioning ventilation systems, and minimal talking by riders." As well, "An analysis of public transit ridership in multiple cities over the past three months shows no correlation with the rise or fall of local COVID-19 cases."
The CDC encourages public transportation riders to avoid touching surfaces, practice social distancing and hand hygiene, and stay up-to-date with local transit authority changes. Their main concern is one shared by everyone. "People at increased risk of severe illness from COVID-19, and those who live with them, should consider their level of risk before deciding to go out and ensure they are taking steps to protect themselves…Everyone should take steps to prevent getting and spreading COVID-19 to protect themselves, their communities, and people who are at increased risk of severe illness."
"Thank you to all the Intercity Transit passengers who show up every day, wearing their masks to protect fellow passengers and our drivers," says IT's Director of Operations Emily Bergkamp. "By this simple act, you are keeping our public transportation system safe for everyone to use during this pandemic. We're all in this together."
We've all adapted to a new way of life over the past six months. We work, learn and play from the safety of home. But when it's time to head out for a grocery run, library takeout or grabbing dinner to go, hop on your nearest Intercity Transit bus. They—like all of us—are working hard to stay healthy and safe through this uncertain time. And since all rides are free, you can save your hard-earned dollars for a rainy day.
Find current bus routes and schedules online or call 360-786-1881 with questions or to request a ride for an advanced reservation trip. Learn more about Intercity Transit's commitment to your health and safety and how you can help at the Intercity Transit website.
Sponsored