As players round the bend at the 32nd Annual Lacey South Sound Chamber of Commerce Golf Classic on May 14, they have no idea what might await them at the next hole. It could be a tiki bar, a short game-within-the-game to see who can drive their marshmallow the furthest or perhaps a playful riff on the theme of mac-n-cheese. Hole sponsors for the popular event pull out all the stops and this year, 144 participants will be enjoying the results.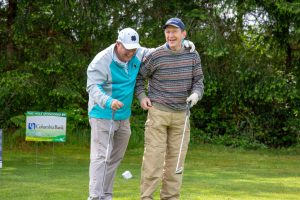 "It's exciting to see what everybody does creatively," says Cameron Daniels, a chamber board member who is donating a raffle item for the event. "Chicago Title always goes all out and has a really fun booth for people to play games."
The event will run from 8 a.m. to 2 p.m. on Friday, May 14 at Hawks Prairie Golf Course and a reception will follow the tournament. In 2020 the tournament was canceled because of the COVID-19 pandemic but this year it's back, with social distancing guidelines.
Players can register as individuals for $130 or as a team for $500. The cost includes greens fees, a continental breakfast and coffee bar, a lunch and a golf cart.  "It's a way to get the business community together in a comfortable, relaxed environment," says Daniels. "This year in particular it's important because we're finally able to come out and see everybody in person again."
Aside from awards for the first, second and third-place teams, the event will include men's and women's long drive contests and closest to the pin competitions. As mentioned above, every hole will have its own sponsor, and chamber members have donated raffle items like a golf cooler basket, a margarita basket, pizza parties and free tree stump removal. "We've got all kinds of cool stuff happening on the raffle side," says Chamber executive director Blake Knoblauch.
Olympia Orthopaedic Associates is the event's main sponsor, with Kesh Marketing as the marketing sponsor. Stephanie Hemphill is Kesh Marketing's co-founder and co-owner. She also served as executive director of the chamber in previous years and recalls one memorable volunteer, an 83-year-old woman named Arvilla.
"She was a longtime community member and she loved working the golf tournament," says Hemphill. "Arvilla owned a business and was in the chamber, so she knew everybody. The tournament would start, all the carts would drive off, and then Arvilla and I would get in our cart and she'd drive around and heckle people. That was one of my favorite things."
The general vibe is lighthearted rather than competitive, with no handicapping, Although there are awards, the biggest source of satisfaction is bragging rights. "It's constant laughter," says Daniels.  You're just having fun. It's business-related, but it's also a way to get to see a little bit more of who people are, which is great. A golf course is a good environment for that."
Such tournaments have become more common over the last decade but this one predates that surge, Hemphill points out. "We've been doing this since before everyone jumped on that bandwagon. It's fun because it's all day and you really get to know your fellow teammates. It's a great networking event."
The Golf Classic is also one of the few community events that the chamber is sure of being able to host this year, given the uncertainty around restrictions resulting from COVID-19. The annual South Sound Barbecue Festival is on hold for now and live chamber meetings have only just resumed. For many, it will be one of the first opportunities to see each other in person. "We've been apart for a little over a year," says Knoblauch. "This is a great way for people to come together in a fun and safe environment."
Register here for the Lacey South Sound Chamber of Commerce Golf Classic or visit their website for more information.
Sponsored