Life is a journey and some of the truest delights appear when we're not even looking for them. Keep your ear to the ground: You never know what little tidbit might enter your life in new and exciting ways. That type of curious, open-minded, can't-hurt-to-try mindset recently landed TJ Quandt the well-deserved title of Senior Harbor Manager at the Port of Olympia.
Having spent the greater part of a decade with the Port of Port Townsend, Quandt saw a print-out for the Olympia job opening on a coworker's desk. The Port of Olympia's scope, growth and economic impacts were intriguing to him. He'd worked a variety of roles while with Port Townsend, from Business Manager to Assistant Harbor Master, so had a wealth of hands-on knowledge to draw from.
"Seeing the operation and potential drew me this direction," Quandt explains, "even though I wasn't looking at the time." But his experience running marinas and boatyards came in handy and he'd worked with the Port of Olympia's newly installed Executive Director, Sam Gibboney, when she was Executive Director at the Port of Port Townsend.
"I have had the pleasure of working with TJ previously and know that he will be a great fit for Swantown and the community," says Gibboney. "TJ grew up in the maritime world and brings hands on experience and a commitment to excellence." There was a considerable pool of applicants for the position, agrees Communications, Marketing, and Outreach Manager, Jennie Foglia-Jones, but "during the interview process it was extremely apparent TJ was a good fit for our culture, vision and community."
Quandt spent several weeks shadowing longtime outgoing Harbor Director Bruce Marshall. Though still settling in to going solo, he's "very excited to be here and looking forward to meeting and getting to know the community. The Port staff are a tight-knit family always looking to the future."
He'll be commuting from the Port Townsend area for a while as his oldest child is a senior in high school. Thankfully, Quandt's wife has family in the area who are happy to host his stay during the work week. After a celebratory June graduation, his wife and their two younger children, currently 6-years-old and 10-years-old, will relocate to the Thurston County area.
Born into a fishing family, Quandt is a third-generation fisherman and spent time in the waters of Alaska long-lining through the Aleutian Islands. Before the Port of Port Townsend, he "bounced around the marine trades." Even today he actively enjoys boating (sailing and speedboats), crabbing, camping, hunting and "pretty much anything outdoors."
After touring the Port of Olympia's seaport, Swantown Marina and Boatworks, and other real estate holdings, he shares that he sees a lot of upland potential.  "Staff are really looking to grow and develop this area, which is something great for the community," he adds. This includes plans for new businesses and restaurants on the waterfront, which he says will draw people in by water and draw people to the water.
Looking Forward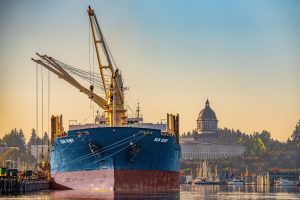 The Port's capital projects for 2020 have been approved and plenty of new enhancements are in the works to get people on the water, says Foglia-Jones. These include expansion of dry storage, and upgrading the existing electrical system. Know a business looking for their new, forever home? Contact Business Development Director, Allyn Roe by calling 360-528-8012 or emailing AllynR@portolympia.com to learn more about development opportunities. There will be space available at the Port Peninsula and adjacent to the Olympia Regional Airport and NewMarket Industrial Campus or Tumwater Town Center.
Beyond that, Quandt is learning the full scope of Vision 2050, the Port's ongoing planning process to "build community awareness and support, align Port investment and policy with community properties, strengthen partnerships, and establish a shared-vision for Port focus and impact."
And what job could be better than one which supports events like the Olympia Brew Fest, Harbor Days, the Olympic Airshow and Summer Splash!? As part of the Port team, look for Quandt, Foglia-Jones, Gibboney, Roe, and other tireless staff at one—or all—of these festive, beloved, (occasionally 21+) family-friendly activities.
It's been said that you can't change the direction of the wind, but you can adjust your sails. None of us know where the wind will blow us next, but sometimes it's to a new home, city and career. For TJ Quandt, it brought him all three as part of the booming Port of Olympia family. As the Port gets ready to celebrate their centennial, he'll bring energy, experience and enthusiasm to the team, county and region.
Sponsored