It's fun to daydream—especially during long, dark Pacific Northwest winter months—about lazy days in the sun, not rushing to work, commuting or stressing about the workday grind. For most people, the dream of retiring and escaping to the sunny Caribbean is one we indulge often. For Port of Olympia's Bruce Marshall, it's a dream that's about to come true. After a journey that began nearly 30 years ago, the last 20 spent overseeing operations as Harbor Director, on New Year's Eve he'll bid a fond farewell to his beloved Port family and start the journey south.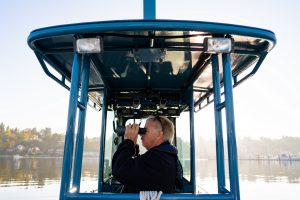 Marshall joined the Port of Olympia in August 1998. A California native and long-time Merchant Marine officer, he always loved the water and has been boating since he was nine-years-old. Professionally, he's managed maritime facilities in California, the British Virgin Islands, and Washington State. In fact, it was the Port's enticing job offer that lured him north more than 21 years ago.
Over the last 20 years, Marshall has been a part of major growth and development at the Port's downtown waterfront and marina district. "I've been involved in some great community boating projects," he admits. This includes the initial building project that would become Swantown Boatworks, a state-of-the-art boat haul and repair facility.  In the future, Port staff hopes to develop more of the undeveloped waterfront property.
Under Marshall's guidance the Port expanded the marina by 30 percent, adding more than 150 new slips, and increased occupancy rates to more than 85 percent annually. They built the fuel dock, renovated older existing docks, added mini-storage facilities for on-board residents, expanded dry storage options, and modernized facilities. What began as a staff of four has grown to 10 full-time employees and several seasonal hires who work tirelessly to maintain and improve operations. Their income has grown from $900,000 in 1998 to $3.5 million in 2020.
Beyond the docks, Marshall has helped support many Port events and activities, often from the water. He's helped supervise and patrol sailing and rowing regattas, worked with Harbor Patrol on search and rescue operations, and partnered with local police, fire and sheriff's departments in many marine related matters. Port staff also work in tandem with the Washington State Department of Natural Resources (DNR) to remove derelict vessels. Between 4 and 10 such boats are removed each year before they become environmental hazards.
"But now it's time to turn it over to somebody else," explains Marshall, "to take the facility to the next level. We've got a new, dynamic Executive Director in Sam Gibboney and it's a good time to hire somebody fresh, somebody who's going to be here throughout the next future growth."
"A replacement has been hired and starts in December 2019, so Bruce can spend a few weeks orienting him to Swantown and the Port of Olympia," says Communications, Marketing, and Outreach Manager, Jennie Foglia-Jones. That way Marshall can enjoy what he calls a "full retirement," moving to California and eventually further south to settle in Roatan, Honduras.
"I'll miss the people I work with," he admits, watching the waterfront from his office's windows. "It's going to be difficult to leave…but I'm sure looking forward to sleeping in." And he can always check-in from across the globe via the Port's live-streaming Swantown webcam.
Though their tenure didn't overlap for very long, Executive Director Sam Gibboney is sorry to see Marshall go. "Bruce's vision and leadership helped make Swantown Marina and Boatworks into the premier boating facility it is today," she says. "We have been fortunate to have his leadership, talent and friendship at our port for the past two decades."
Martin Luther King Jr. once said that "We may have all come on different ships, but we're in the same boat now." The Port's outreach includes real estate, the seaport, Swantown, the Olympia Regional Airport, and so much more but thanks to a seasoned, dedicated crew it all runs smoothly. Join us as we bid farewell to Bruce Marshall and his two decade term at the helm of our region's beloved, bustling marina.
Follow the Port of Olympia on Facebook or at PortOlympia.com for updates on activities, planning, arriving ships, and goals for the future as part of their Vision 2050 project.
Sponsored