Ready for some family-friendly fun and philanthropy? The Champions of Courage event on February 22, 2020, at the Hands On Children's Museum is an all-ages opportunity to explore,  socialize, sample adult signature cocktails, eat fun finger foods and support the Helping Parent program. Helping Parent is one of many programs the South Sound Parent to Parent (SSP2P) organization offers to assist people with developmental disabilities, their families and caregivers.
Admission for those 17-years-old and younger is free. Each adult ticket costs just $15 each, which leaves extra in your pocket to bid on special auction items, or take your chances in the raffle.
The evening promises to be an exciting time for kids too, with access to all the museum's exhibits in addition to face painting, magic bubbles and other special activities. This year Everett Yacht Service is sponsoring Spiderman and Snow Queen characters to mingle and take selfies (characters from Glitter & Suede).
Professional auctioneer, Mark Streuli, makes the live auction very entertaining. Some exceptional packages will be offered to the highest bidder, like a Seattle Seahawks 2020 preseason game bundle, a sunset dinner yacht cruise for up to six people departing from the Olympia Yacht Club, a private wine tasting event for a party of 20 at Total Wine, a birthday party package at Discover Aquatics, and a relaxing getaway at Alderbrook Resort & Spa, which includes a $300 gift card towards spa and dining expenses.
Other special auction offerings this year include paintings made by the Sibshops kids. Sibshops are monthly support groups for siblings of children with developmental delays or chronic illnesses. The meetings usually incorporate a fun activity along with food and comradery. Last fall they made acrylic pour paintings and three of these special art pieces will be up for bid.
Unless you have a child with special needs or know someone who does, you may not have heard of South Sound Parent to Parent. "We were established in 1987," shares Sheila Kavanaugh, development director. "We want to be sure that everyone is aware of the services we provide, because it is so essential and kind of a unique niche in our community."
Having a child with special needs can be overwhelming at times, and lead to feelings of isolation. The SSP2P team works to alleviate those additional stressors. The Helping Parent program one-on-one parent matches parents who have experience raising a special needs child to parents seeking peer support and guidance.  Being able to talk with someone who understands can make a world of difference.
"Right now, we have 63 Helping Parent mentors," Sheila shares. "All of our volunteer mentors have been through training, and are now available to be matched up with people based on a variety of different needs or specific disabilities. That is a tremendous help for people to have that sense of relatability."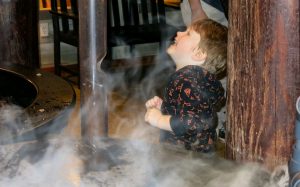 "We also offer opportunities for families to connect and build their own social networks of support and that can be inclusive in our community," says Sheila. One example is the story times offered at area libraries. "We try to have a lot of different events to give families the opportunities to connect authentically."
Because some individuals with special needs might have a hard time with crowds, loud noises, flashing lights, or other sensitivities, SSP2P periodically plans special events that are sensory friendly, like renting Skateland for a few hours. The music volume is lowered, flashing lights are turned off, and wheelchairs and other assistive devices are allowed on the rink.
One of the most popular family events they organize comes at Christmas with a visit from Santa. No one needs to wait in line to see him. He'll sit right down on the floor and interact with the kids and pose for family pictures in a relaxed and low-key setting. "Sometimes it's more appropriate to have just families with special needs in an environment that is more sensory friendly," Sheila shares.
You can see that SSP2P offers services that enrich people's lives in our community, so bring the whole family and support the Helping Parent program at the Champions of Courage event.
Many local businesses have already lent their support for the evening's entertainment and activities. "I want to be sure to thank Amerigroup, Molina Healthcare, Olympia Federal Savings and Loan, B3 Business Solutions, P.S.–Bernadette Rivard & family, BECU, Sutton Chiropractic and Massage for their generous sponsorships," notes Sheila.
Tickets can be pre-purchased or bought at the door.
SSP2P Champions of Courage Event
in support of the Helping Parent Program
Hands On Children's Museum
414 Jefferson St. SE, Olympia
Saturday, February 22, 2020
6:30 p.m. to 9:30 p.m.
Sponsored