What do you do when you trip down the stairs and twist your ankle or your child wakes up in the morning with a high fever and nagging sore throat? You might do what many people do when they experience a minor illness or injury and go to an urgent care clinic like MultiCare Indigo Urgent Care. "An increasing number of people don't have a primary care provider," says Shari Campbell, director of retail health for MultiCare. MultiCare noticed that patients want their healthcare to match other areas of their life—more convenient, accessible and service-oriented. With that information in mind, they reimagined the urgent care experience from a patient perspective.
Location, Location, Location
The reimagined patient experience begins before even stepping foot into the urgent care facility. Unlike most urgent care clinics that are located within medical clinic complexes or adjacent to hospitals, MultiCare places their Indigo Urgent Care clinics within easy reach of their patients. "We look at our locations and we ask ourselves how can we put them close to all the other services that our patients need to utilize in their day," says Campbell. Getting sidelined by injury or illness is already disruptive and patients appreciate the convenient locations near grocery or drug stores, which makes running a quick errand before heading home to recuperate a little easier.
Reduced Wait Times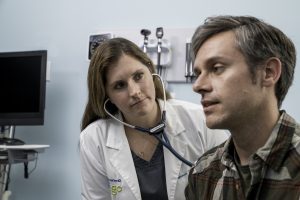 Another thing that MultiCare looked at was patient wait time. They wanted to reduce the total in-clinic visit time without sacrificing valuable face-to-face time with the healthcare provider. When they looked at what is customary in most urgent care settings, a patient might find themselves sitting for hours in a stuffy waiting room then shuffled from one staff member to another. First, they see the receptionist, then someone to process their insurance. Next, another staff member takes them to an exam room to take their vitals. Each of these transitions takes up valuable time. "We want to get our patients the time they need with a provider, but in and out the door in under 45 minutes," Campbell explains.
So, MultiCare streamlined the urgent care process, by introducing the clinical concierge—a skilled medical assistant that works with the patient every step of the way. The clinical concierge greets patients in the comfortable lobby, checks them in, processes their insurance information and takes vitals. This method speeds up the urgent care process and helps the experience feel more service-oriented.
Comfort and Care
The clinical concierge can also assist with a comfort item, like an ice pack for that sprained ankle, or some hot tea to soothe a sore throat. "We have a focus on making people comfortable for the minimal time they are waiting," says Campbell. A small amount of comfort in a welcoming lobby goes a long way. "We set the expectation for our staff and our patients that this is a service experience," she adds.
MultiCare Indigo Urgent Care is able to treat a wide variety of minor injuries and illnesses—cough, cold and flu, sore throats, ear infections, allergies, rashes, small cuts that may require stitches, sprains, and strains, just to name a few. Each urgent care visit includes a digital x-ray or onsite lab test if indicated by the provider. Most of MultiCare Indigo's patients utilize insurance for their urgent care visit, and MultiCare Indigo accepts a large number of insurance providers. But for those with high deductibles or those without insurance, MultiCare offers an affordable clinic fee that includes the basic diagnostic x-rays or lab tests.
Follow-up and Feedback
MultiCare sees the importance of communication, even after the patient is out the door and on their way. Once patients leave MultiCare Indigo Urgent Care Clinics, their visit isn't over. They receive a follow-phone call about two days after their visit to ensure that they are well on the road to a good recovery.
MultiCare is always looking for ways to improve their service, which is why they welcome patient feedback. "When people leave they get a survey they can fill out, and we also encourage our customers to give online feedback through Facebook or Google," says Campbell. Patient satisfaction is a top priority and feedback has been used to improve the reimagined patient experience.
If a minor injury or illness has left you sidelined, and you want to get back to the regular business of life, consider a visit to MultiCare Indigo Urgent Care with convenient locations in Lacey, Olympia and Tumwater. Schedule an appointment online or simply walk in for care.
Sponsored