Olympia and Lacey residents may have noticed a recent addition to our town's growing food truck scene. Located off of Pacific Avenue, Honeycuspe is brightening the days of visitors with sweet, savory and custom Belgian waffles.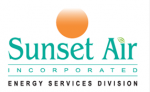 Hailing from Portland, owner and operator Eric Beaudoin says that opening a food truck simply seemed like a natural choice to him. Having grown up as a classical pianist, Eric attended art school in Seattle for music, eventually burning out, and deciding to adjust his path. He then began working in restaurants across the Pacific Northwest, living and working in areas such as Portland, Seattle and Mercer Island. He immensely enjoyed working with food, and eventually quit his job in a cruise ship kitchen in 2017 in order to pursue starting his own business.
Still living in Portland, he purchased a food truck, and began working on outfitting it for operations.
"I'm kind of an outlier in the food truck world," he tells me, going on to state that he was certain about owning and operating a food truck before he landed on an idea for what kind of food would be served.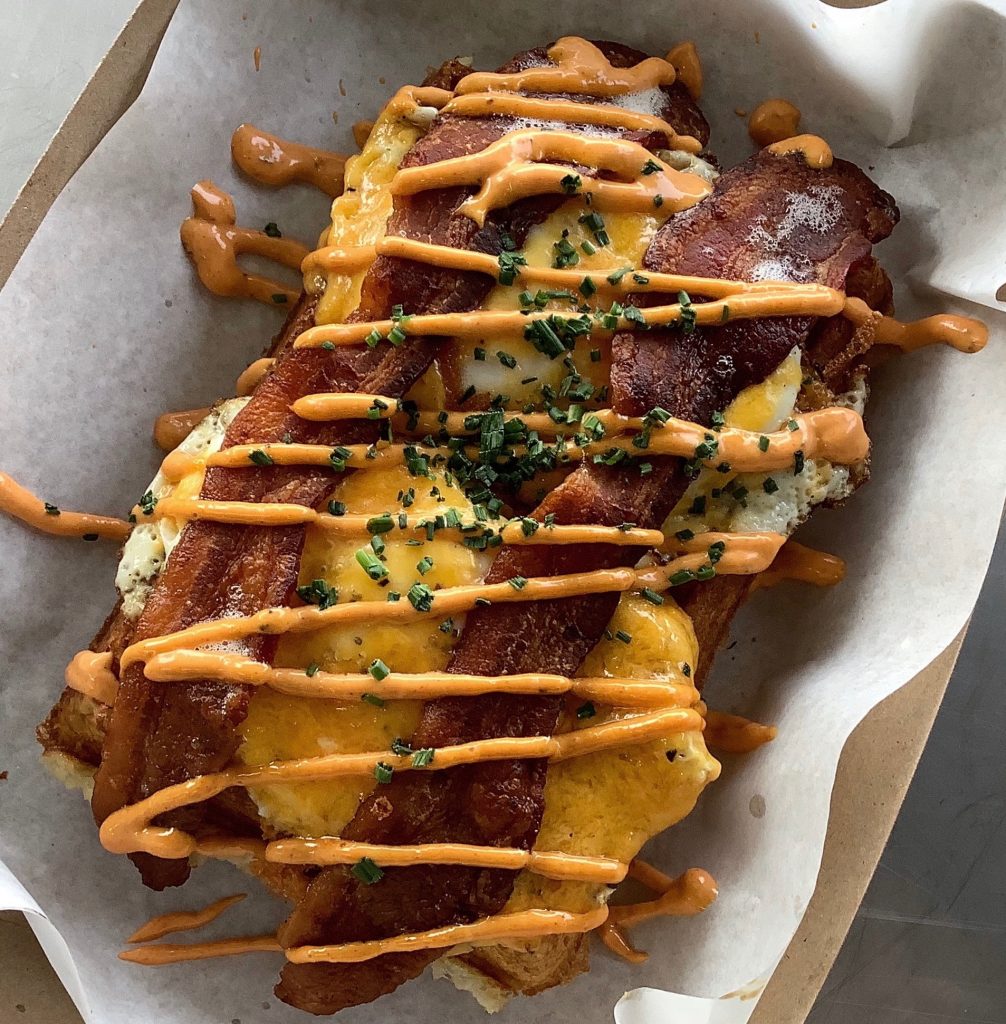 Eventually, Eric decided on waffles, and began experimenting with different recipes. He explains that waffles, with their exciting array of toppings and flavors are more of an "experience" food, which lends itself to the food truck style of menu. The type of waffles that Eric serves are Brussels waffles, a variety of Belgian waffles that are light, fluffy and rectangular. What differentiates Belgian waffles from the typical American waffle, Eric tells me, is that Belgian waffles are leavened with yeast instead of baking soda. Using batter made without sugar allows the waffles to be served sweet or savory, and Honeycuspe's menu offers an extensive selection of options. Savory menu items include a bacon, egg and cheese breakfast waffle; a caprese waffle with a balsamic reduction, olive oil, and basil on top of sliced tomato and mozzarella; and the Maque Bake, a waffle prepared by baking macaroni and cheese directly in with the batter, and then adding sauce, green onions, and paprika.
For those with a sweet tooth, Honeycuspe's sweet menu is sure to hit the spot, with items from a classic waffle with maple syrup and fresh house-made whipped cream to the Madeline, a waffle topped with warm cookie butter, toasted pecans, caramel syrup, and whipped cream. Honeycuspe also offers the option to create a custom waffle, and serves a variety of espresso drinks as well.
The food truck is equipped with a waffle iron that Eric imported from Belgium, made by the company HVD. The waffle iron is very old-school and does not feature a temperature gauge, so he needs to use a temperature gun, along with precise timing, to bake a perfect waffle.
Eric had been planning on moving from Portland to Olympia, and the timing happened to work out so that Honeycuspe was ready to begin operations right after his move north in October 2019.
The entire operation is run by Eric himself, from washing dishes to graphic design. Food trucks are required to use a commissary kitchen, and Eric shares that he is lucky enough to have partnered with Cascadia Grill and prepares his ingredients in their kitchen. "They're very cool people there," he tells me.
Eric also manages the booking for Honeycuspe. Often on the move, Honeycuspe can be seen making a guest appearance at various events or businesses, such as Oly on Ice or Northwest Beerwerks. During the holidays, the calendar was full of seasonal activities, starting out with Scary Nights Haunted House in Bucoda in October, and continuing into December with activities such as Christmas parades, various crafts fairs, the Olympia Toy Run, and Oly Lightstravaganza.
"It's great to get out and see the community, and have different clientele than I usually would," says Eric. Currently, Eric vends at NW Beerwerks or Oly on Ice most evenings, so be sure to keep an eye out for Honeycuspe, and grab a waffle after ice skating or getting drinks.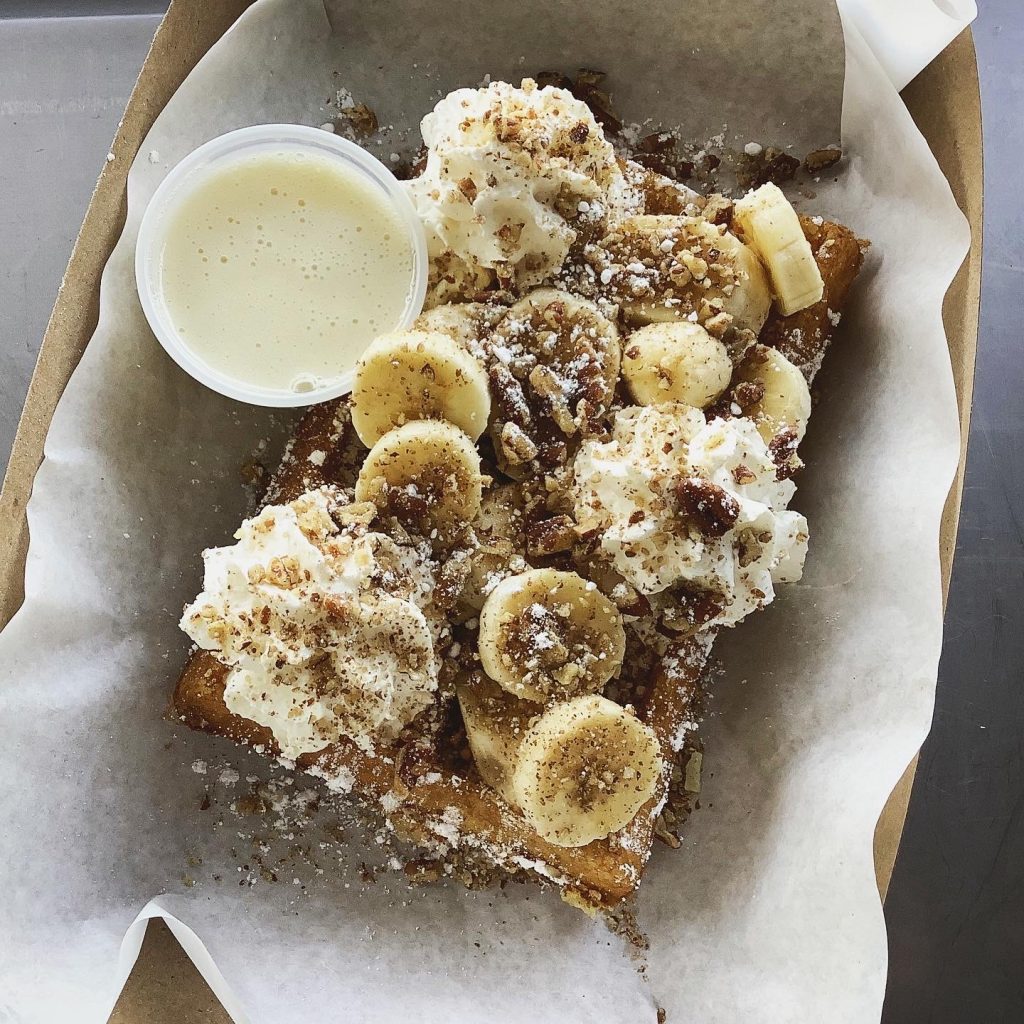 Honeycuspe's menu and quality ingredients, along with Eric's enthusiasm, make it clear how much passion and care goes into the waffles that he serves. "When I hand someone a waffle and their eyes light up, that's what's exciting to me," Eric shares. "Cooking, as they say, is a labor of love. We do that here, and you can tell," he states.
To try Honeycuspe's waffles for yourself, visit the food truck at 2504 Pacific Avenue SE from 9:00 a.m. to 4:00 p.m., or check out Honeycuspe's Facebook or Instagram to learn more and view a monthly calendar of where Honeycuspe will be vending.
Thrifty Thurston highlights inexpensive family fun in Thurston County. The weekly series focuses on family-friendly activities throughout our community. If you have a suggestion for a post, send us a note at submit@thurstontalk.com. For more events and to learn what's happening in Olympia, Lacey, Tumwater and the surrounding area, visit our complete events calendar.