The creative juices are flowing at the Bayview School of Cooking, a long-time Olympia favorite location for chefs of all ages. If you have ever been intrigued by the delights of eating, it is time to read through the school's catalog. Quarterly offerings include hands-on education; five course sit-down extravaganzas with local wine pairings; recipe demonstrations; and special cooking programs for youngsters. This cooking school in Olympia brings in restaurateurs, farmers, regional chefs and authors to satisfy your culinary curiosities.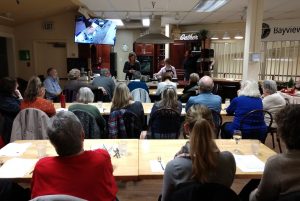 The options at Bayview School of Cooking have evolved over the past 16 years. The school is pleased to be able to provide online registration. That means when you happen to be reading the mouth-watering catalog late one night, you can sign up immediately through their website. In a few clicks, you'll be registered and paid. No need to find the phone number and wait until the following morning. Of course, you can certainly talk to a person on the phone at 360-754-1448 or do it in person at the office on 4th Avenue if you have questions about what class would best suit your interests.
Paying is the easy part. It might be harder to decide how many classes you can take, or which trips sounds best. Trips? Yes, Bayview School of Cooking Director Leanne Willard is having a grand time doing proper reconnaissance around Thurston County and surrounding areas, planning for day trips whose culinary adventures revolve around eating and drinking local and ethnic offerings from farmers, cheese artisans, ice cream makers, bakers and all sort of people involved with great food. Small groups of food enthusiast leave by van in the morning for a day excursion. These sessions are "super popular," Leanne shares, and spaces fill up fast. Friendships form among the food explorers who share sit-down or progressive lunches. A recent trip to the East Puyallup Valley included a cidery and a creperie, and that was just a taste of the whole day. Future trips may be a bit further afar and include an overnight. Stay tuned!
The five course, full-on dinners co-hosted by a regional winery are also well attended events.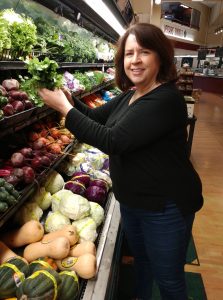 "It's a party!" explained Leanne who said the room is decorated with candles and table clothes. Music is playing. The sit-down experience is cooked in front of you but with less emphasis on learning to make the dishes and more attention on the joys of pairing food and wine. There are five courses with five varietal wines. You'll go home with all the recipes. Castle Rick Winery was the featured winery for winter quarter. The menus are created by Leanne and Barb Agee, Bayview School of Cooking instructors, and take full advantage of seasonal and local ingredients. A future dinner may include mead, a fermented honey wine that people often think is thick and sweet but actually can be dry, semi-dry or only semi-sweet. Another possibility is a dinner paired with hard liquor. You will have to read the catalog to see what's new.
Kids are not left out of the kitchen activities at this cooking school in Olympia. Irene Schade, kids' program coordinator, designs classes for youth from ages 5-years-old to 13-years-old, dividing them into two age-appropriate groups. The first Saturday of the month belongs to them and has holiday and seasonally themed food. Plans are already underway for summer camps, which take place on weekdays.
In the Kitchen happens the first Thursday of each month. Led by Christine Ciancetta, Slow Food advocate, chef and teacher, the sessions are given at no cost to participants. It repeats in the afternoon, and interested students are shown ways to showcase local products and are given the recipes.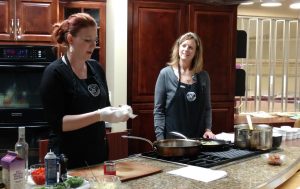 You will continue to find varied cooking classes taught by people from around the area. Dishes come from all parts of the world. If you want to arrange a private cooking class, you can. Wouldn't that be an incredibly thoughtful gift for your foodie friend? It could also be a team building event for your office personnel.
Bayview School of Cooking is taking full advantage of the talents and treasure we have in and around Thurston County. The farmers, vendors, chefs and educators are enthusiastic about sharing their lives and crafts. Every time you attend a Bayview Cooking School event you receive a coupon for 10 percent off coupon for your next grocery store visit. That is the perfect way to get all the ingredients you need to make the dishes at home.
Grab a cup of tea and take a few minutes to devour the catalog. That's enough to whet your appetite. Find your calendar and plan a date night, an evening with friends or maybe just a night for yourself. You will experience fun, friendly instructors, students and fellow epicureans. And the parking is free!
Bayview School of Cooking
360-754-1448
On the mezzanine of Bayview Thriftway
Olympia
Sponsored