Gift giving delights both giver and recipient but deciding on that oh-so-perfect item can be tricky. This holiday season, consider sharing an experience with those you love through tickets to one of the many upcoming shows at downtown Olympia's Washington Center for the Performing Arts. That way there's no trip to the mall, misplaced gift receipt, or re-gifting last year's white elephant trinkets. Instead you and your loved ones can enjoy a gift of the arts all season long.
"This year lift hearts with a gift of the arts!," says Jessica Caldwell, marketing and sales director. "We love live performing arts at the Washington Center and feel that an experiential gift checks so many boxes! We have a show for everyone and a night out on the town that includes live music, dance, comedy or Broadway creates opportunity for lasting memories. A live show brings people together and fosters connection, something a traditional gift just can't do."
Whether you opt for single show tickets or season subscriptions, there's a wealth of entertainment all year round. "We want to thank all of Thurston County and beyond who support the arts here locally," says Caldwell. "The Washington Center is able to bring International artists and top performers to the heart of downtown Olympia because we have a thriving art community who values the experience of theater. Create memories this holiday season and find your perfect performance—create culture not clutter!"
December
Ballet Northwest and Studio Northwest each present a version of "The Nutcracker," running from December 13 through 22. Then on Monday, December 23 come "Home for the Holidays" thanks to a free concert of traditional and new music by the Olympia Symphony.
January
Ring in the New Year with "Black Box Jazz" or "Comedy in the Box." These intimate nights of music and laughter are sure to set a happy tone for 2020's arrival.
"On January 11 we are bringing the Rock and Roll Hall of Fame Inductee and civil right icon Mavis Staples to our main stage theater," says Caldwell proudly. More than just a musician, Staples's biography recalls how "She marched with Dr. Martin Luther King, Jr., performed at John F. Kennedy's inauguration, and sang in Barack Obama's White House. She's collaborated with everyone from Prince and Bob Dylan to Arcade Fire and Hozier, blown away countless festivalgoers from Newport Folk and Glastonbury to Lollapalooza and Bonnaroo, performed with The Band at The Last Waltz, and graced the airwaves on Fallon, Colbert, Ellen, Austin City Limits, Jools Holland, the GRAMMYs, and more."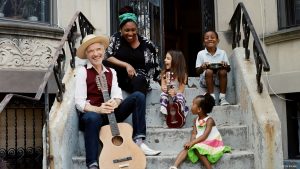 The next day come back for what Caldwell explains is the perfect show "For younger audiences and families. We are bringing GRAMMY award winner Dan Zanes and Haitian-American jazz vocalist Claudia Zanes to perform folk and blues classics in a special sensory-friendly performance that is relaxed, creating a comfortable and highly entertaining environment for families and audience members with a wide range of needs."
Also in January is the singing, dancing, over-the-top spectacle that is "An American in Paris." "Paired with a nice dinner and some French wine, this Broadway classic offers an evening of romance and nostalgia," says Caldwell.
February
Though the weather's still chilly, Aussie-exports and world renowned The Naked Magicians take the stage on Saturday, February 8. This 18+ show promises laughs galore and premium tickets come with the opportunity for an NSFW selfie with the performers…just be careful where you show it off.
The month also brings silent movies like 1924's "Lucky Star," more "Comedy in the Box," and the 11th annual Olympia Dance Festival.
March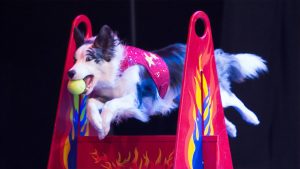 March may come in like a lion but at the Washington Center you'll be up to your neck in wiggly, toy-crazy dogs. Chris Perondi's Stunt Dog Experience, that is. Look for what Caldwell calls "Amazing tricks, big air stunts, comedy antics and athletic feats with high energy excitement! All of the Perondi dogs have been rescued from pounds and shelters from across the country, which truly makes this show exceptional."
There's a showing of the 1924 "The Hunchback of Notre Dame," and plenty of comedy from the Ladies of Laughter,  and more "Comedy in the Box."
Tickets and gift certificates are available through the Center's website or at their downtown Olympia Box Office. Can't decide which show to see? Multi-show subscription packages offer discounts of up to 20 percent off the individual price. Become a Friend of the Center to receive discounts at local restaurants, waiting list priority, and invites to exclusive parties throughout the year. Follow the Center on Facebook for events, activities, show additions, and performance updates.
Picasso once said that "The purpose of art is washing the dust of daily life off our souls." What better way to wave farewell to 2019 and spend more time with family and friends in 2020 than with the gift of art. Holiday joy is yours when you lift hearts with a gift of the arts!
Sponsored