When Nathan Lusk tells people, "I make donuts," big smiles erupt. Just the thought of a donut is enough to generate enthusiasm. Lava Lava Donuts, Nathan's innovative brand of donuts, gives us another reason to get excited – they're vegan. Of course, you don't have to be a vegan to savor one. However, if you do not eat animal products, then you can appreciate these wonders in a deep way.

"I could eat this," is the statement Nathan loves to hear from someone who had not eaten a vegan version of a beloved food. It can be surprising to discover that a donut without eggs or butter could be even more delicious.
An intention of Lava Lava Donuts is to create an intersection where vegan and non-vegan meet. Nathan believes in the importance of people having the experience of flavors and textures they desire without involving animal products. Sustainable eating is important to Lava Lava Donuts, and so is having fun. "I want people to eat less meat," said Nathan, but he also wants everyone to get their donuts.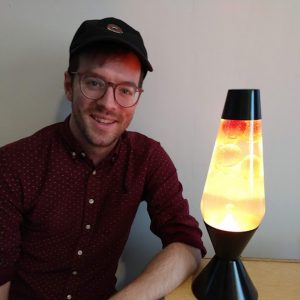 Nathan's life-long attraction to the whimsy of lava lamps is incorporated into his business. Fun names are matched to flavors and ingredients. Get your taste buds salivating by admiring the photos on the website. The Evergreen is topped with a matcha green tea glaze with a lemon zest drizzle. The Mud Flat brings on the peanut butter with dark chocolate. How about the Earthquake with Lava Lava's own chocolate ganache and crusted with roasted nuts? There are Blueberry Ginger and Red Wobblies Bismarks filled with homemade jam. Check out the Coconut Maple Bacon variety. Large flake coconut pieces, seasoned with soy sauce, maple syrup and liquid smoke, satisfy like bacon. Celebrate the holiday season with peppermint mocha or another topped with cinnamon sugar, nutmeg, and cloves.
How do all these donuts get made? While most of us are sleeping peacefully in the wee hours of Saturdays, Nathan is making 300 (more or less) donuts in downtown Olympia. From 2:00 a.m. to 7:00 a.m., he fries 16 donuts at a time in his special donut cooker using rice oil. The dough is made the day before so it is allowed to proof for 18 hours in the refrigerator. The yeast gets extra time to digest more sugar, adding flavor to the dough. After cooling, all the donuts are frosted and decorated. Deliveries to Eastside Co-op and to Burial Grounds are made, and then the rest are whisked up I-5 where they will disappear at the Proctor Market in Tacoma. Lava Lava Donuts made their debut earlier this year at the Tumwater Market to a rousing crowd of donut lovers.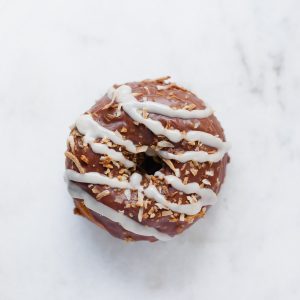 Fridays are spent making the dough and the icings. Nathan is lucky to get a nap in between his Friday morning prep time and late-hour frying session. The rest of Saturday is spent at the market, meeting people and selling donuts. It's a long day, but it fulfills part of the vision that Nathan has nurtured all these years.
Nathan and his wife Lauren pulled up their Midwest roots and moved to Olympia four and a half years ago. I met them not long after their arrival here and remember Nathan explaining that he wanted to have his own business making donuts. That made me grin. They settled into life in Olympia. Lauren is a schoolteacher and Nathan got a job in food service.
Eventually Nathan enrolled in the culinary program at South Puget Sound Community College (SPSCC) and received his Baking & Pastry Arts certificate. He took advantage of Enterprise for Equity, a community supported nonprofit organization that helps to grow entrepreneurs with technical assistance and training. He found that to be extremely helpful.
It took a year of searching to find a suitable commercial kitchen space in Olympia. Lava Lava owns its equipment including a special fryer, a proofer, and a mixer. However, it would be incredibly expensive to invest in an entire storefront with a kitchen with the proper venting system. "There's a huge need," said Nathan when talking about a cooperative community commercial kitchen in Olympia. It would be a place where young businesses could get started.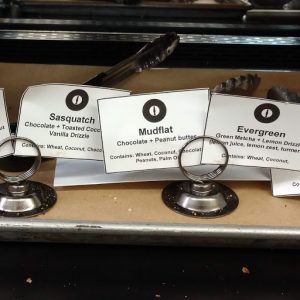 "It's daunting," said Nathan regarding being a small business owner. There are so many hats to wear. It is a big time commitment but he adds, "I really enjoy it." Nathan also contributes to local events such as Love our Local and the Oly Zine Fest. He gets to be innovative in the kitchen and offer an artisan donut.
For now the single night of cooking works for Lava Lava Donuts. Plans are underway for expanding the wholesale business throughout Thurston County. "I'd love to do a food truck," said Nathan thinking down the road. Another possibility is to have a small storefront. All options remain open.
It is possible to place a special order as part of the regular Saturday cooking. For orders over 10 dozen, other arrangements can be made. Contact Nathan directly to work them out. The glorious donut has a limited shelf life, perhaps eight hours, although you could certainly make due with one the following morning. Make yourself a cup of coffee and get ready to light up your life with Lava Lava Donuts. You'll be smiling all day.
You can follow Lava Lava Donuts on Instagram and Facebook.