Our community offers no shortage of small businesses and independent retailers to meet your gifting needs this holiday season. This list, though far from exhaustive, should give you more than a few ideas to help you to find the perfect gift for everyone on your holiday list.
Visit your favorites, and stop by someplace new on Saturday, November 24, in support of Small Business Saturday.
For the Fashion Forward
Belleza Ropa carries a wide variety of clothing, shoes, and accessories for women. They plan on offering some special discounts for Small Business Saturday too.
G.Miller is the place to go if you are looking for quality casual or formal for the well-dressed man in your life.
Hot Toddy carries clothing for the sophisticated woman. Check out their unique items of clothing and jewelry from local and independent designers.
For Someone Extra-Special
Hartley Jewelers has spent nearly 30 years offering men's and women jewelry to their customers from their West Olympia store. If you are looking for something shiny, sparkly, and special to someone on your gift giving, check them out.
Panowicz Jewelers and Super Silver Olympia are both conveniently located in downtown Olympia and carry beautiful pieces for someone special.
Kluh Jewelers in Lacey and S.T. Kluh Jewelers in Olympia carry on the family tradition of providing beautiful jewelry to customers throughout Thurston County.
For the Book Lover
Browsers Bookshop recently renovated and is a treasure trove for bibliophiles. If you are searching for a book as a gift, or witty book-related merchandise, this is the place to go.
Orca Books is the largest independent bookstore in Olympia. It carries new and used books as well as some nifty items by local craftspeople.
Danger Room Comics carries a wide variety of comics, from the classic to the mainstream with plenty of independent comics too. They offer graphic novels, manga, and omnibuses as well as board games and some cool comic related collectables.
For the Movie Buff
Yelm Cinemas offers gift cards for the movie lover in your life. This independent theater shows new releases and has a concession bar with hot popcorn, delicious drinks, and yummy snacks.
descoAV will provide expert knowledge and equipment so you can give someone the gift of an upgraded home theater. Located in West Olympia, their shop carries everything you need for a quality custom audio video system.
For the Foodie
Build a gift basket for the food lover with items from some of these local retailers:
Spud's Produce Market carries local produce, as well as a variety of wines, beers, cheese, meats and is located in the Wildwood Building.
The Mouse Trap is Olympia's cheese shop, specializing in French and Spanish cheeses and carries local cheese from Lost Peacock Creamery and others. On Small Business Saturday, it will host a popup shop event with Glassy Baby to support The Mayday Foundation, which supports families with a parent diagnosed with cancer while caring for children at home in Thurston County.
The Olympia Farmers Market carries locally grown produce, and also hosts a number of local crafters with handmade items you can't find anywhere else.
Bittersweet Chocolates in downtown Olympia produces and sells handcrafted artistic chocolates available individually, in a 4-pack, 9-pack, or 16-pack box at their downtown Olympia store.
For the Kids and Kid-at-Heart
Captain Little is a classic store located in downtown Olympia that sells a wide variety of quality toys for children of all ages and interests. Classic quality toys, as well as toys that encourage interest in science, the outdoors, and art, and board games can be found in this fun shop.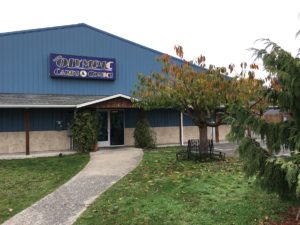 Gabi's Olympic Cards & Comics carries comic books, board games, card games, table top games, toys and collectables, and hosts events and tournaments at their Olympia store. Throughout the year, owner Gabi Shephard gives back to the community with in a variety of ways, from ensuring that local kids have all the school supplies they need to hosting fundraisers to benefit charities.
The Toy Box Collectables carries hundreds of titles of vintage video games for a variety of consoles as well as hard to find vintage toys in their Lacey Store.
Think Outside the Box
Some unique shops resist categorization. Take a look at these stores for interesting and unique gifts for anyone on your list:
Radiance Herbs and Massage carries crystals, candles, body care products, special tea blends, and baby care items that make great gifts in their downtown Olympia store. They also offer gift certificates for massage.
The Popinjay has been located in downtown Olympia since 1977 and offers a multitude of gifts for all ages like clothing, jewelry and chocolates.
Ember Goods is a newly opened shop in downtown Olympia that specializes in Pacific Northwest inspired clothing, coffee, and art.
Archibald Sisters offers items from socks to coffee cups. They also carry their own massive line of body care items that can be customized with a variety of different scents from lotions, body sprays, bath bombs, and more.
Traditions Café and World Folk Art stocks a multitude of items from artisans around the world
Tim's Pharmacy & Gifts in Yelm has cards, candles, décor, and jewelry as well as a truffle counter with delicious candy.
Artisan Markets
Additionally, on Small Business Saturday, locals can stop by two artisan markets to purchase a multitude of handcrafted unique items, often directly from the artist or crafter themselves. Both markets offer free admission and plenty of parking.
The Shipwreck Beads Annual Artisan Market hosts about 100 different vendors. It takes place from 10:00 a.m. to 5:00 p.m. at Shipwreck Beads, 8560 Commerce Place Drive NE in Lacey.
The Eighth Annual Lincoln Winter Market presents about 65 vendors, including food vendors and a kids market made up of current and past Lincoln Elementary students. The market will be held at Lincoln Elementary at 213 21st Avenue SE in Olympia from 11:00 a.m. to 4:00 p.m.
If a full day of shopping has left you famished, why not stop by a local restaurant for dinner or a snack to finish up your small business Sunday. Grab some fast fuel at Zoe Juice Bar, MiSo, or Eastside Big Toms. Enjoy some drinks with dinner at the Uptown Lounge or try some delicious inspired flavors at The Iron Rabbit Restaurant & Bar. And round the day out with a sweet treat from Miss Moffett's Mystical Cupcakes .
Remember, Small Business Saturday is on November 24, but every day can be a small business day when you shop in the many local retailers that are a part of our community.