In 2006, when Jean Carr and Perry Shea founded SCJ Alliance, along with Bob Jewell, they were clear about one thing: it had to be an environment where people would want to come to work. "We were mindful that it takes a lot of time and energy and hard work to start a company," says Carr. "Knowing that we would be spending more waking hours with our colleagues than with our own families, we wanted it to be a place where people were motivated to come to work and do a good job."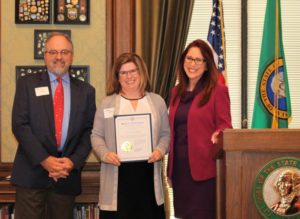 Twelve years later, it's clear they succeeded. SCJ routinely tops regional lists of Best Places to Work while continuing to attract new business and expanding to 100 employees. Recently Carr took over from Shea as President and CEO of the company, a transition that has been in the making for years. "We've been planning for leadership transition over time from the beginning," says Carr.
The move leverages Carr's skills as a planner who enjoys working with systems and processes. "A lot of people assume I'm an engineer, but I started my career as a Land Use Planner with the City of Lacey," Carr notes. "It appeals to me because I like to think of the big picture, I like to know how things fit together and look for creative solutions. There's a lot of problem-solving that goes along with planning and engineering and running a company." Her 1990 college graduation happened to coincide with Washington State's adoption of the Growth Management Act, which meant that planning jobs were suddenly plentiful.
After 10 years with the City of Lacey, she joined a private consulting firm where Shea and Jewell were colleagues. A few career moves later, they all reconnected and founded Shea, Carr & Jewell. "Perry and I have always worked well together because he has strengths in areas that I don't, and I have strengths in areas that he doesn't," Carr explains. "We wind up balancing each other really well. Over the years that has been part of our recipe for success."
From the start they were intentional about creating an exceptional company culture. Selective hiring has proven to be a key. "We're looking for people who want to dive in and help, no matter what the situation is," says Carr. "Whether it's their area of expertise or not, if they see a colleague who's struggling, they'll have your back. As a result, we have the most amazing group of staff."
Along the way, smaller moments have stood out alongside larger accomplishments and awards. "There have been a lot of times when I've thought, 'Wow, I can't believe we did that,'" says Carr. "I'll look at a proposal we've put together and realize that there's no way we could have submitted something like that a few years ago or without the help and experience of some of our strategic hires."
Observing how the growing number of staff interacts with each other has been equally satisfying, she notes. One group of bicycle enthusiasts has regular adventures together that include colleagues from SCJ's Lacey, Ballard and Centralia offices. At all-office company campouts, more than 60 people show up for the weekend. "It's not mandatory and there's no downside if people don't want to attend, yet we get a really good turn out," says Carr. "I just love that."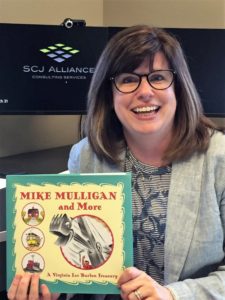 The years have also brought wisdom and perspective. When they founded SCJ, Shea, Jewell and Carr divvied up responsibilities by department, with Shea covering finance, Jewell overseeing technology and Carr directing Human Resources and administration. "I've learned that no matter how large or small you are, there will always be 10 percent of your staff having some sort of problem at any given moment," she says. "People are dealing with things outside of the office that affect their lives. Being aware of that helps with the days when somebody responds in an unexpected way."
Another lesson: stress doesn't go away, so the important thing is learning how to manage it.
"Either you're not busy enough or you have too much work and you're not sure how you're going to deliver it," says Carr. "Don't imagine, 'If I can just get through tomorrow there won't be stress.' There always will be; it's all about how you manage it. That's part of why surrounding ourselves with colleagues we can rely on in those moments is really important."
Looking ahead, she anticipates leading SCJ to both known and unknown frontiers. The company tends to grow as opportunities present themselves or through strategic hires rather than by setting a target number of employees or projects. Mainly, she's looking forward to reinforcing the culture.
"You can draw a direct connection between the culture and the bottom line," says Carr.  "We do a good job for our clients and we're healthy financially because we care deeply about our staff and our clients, and that shows up in the quality of our products. I'm looking forward to continuing to make SCJ a great place to work and a great place to work with."
For more information, visit the SCJ Alliance website or call 360.352.1465.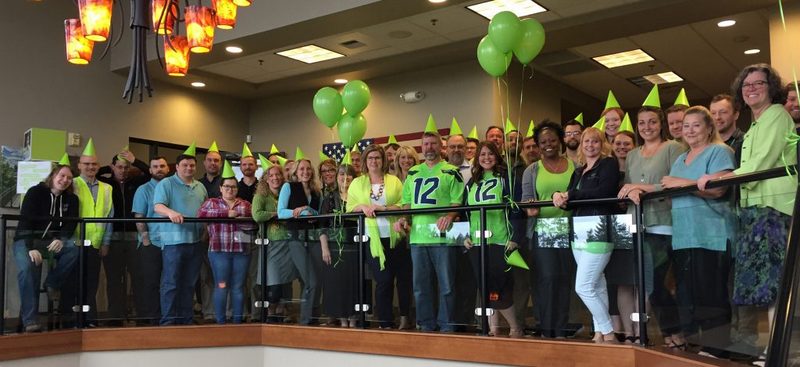 Sponsored