When you're looking for a new escape, getaway, restaurant, or experience, how do you search? For many, online reviews and awards won are a sure sign of a good time. At Shelton's Little Creek Casino Resort, they've got plenty of both and something for everyone.
Industry experts report that "90 percent of consumers read online reviews before visiting a business. And 88% of consumers trust online reviews as much as personal recommendations." Little Creek's customers praise the Resort's service, amenities, and staff. One even considers it her "go-to getaway."
These dedicated customers have done more than just take time to leave glowing reviews. They've voted Little Creek Best Casino and Best Lodging in the recent Best of South Sound rankings. Little Creek was also in the top three finishers for best buffet, best golf course, and best place to dance.
Casino management and supervisors are thankful for the honor and acknowledge that it's all due to their dedicated customers and hard-working staff. Derick Decker, hotel manager, is grateful for both positive and negative reviews, which are turned into site-wide learning experiences. "Our staff relies on public feedback, so we can identify areas of our operation that require improvement," he explains. "Feedback is greatly appreciated and will be shared with the appropriate team to ensure future guests' expectations are exceeded."
Promotions Coordinator Jennifer Brines agrees. While the win is exciting, staff know that "most importantly it's how we got there. Which is Little Creek's customers. They voted Little Creek number one, and Little Creek would not be here without them!"
Exceeding expectations isn't hard thanks to remodeled and rejuvenated hotel suites, five-star dining options, and a full calendar of events. Drop by next time you're in the mood for a night on the town or close-to-home getaway. An easy 15 minutes from Olympia, there's always something to try.
Whether you come to eat, stay, or play, make sure to sign up for Little Creek's Players Club. Anyone over the age of 21 is welcome to start their free account online, in person, or via the newly launched mobile app. Membership benefits include free check cashing, promotional entries, exclusive offers, pre-sale deals, and valet parking.
If you're a wandering type of explorer, consider visiting when there's an on-site expo or show. A not-to-be-missed event is the free Wine and Jazz event held at the golf course driving range on July 14 at 6:00 p.m. and July 21 is the sixth annual, fan-favorite Cruise at the Creek car show and drag races.
Sportier guests can attend—and even enter to play—one of the many golf tournaments held at the nationally-ranked Salish Cliffs Golf Club, including the 17th annual four-person MLRC scramble on June 4. 21
Perhaps the most unique way to visit, whether it's your first or hundredth time, is through the Waves of Perfection cultural fundraiser. Little Creek's culinary team pair their finest work with global wines thanks to a master sommelier. There are wine-themed educational seminars, tastings, and even overnight room packages available.
Monies raised at Waves of Perfection stay locally to benefit the Squaxin Island Museum. Staff explain that this "unforgettable evening aids the Squaxin Island Museum in its effort to provide cultural and educational opportunities to tribal members. Your support helps to fund language classes, our song and dance group, and youth access to cultural resources. Together we make our community unique, vibrant and rich in artistic heritage." Tickets are available online, in person, or by calling 800-667-7711.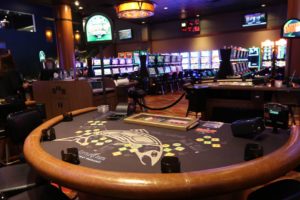 Writer and Professor Michael LeBoeuf explains that "Every company's greatest assets are its customers, because without customers there is no company. A satisfied customer is the best business strategy of all." These customers voted Little Creek amongst the best in our region and Little Creek promises to deliver high quality entertainment, food, drink, gaming, and more for years to come.
Follow them on Facebook, Twitter, and Instagram for news, specials, and upcoming events. While there, sign up for a monthly newsletter of discounts, activities, and more.
Little Creek Casino Resort
91 West State Route 108, Shelton
Sponsored