The Olympia community is invested in quality alternative education. With programs like the Olympia Regional Learning Academy (ORLA), Avanti High School and many others available in the Olympia School District, students who thrive in a non-traditional school setting are able to attend a school that supports them. Families should also know that there is another type of alternative education that fits with homeschooling, alternative programs and even traditional schools. Outdoor schools are quickly becoming a popular option for families in the greater Olympia area. ACORNS NW is an outdoor school focusing on inclusion and accessibility by offering several types of programs for preschool aged children and up.
Heather McKenna of Yelm is the co-founder and business side of ACORNS NW Forest School (A Cooperative Outdoor Revolutionary Nature School, Northwest), which includes preschool, elementary-aged and teen wilderness education. Both McKenna and her co-founder, Kendra Öbom, have been involved in outdoor school for many years. McKenna is an outdoor school parent and they both have been wilderness instructors. She felt that "the community was lacking [this type of] program because there are multiple in bigger cities like Seattle, Bainbridge Island, a couple on Orcas Island and in Eastern Washington. It was about filling a need." McKenna also teaches wildcrafting at ORLA, where her son attends school.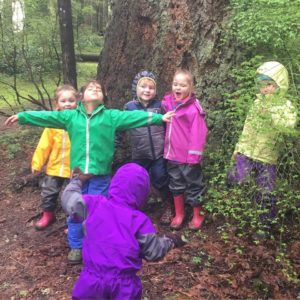 Outdoor schooling is a form of instruction where a student's learning environment is in nature (primarily the forest). It is not school in the traditional setting of homework, desks and pencils, but rather a way for students to build community and learn about themselves and nature. Common things ACORNS NW students learn include fire making, animal tracking, shelter building and wildcrafting (the practice of gathering plants to use in various, often medicinal, ways). Students bring their own lunch to ACORNS NW, but also learn about edible plants and other wilderness survival skills.
ACORNS NW offers year-round education – school-year based classes as well as summer and winter break camps. Some examples of camps being offered this summer are: Witch Camp; Baskets, Foraging, and Herbal Medicine; and Stealth, Camouflage, and Obstacle Courses. Forest Tadpoles is ACORNS NW's half-day (9:00 a.m.-1:30 p.m.) class on Fridays for two- and three-year-olds. Three- to five-year-old students can enroll in Forest Preschool Monday through Friday from 9:00 a.m.-1:30 p.m. Forest School is ACORNS NW's original program for ages six through 10. It runs on Fridays from 9:00 a.m.-3:00 p.m. Additionally, ACORNS NW offers teen programming, which is for ages 11 and up. It's currently in the form of summer camps and internships (if teens are interested in helping teach outdoor school to younger children).
McKenna states, "The concept and why we called it ACORNS NW is because we wanted ACORNS to be an umbrella and to allow other programs and other things to happen within it." Groups can also request custom programming for parties, teams or even for families to learn the basics of hiking or camping. "One of the big things we stress is community and building community, not just outdoor education in general," McKenna says. "Outdoor experiences are often such a white, heteronormative thing for people with money. We're really trying to make it accessible to everybody. We really try not to turn people away for lack of funds."
Being inclusive and accessible for all is a founding principle for ACORNS NW. Both co-founders, as well as several staff members and students, identify as LGBTQIA+ and several of their camps are geared toward transgender or non-binary youth in particular. Additionally, ACORNS NW works to include people of color into their staff and student mix.
McKenna and Öbom are also aware that Priest Point Park (where most of their forest school programs and activities are held) is on Native American land and have included that knowledge into their multiple curriculums. On the ACORNS NW website, they state:
"We acknowledge that these lands and waters are the territory of the Steh-chass people. The Steh-chass people are of the Squaxin Island Tribe. The surrounding mountains, valleys, waterways and shorelines are imbued with their living presence. May we nurture our relationship with our Coast Salish neighbors and our shared responsibilities to this place, their homelands, where we mutually reside."
Outdoor schools have also started to become part of the statewide conversation about education. Senate bill 5357 created a pilot program utilizing existing outdoor schools (including ACORNS NW) to help define the regulations involved in licensing outdoor early learning facilities. Childcare facilities and preschools both have sets of rules they must follow and ACORNS NW is working with lawmakers and other preschools to compare the two lists of regulations (since outdoor schools have similarities to both traditional preschools and daycare programs) and create one that works for outdoor preschools.
"We are a part of a pilot program, a cohort, with six outdoor preschools in Washington state," says McKenna. "The bill, 5357, is set up to create licensing for outdoor preschools. Right now, for any preschool, you can get a license in the same way you would childcare. Part of that is setting up safety standards. It sets up [student to instructor] ratios, standards and expectations, background checks, all these things. For outdoor ed, they've taken the preschool and childcare rules and laid them down. What we're doing as the cohort is taking these two examples and figuring out the rules. Our schools are experts in the field, which is why they're using us. We're the first in the nation to be licensed, so we will be setting a precedent for everybody."
While many of the families who attend ACORNS NW are in the homeschooling and/or unschooling community, some Forest School Friday attendees are enrolled in traditional elementary schools. As part of their individualized education plan (IEP), which is a document developed for students who may need special educational help, some students in the Olympia and Tumwater School Districts attend ACORNS NW. The Olympia School District allows students to go to a full day on Fridays, and Tumwater School District students can attend half days.
With the increase in technology in homes and schools, outdoor schooling is a unique addition into the education field. The current conversation surrounding alternative education and outdoor schools in particular is a great step towards supporting all types of learners in enriching and personalized ways. As mentioned in Senate Bill 5357, several studies have been conducted in Scandinavian countries that show nature having a positive impact on students' mental development and social skills. ACORNS NW is consciously working to create a space for Olympia community students to grow and learn in nature.