Ahh, the cupcake. This decadent treat is the perfect anytime pick-me-up. Not sure what to give as the perfect gift? Hosting a celebratory party? Need to recover from all that shopping and hosting? The answer is always cupcakes.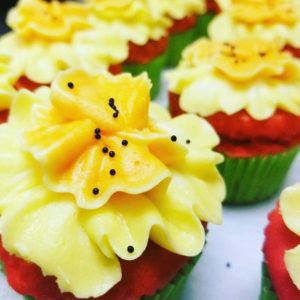 Locally, Miss Moffett's Mystical Cupcakes is home to an array of deliciously baked specialties. They offer vegan and paleo options and the entire bakery is gluten- and peanut-free. Trying your hardest to stick to those New Year's Resolutions but craving a treat? Consider one (or a dozen) guilt-free cupcakes, which are vegan, gluten-free, and sugar-free as well.
Owner Rachel Young is excited for this year's Mother's Day offerings. "We are offering floral themed cupcakes the month of May in honor of Mother's Day," she shares, "as well as rolling out Mimosa and Mojito cupcakes! We are also hosting a Build-Your-Own Cupcake Bar at Lacey Forza Bistro and Event Center on Saturday, May 12."
Register online to come build mom, dad, grad—or yourself—the perfect cupcake. The Bar is $9.99 per person and attendees will decorate two cupcakes with a variety of cake, frosting, and topping flavors. You'll also receive a box to present the finished product (or one of them, anyway) to the delighted recipient. It's ok if you eat the other and call it "quality control."
Throughout the busy spring celebration season, Young encourages readers to mention this article to receive 10 percent off their order.
As June rolls around place your special order for a Father's Day Mustache cupcake though "anything chocolate is popular," admits Young. Graduation cap cakes and family-friendly pull-apart cakes also fly off the shelves. Turnaround time for special orders is 48 hours and requests can be made by calling 360-870-0377 or via their website. In-store pick-up is free at one of their many local locations and local delivery is only $19.99.
Because the bakery is 100 percent gluten- and peanut-free, Miss Moffett's cupcakes are ideal for school parties as well. Young and her team will even help you book the perfect event for any age at their central Lacey location or a hands-on Decorating Party at the Marvin Road site.
Though they may never admit it, some of the toughest critics are moms and brides. With so much on the line, having a reliable catering resource can make or break your big day. But glowing reviews show that the Miss Moffett's team are up for any challenge.
"I needed cupcakes for my peanut-allergic 5-year-old's birthday party, but could not find a single bakery that was able to guarantee a peanut safe product," Says one mom. "His allergy is severe so if I'm not able to make it myself, he doesn't get to enjoy many sweet treats. I was thrilled to find Miss Moffett's! They were so friendly and professional, and everyone at the party said they were the best cupcakes they'd ever tasted. I highly recommend them!"
For weddings, bakery packages can include delivery, set-up, and decorative stand rental. These include cupcakes and/or French macarons as well as a small cutting cake for the happy couple.
"This place is great!" A recent bride proclaimed. "We had a mishap with a different dessert vendor for our wedding reception, which resulted in us rushing to find another place. Not only did they say that the time limit wasn't a problem, they had a great deal on multiple dozens of cupcakes! The day arrived and they looked so pretty on our table, some people said they didn't want to eat them. But of course, that didn't last long, and they were all delicious. I don't mind that we ended up with a bunch of extras to take home; now we don't have to share them with anyone!"
Find gorgeous photos of their sweet treats on Facebook and advance notice of special or limited-time flavor combinations (chili pepper and chocolate, anyone?). Or browse the Custom Cupcake Gallery on their website for inspiration.
Statisticians recently ranked cupcakes in the top three types of dessert with red velvet, chocolate, and vanilla being the preferred flavors. Known in market research for their "affordable indulgence," they're a guaranteed day-brightener, whatever the occasion.
Contact the team online with questions, feedback, when seeking donations, or hosting fundraisers. Let Miss Moffett's Mystical Cupcakes help save the day.
Sponsored