No matter where you live, as Americans we're surrounded by a vast array of backgrounds and ethnicities. One of the best—and tastiest—ways to learn more about them is through food. In a recent report, the Better Business Bureau (BBB) shares that "If there's one thing that seems to unify different cultures, it's the tradition of gathering together to share a meal and socialize. Cooking and eating go hand-in-hand with good conversation."
These are the backbone of the decadent Waves of Perfection fundraiser at Little Creek Casino Resort. A benefit for the Squaxin Island Museum in Shelton, the event raises money for their many tribal, cultural, outreach, and educational programs.
This year's third annual evening takes place on Saturday, May 19. Seminars begin at 3:00 p.m. and festivities kick off at 4:30. "What started as a simple celebration of wine and chocolate has grown into a true culinary journey," says Food and Beverage Director Victor Mortazavi. "Little Creek Casino Resort strives each year to exceed expectations of our guests by providing handcrafted delicacies, selected by our award winning executive chef, paired with the finest wines for a unique culinary experience found in few locations outside of Paris, New York, and Las Vegas."
Such pairings are a delicious way to immerse yourself in unique, regional Northwest flavors. As the BBB article continues, "Understanding ingredients that go into making ethnic meals gives you and your family a lesson in agriculture and geography. The world becomes a map of flavors, as diverse and vibrant as the people who use them to season popular and traditional dishes."
At Waves of Perfection, these flavors include "vibrant hibiscus flowers blooming in sparkling champagne, flavorful pâtés, gourmet cheeses, savory appetizers, flambéed desserts, and of course the finest chocolates and wines."
Beforehand, consider booking one of the resort's room specials to make it a weekend to remember. For $225, receive a room for the night in one of their newly redesigned rooms, spa access, and two tickets to the event. But there are a limited number available so book your stay early.
Then sign up for informational seminars on the best topic of all, wine. These run from 3:00 p.m. to 3:45 p.m. or 4:15 p.m. to 5:00 p.m. and cover champagne and sparkling wine tastings, Italian or French wine-growing regions, and "Reasons to Love Riesling." These are $25 or can be bundled with your Waves of Perfection tickets for only $15.
The Squaxin Island Museum Library and Research Center (MLRC) is a cultural touchstone for tribal members. The Museum describes itself as fostering "The strong connection between the seven inlets of South Puget Sound and the Squaxin Island Tribe—People of the Water—is the core theme that is presented in all exhibits and galleries throughout the MLRC. As a living eco-museum, the MLRC shows how nature and Squaxin Island Tribal culture relate. Key topics, such as our prehistoric and present-day aquatics-centered lifestyles, timber/wild game harvest and management techniques, oral history and legends, the Treaty of Medicine Creek, religious practices and arts, all highlight this link with nature and the inland sea."
Outside of the museum, MLRC staff "presents exhibits, lectures, films, tours, traditional skills workshops and educational outreach programs for students in local schools." Donations through event and museum visitation maintains artifacts, fosters artists, and all that goes into preserving the in-depth history of a nation.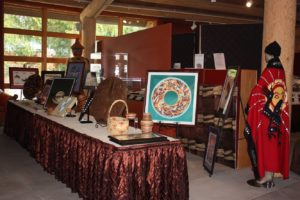 Tickets are available online or on-site. Entry is $65 in advance or $75 at the door.
For questions about the event, contact the Squaxin Island Museum at 360-432-3849. To book your resort stay or buy tickets, call 800-667-7711.
Seattle is in the top 5 American foodie destinations of 2017 according to ratings site Zagat.com. But you don't have to drive to the big city to experience fine dining, creative chefs, and master sommeliers. You can enjoy all three while letting the talents of local artisans wash over you at Waves of Perfection.
Sponsored