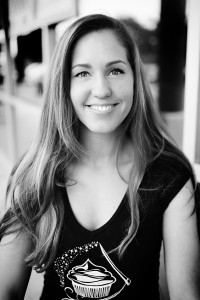 When you were a kid, did you know what you wanted to be when you grew up?
Rachel Young had dreams of being a rockstar one day and a ballerina the next. These, however, were not careers she found herself in as an adult.
Instead, four years ago, Rachel was commuting from Olympia to Seattle, working at a job she loathed. Rachel was an accountant and she hated her job.
"I would sit at my desk and be miserable," she recalls. "I started to think about what I actually wanted to do, but I didn't really have anything that I was passionate about."
That is until she baked her first batch of cupcakes in 2011.
Rachel baked cupcakes for the first time after leaving her accounting job to be a stay at home mom. She was also pregnant at the time and craving her mother's homemade black bottom cupcakes with cream cheese frosting.
Rachel had never made cupcakes from scratch before, but after asking her mother for the recipe and baking the cupcakes at home herself, she was hooked. "I wanted to turn everything into a cupcake," she says.
Rachel baked batch after batch of cupcakes, concocting unique flavor combinations from all-natural ingredients. During her pregnancy, Rachel craved root beer floats, so she created a root beer float cupcake. She cooked beets to make dye-free red velvet cupcakes. She made blueberry cheesecake cupcakes, s'mores cupcakes, orange creamsicle cupcakes, and the list goes on.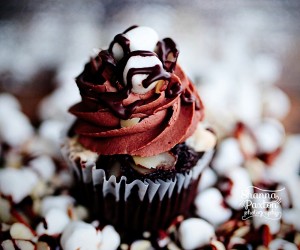 "I was obsessed with cupcakes," Rachel says.
While Rachel was busily baking in her kitchen and dreaming up her next cupcake creation, she says there were other forces helping to guide her journey. "It felt predestined," she says.
Before ever baking her first batch of cupcakes, way back when she was still working as an accountant, Rachel started reading tarot cards. "The card I kept wanting to get was the Empress — the divine feminine," she says.
That's who Rachel says she channeled when she created her company, Miss Moffett's Mystical Cupcakes. But the divine feminine came to her in more ways than one.
During this time, Rachel also found inspiration from another muse — her great grandmother and namesake, Rachel Moffett.
However, more than just her great grandmother, Rachel Moffett was also a passionate baker. She even owned a café in Hillsboro, Texas where she would bake jelly-filled cupcakes for patrons, family and friends.
"Somehow her spirit touched my soul," Rachel says. "I can't really explain how it happened. All I know is that at some point during the early stages of my newly found baking hobby, I woke up in the middle of the night with the idea for Miss Moffett's Mystical Cupcakes."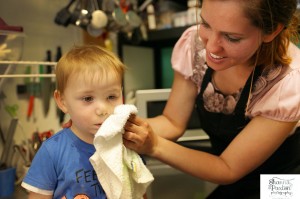 While the journey has been nothing short of magical, it didn't come without its fair share of challenges.
Rachel sold cupcakes at downtown Olympia's Paprika Café by day and rented the café's commercial kitchen to bake cupcakes by night. Rachel desperately needed more customers if her business was going to be successful.
With the help of her mother, Rachel delivered package after package of cupcakes to local businesses, hoping someone would hire her as a vendor. With only a few businesses wholesaling Miss Moffett's Mystical Cupcakes, Rachel feared her business would fail. That is until Picasso Brother's Espresso and Café in Centralia began ordering Rachel's cupcakes by the dozens.
With an upswing in business, Rachel was inspired to keep going, and she applied to be on "Cupcake Wars."
With buzz about her episode of "Cupcake Wars," Rachel hoped to see business increase, but it didn't.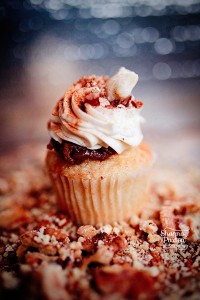 "I was on 'Cupcake Wars,' but I wasn't selling cupcakes. I couldn't get a bank loan, and no investor would back me," Rachel explains. "I felt like I was throwing in the towel."
But then Rachel received an email from Sweet Charley B's Cupcakery owner, Amanda Beers, asking if she would be interested in taking over her downtown Olympia lease. Amanda was even willing to throw in all of her cupcake making equipment on a payment plan. This was the opportunity Rachel had been waiting for.
In 2013, Miss Moffett's Mystical Cupcakes transitioned from being an online wholesaler of cupcakes to a retail store across from the Olympia Farmers Market. In the two years that have followed, two additional locations — in Capital Mall and, most recently, Lacey — have opened.
"The universe continues to open up doors," Rachel says, noting that in the future she will continue to give back to her community, empower women, and help those less fortunate. She even has her vision set on creating a Miss Moffett's franchise.
Miss Moffett's Mystical Cupcakes offers a wide selection of tarot card-inspired cupcakes, including dairy-free, sugar-free and gluten-free varieties, for those with dietary restrictions.
Everything is made in-house, by hand, from scratch, under the watchful gaze of great grandmother Rachel Moffett's photograph, which hangs proudly near the front of the store.
For more information, visit any one of the three Miss Moffett's Mystical Cupcakes locations across Thurston County, or visit Miss Moffett's Mystical Cupcakes online.