Aging, as they say, is inevitable. But it doesn't have to mean slowing down or losing touch, especially for residents of Lacey's vibrant Panorama community. Their goal of "creating an affordable retirement lifestyle for doers and dreamers…[with] opportunities for lifelong learning and volunteering" makes for active, beneficial partnerships across the region.
In a recent Stanford University study, researchers addressed how "intergenerational relationships can transform our future." They acknowledge that "Today's older people are healthier, mentally and physically, than older generations before them. They are far removed from the dependency, disability and decline that are yesterday's stereotype of what it means to age. They are capable and experienced."
The report stresses that "Today's aging population…offers a potent synergy for society, and for youth specifically. The very attributes that older people possess—the often-overlooked gains that come with aging—are ideally attuned to key needs of today's younger generation. Simply stated, older people's qualities and their affinity for purpose and engagement position them to make critical contributions to the lives of youth who need help the most. At the same time, such engagement fulfills older people's desire for a sense of meaning and purpose, which in turn promotes well-being. Mutually meaningful relationships develop for both old and young."
On March 13, 2018, Panorama partnered with the North Thurston Education Foundation to share volunteerism opportunities between residents and local students of all ages. Meghan Vu, Director of Philanthropy, explains they showcased "a variety of ways residents could get involved in local schools in our community."
The evening was instigated by former NTEF board member and current Panorama resident Paul Stebbins. Says Vu, at his suggestion "everyone got really excited and it was a great way to share more with the other residents."
Other speakers included Debra Clemens, Superintendent of North Thurston Public Schools, Mike Jones, NTEF Executive Director, a high school student who was formerly homeless but graduated thanks to community support programs and the Timberline High School girls' choir, "who were a huge hit!" says Vu.
One of these programs creates scholarship mentors to help students apply for available grants and college scholarships. "We know there are plenty of people who'd be willing to volunteer their time as a scholarship coach—we just need to find them," explains Jones. "We are partnering with Panorama to hold an informational meeting about matching mentors with students."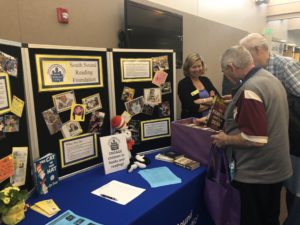 Vu hopes that "volunteers will snowball as more residents learn about the opportunity. The NTEF is a good organization to take a leadership role. It really is a great partner for us, they have all these great contacts."
Events like this offer valuable opportunities for vital, intergenerational support. Panorama has also hosted representatives from the United Way's Reading Buddy program, the Little Red Schoolhouse Project, Big Brothers/Big Sisters Bigs in Schools program and the South Sound Reading Foundation.
Currently North Thurston School District students from kindergarten through high school are also working on textile projects using skills taught by Panorama residents. These will be displayed at an Art Show hosted at South Puget Sound Community College's Minnaert Center. The show will take place in late 2018 and includes work with cloth, paper, wood and weaving.
More than helping students, community outreach benefits residents as well. "Often residents are new to this community," says Vu, "and it's a neat thing exposing them to intergenerational opportunities. We're excited to see how it grows."
If you know a student seeking financial aid or who would benefit from mentorship, read more about the NTEF's scholarship opportunities online or contact Mike Jones via email at ntef@hotmail.com or by calling 360-790-6548.
For more information on the upcoming textile show, contact Sue Ballard (bsuebee@aol.com) or April Works (aprilworks@gmail.com).
"Older people are well positioned to step into the role of champion and mentor, either complementing family relationships or providing important support where family structures are weak. They offer the emotional stability that improves with age, and the wisdom that grows as experience deepens. They have strategic communication skills and are motivated to contribute to the lives of future generations…Recognizing this unique fit and its mutually beneficial synchronicity holds untapped promise for the good of current and future generations and society at large." (Stanford study)
If you were blessed with vibrant grandparents, you don't need Stanford scientists to point out all the good they do. Consider volunteering to pay it forward and create a support system, and a better future, for local youth.
Learn more about Panorama's lifestyle, campus and amenities online or by calling 877-241-2682.
Sponsored