Just down the street from the Olympia Farmers Market sits a gem of a cafe that is dedicated to serving up delicious sandwiches, soups and salads year-round. Back in January, the ThurstonTalk team took a quick stop by this local spot: the Sidewalk Cafe. The cafe was just about to undergo a big renovation and we promised to come back after they were finished to share more about the past, present and future of their restaurant. So, let's take a bite!
The Sidewalk Cafe has been open in downtown Olympia for approximately 8 years. Back in October of 2017, Seth Hutt was offered the opportunity to purchase the restaurant from the previous owner and he jumped right in. Having a diverse culinary background across the west coast with an emphasis on French cuisine, Seth had a vision for what the Sidewalk Cafe could – and would – be.
For the first few months, Seth kept the cafe running as it had under the previous owner while he spent time planning and researching. Then, he closed the spot for most of January while the restaurant was redesigned from the floors to the menu. He even traveled across the state of Washington to collect various items for the redesign. For example, the long benches inside are made from recycled wood pallets in Walla Walla and the tables were bought in Port Townsend.
Now, the interior of the cafe has a new fresh and inviting feel that is comforting on a cold, winter day but bright and refreshing for a warm spring lunch. The front counter area was rearranged to be more welcoming and easier for customers to navigate around. Trendy new light fixtures hang above and the chalkboard menu now spreads the entire wall. A new paint job covers the floor and walls while a large metal door was installed to separate the back kitchen from the dining room.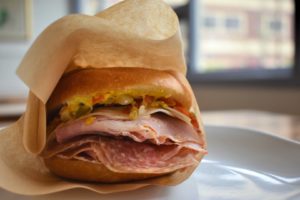 The interior design wasn't the only part of the cafe to be renovated though. Seth wanted to turn the cafe into a local spot for made-from-scratch French cuisine with classic American and Jewish twists. In doing so, he also wanted to rethink the menu and dining experience. Their menu will now be seasonally rotated and they are sourcing from new local vendors, such as Cascade Bagel near JBLM.
Sidewalk Cafe will still specialize in soups, salads and sandwiches made from fresh ingredients, like house-made roast beef and pastrami. However, you won't want to miss their new rotating bagel fish and cream cheese spreads or their matzo ball soup. Another popular option is their gluten-free quiche. Their coffee is now served via French press and they will be offering various changing grain salads.
With the redesign, Seth has made menu items more affordably priced. They are also expanding to offer more catering services in our community, especially with bagel spreads and platters. Seth would love to see the Sidewalk Cafe turn into the local spot for neighbors to pick up "real bagels" to bring home; that is, bagels that are more traditionally made by being both boiled and baked.
In the coming months, Seth is also working with the Olympia Farmers Market to introduce more brunch items that are freshly sourced from the market. But don't wait until then to stop by and grab a delicious sandwich. Seth's mother is frequently working behind the counter and would love to see you next time you're in. Save a bagel for us!
The Sidewalk Cafe
601 Capital Way N
Olympia, WA 98501
Breakfast: Mon – Fri 9:00 a.m. (Fresh Bagels)
Lunch: Mon – Fri 11:00 a.m. – 3:00 p.m.; Sat – Sun 10:00 a.m. – 3:00 p.m.