As the spring weather embraces Thurston County, many people are ready to grab a good book and read outside in the sun for a few hours. However, your reading list may need a new recommendation or two. In the second installment of our Backed by Browsers series, Browsers Bookshop owner Andrea Griffith brings you her top recommended reads to check out this spring.
P.S. Browsers just finished their gorgeous renovation, including a beautiful new children's section. Be sure to stop by and check it out for yourself sometime soon!
---
Children's
Though this story has been out for a little while, a new edition was just released as board book which makes it perfect for younger children. Olympia-based author Nikki McClure captures the essence of springtime in the Pacific Northwest as the young child in the book continues to ask his mom, "is it spring yet?"
"It really mirrors our long buildup to summer here in Olympia; I think it's very seasonally appropriate," said Andrea.
---
Memoir
This book is a must-read for fans of The Glass Castle by Jeannette Walls. Westover's memoir explores her experience growing up as a Mormon Fundamentalist with parents who were survivalists in Idaho and her quest to become educated. Ultimately, readers are taken on a powerful journey of what it means to become "educated" – and its high costs.
"This is one of the most gripping books I have ever read in my life," commented Andrea.
---
Memoir
Another local author who lives just down the street in Tumwater, Matt Young's memoir is described as a "daring, twisted, and darkly hilarious story of American youth and masculinity in an age of continuous war." Young joined the Marine Corps at the age of 18 and eventually survived three deployments to Iraq. He will also be at Browsers Bookshop on May 17 to speak about the book in person.
"It's very honest and a great coming-of-age story," said Andrea.
---
Non-fiction
Published posthumously, this book is a collection of interviews between acclaimed science fiction writer Ursula K. Le Guin and David Naimon. From craft and aesthetics to genre wars and the patriarchy, Le Guin's conversations with Naimon examine the brilliance of life and writing.
"I'm reading this right now and it's so beautifully done. The thing about books about writing is that they show you and tell you how to pay attention," said Andrea.
---
Fiction
Are you a fan of mysteries? Then you'll definitely want to snag a copy of Magpie Murders which is described as "a deviously dark take on vintage English crime fiction in which the reader becomes the detective." Recently released in paperback, this story-within-a-story about a mystery writer's death will keep you on the edge of your seat.
"If you're traveling somewhere this spring or early summer, this would be a great book to pack to read while you're on vacation," recommended Griffith.
---
Andrea's Honorable Mentions
Be sure to also check out these titles if you're looking for a new read:
---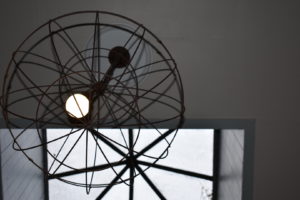 Visit Browsers Bookshop
Make sure to check out Browsers Bookshop on Facebook and visit them downtown between 4th Ave and State.
Browsers Bookshop
107 Capitol Way N.
Olympia, WA 98501
Monday-Saturday: 10am-7pm
Sunday: 11am-5pm