When Kasey Louis goes up for the attack you can see each player on the other side of the net immediately tense up, preparing to defend the impending doom that is about to rain down on them.
"She's a hammer," Timberline volleyball coach Krista Manke said about her 5-foot-10 senior middle hitter. "And she's always hammering. The girls say when she swings, she's bringing the sauce."

Louis is long and athletic and intimidating.
And four years ago, she had no idea how to hit a volleyball.
"My freshman year I couldn't hit," said a smiling Louis. "I had never really played volleyball before. I remember telling coach during try-outs I couldn't hit, but I can do everything else."
Louis' experience prior to becoming a Blazer was limited to simple pick-up games during PE while attending the Community Christian Academy.  She really hadn't been coached nor had she played any club volleyball.
"She's just raw," Manke said about Louis' early years in the program. "When she came in she just had natural ability. She's a natural athlete. She didn't have any real bad habits coming in because she had never played before. She doesn't play club. She was just Timberline volleyball's."
Manke admits Louis was speaking the truth as a freshman when she said she could do everything else outside of hitting.
"She was just really smooth in everything she did," Manke remembers. "When she first came out I asked where she had played, and she said, 'I don't.' She was a natural and I remember thinking, 'I can't wait to get to hitting day and see what she does.'"
The big day finally arrived, and whatever smoothness Louis showcased with her passing and blocking immediately disappeared when she went up to attack.
"She had no timing. She would go up and swing and miss," Manke said. "She went back into this corner and was scared to death to try it again."
Out came the hitting stand, and Manke and her coaching staff went to work. They taught her approach. They worked on her timing. And, it wasn't very long before things started to make sense for Louis and started to look bleak for opposing players trying to defend her.
"During a match my junior year is when I really surprised myself," Louis said about when she noticed just how much of a threat she was on offense. "Definitely believing in yourself helps because I came in thinking I couldn't hit, but once I got that confidence from my coach just constantly telling me, 'You can do this,' I finally thought, well, maybe I can. That's when I tried and I did it."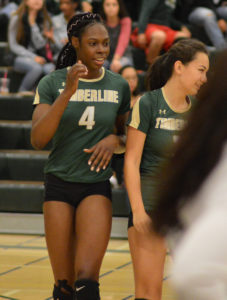 A first-team all-3A South Sound Conference pick last year, Louis is now regarded as one of the premier hitters in the classification, leaving all opposing defenders in harm's way when she jumps.
"She has hang time too," Manke added. "She can sit up there for so long and just hang. If the pass is off, she makes up for that. She's just gifted."
Early in the season her teammates were reminded just how powerful Louis is and how much velocity was behind her hits after an unlucky teammate was caught in her line of fire.
"She actually hit one of our girls in the face with the ball during practice and gave her a concussion," Manke said. "Kasey is actually the sweetest girl. She stopped and ran over and hugged her. She felt bad for weeks about it. She would hug her every day and apologize. She is the nicest, most humble kid."
Just don't get caught in her crosshairs.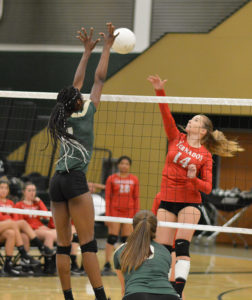 "When coaches are on the other side, their hands are up (when she hits)," Manke said. "Everyone needs to be ready because she's bringing heat."
Despite all the success on offense, a kill is secondary to one other aspect Louis excels at.
"I love blocking," Louis said. "Definitely a block feels better than a kill. It's just that wall feeling."
Behind the play of Louis, the Blazers are looking for consecutive state tournament trips for the first time since 2013. Timberline made it to the quarterfinals last year with a team that featured 2016 SSC Offensive MVP Julianna Salanoa, a player Louis credits greatly with helping her evolve into the dominant force she is.
"It's kind of our thing here with the middles," said Louis, who plans to attend Howard University in Washington D.C. next year. "We take lower classmen under our wing and look out for them. I learned so much from Julianna. Now, I want to be that type of player."
And Louis has done just that as she has helped mentor Shannon Cookingham, a 5-10 sophomore.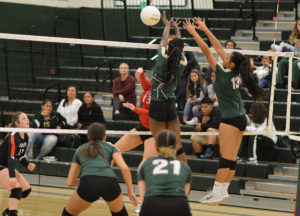 "What's great about Timberline volleyball, which I love, is we've always had great athletes take younger players under their wing and really teach them," Manke said. "We've always had great middles do this and now it's Kasey's turn."
Louis is one of six seniors on this year's squad, joining Abby Elliott, Hanna Johnson, Madison Miller and Daja and Raja Togiola.
"It's been amazing this year. We've learned how to play together a lot," Louis said. "We've had some bumps, but we're a family. We're so tight-knit. We're playing for each other. We just want to play our best and go as far as we can."