Gig Harbor High School cruised to an undefeated conference volleyball championship last year. Capital was of many teams left in the Tides wake as the Cougars were swept in all three meetings between the two schools in 2016, including losing to their 3A South Sound Conference foe in the district championship.
So when Gig Harbor took a 23-20 lead in the third game of its 2017 season opener against Capital it look as if the trend would continue.

Once the deficit grew to three points, Elise Meath calmly gathered her Cougar teammates on the court. The senior's words were short and direct.
"We're going to win this," Meath said confidently, her voice loud enough for those seated court side to hear.
Nostradamus couldn't have predicated things better himself. The Cougars not only scored the game's next five points to take the third set, they would go on to defeat the Tides in five.
Not a bad way to kick off the new season.
"Elise is a great example for everyone in our program when it comes to thinking the right thoughts and then going out and putting in full effort," Capital coach Katie Turcotte said. "She definitely has earned the captain's position for sure. She kind of runs the show. She's making sure everyone stays positive, one point at a time."
Playing in a conference dominated last year by a bevy of powerful hitters, all capable of causing plenty of damage to the floor boards on the other side of the net, no one was better at putting the defensive clamps on a team than Meath.
As a junior she was named the SSC's defensive player of the year.
The 5-foot-5 libero did a little bit of everything, both on and off the court, for a Cougars squad which placed fourth at last year's Class 3A state tournament.
"She's just one of those players you can't really put a finger on the one thing she does well because she does so many things well," Turcotte said. "She's just always wanting to learn. She's always wanting to get better. She's super coachable and willing to help out with anything whether that's at practice or in a game. She's just positive and brings a great sense of community to the team."
That was certainly obvious during the Cougar's victory over the Tides as Meath seamlessly switched from on-the-court cheerleader to motivator to coach, depending on the flow of the match, while also serving up a fair share of athletic highlights herself.
Regardless of the role she played, however, all were done with infectious enthusiasm. If you're playing with her it seems impossible not to share in the excitement.
"Our biggest goal this year is to bring energy to everything we do," Meath said. "It doesn't need to be just me though. We're all doing it. We're out there getting each other excited, and when that happens it makes us realize this is our game. We're a different team from last year. We're a better team from last year because of this."
It's a team that has an interesting mix of veterans and newcomers. Meath is one of six seniors on the roster. She is joined by Devyn Collins, Paris Crawford, Grace Grimstead, Tia Grow and Brigitte Neuville.
According to Meath, all six are being constantly pushed by the team's rising youngsters, including sophomore Maia Nichols and freshmen Madison Nichols and Devyn Oestreich.
"Everyone is so talented. That makes us compete hard every day, and that's only going to make us better," Meath said. "We've moved around a lot of players. We've dealt with some injuries, but through all the adversary we're getting a lot closer. We've had a lot of team bonding opportunities and everyone is so supportive of each other. I think that's what's making us better this year. "
The team support was more than shining through against the Tides. In addition to rallying to win the third game, the Cougars also trailed in the deciding fifth game before going on a run.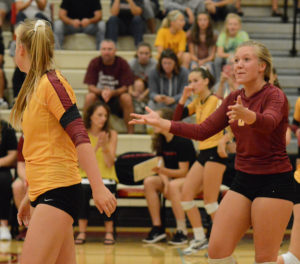 "The girls are really coming together. Our theme this week was unity and you can tell that they just love playing volleyball together," said Turcotte, who is in her second season with the Cougars. "Everyone plays a vital role from the people on the bench to the girls who never leave the floor."
And regardless of that role, expect Meath to be right there providing support and direction.
"Elise is just a go-getter," Turcotte said. "She's a playmaker in the back row. She makes some pretty money digs when we need them the most. She's always keeping our team in it, providing energy when we need it. She just does so much for this team."