Olympia dermatologist Dr. Sasha Cavanagh shares two passions with her father Dr. Peter Cavanagh – traveling and philanthropy. Peter, a researcher at the University of Washington's Orthopaedics and Sports Medicine Department, and Sasha have found a way to blend these two interests in a beautiful endeavor to improve the lives of children living in poverty in Peru.
Why Peru?
Three years ago Sasha went to Peru as a tourist. "I totally fell in love with the area," she says. "And I've always wanted to do medical volunteering. I love traveling and I love my job and I was looking for a way to combine these two activities."
Sasha joined a medical volunteering team at Kausay Wasi Clinic, run by a couple in their 70s with the help of Peruvian internists and dentists. Several times a year they bring in specialists from the United States and advertise the medical services on the local radio station. Anyone who has a need for that service comes to the clinic during that week. Sasha has volunteered at Kausay Wasi Clinic three times. During her latest trip this spring, she saw 255 patients in just four days.
"The people are so lovely," Sasha says. "The patients we treat are so kind, appreciative and thankful and there is a real need because many of the patients cannot afford the cost of seeing the few specialists that are available several hours away."
A Passion To Do More
Peter joined her on the second volunteer trip and they hiked the Inca Trail. They took with them a few dozen pairs of children's shoes that were distributed to the children of porters on the trail. A larger shoe distribution followed 12 months later. As fate would have it, Peter had a connection with the Brooks Running Company in Seattle. Brooks donated over 300 pairs of shoes for the children while friends and family made additional donations. Peter and Sasha partnered with a Peruvian tour company to get the shoes, soccer balls, school supplies and personal hygiene items to the area.
The Wakatinku Foundation
The shoe distributions provided an opportunity to get to know these small communities and to understand their unmet needs. Sasha explained: "We realized that our donations of shoes and supplies were just band-aids covering larger issues. We saw untreated medical problems that disrupted the children's daily lives and noticed significant infrastructure needs in early childhood education. Peter continues: "And then you realize how little it takes to make a big difference. That's why we think this is effort so worthwhile."
That was when, with the pro bono help of Olympia Attorney James Randall, they started The Wakatinku Foundation, a 501(c)(3) non-profit dedicated to making a difference in the lives of children in impoverished subsistence farming communities of the Peruvian High Andes.
The foundation's first project was motivated by a meeting with a school principal and a rural health nurse in a remote community in Cusco province. Peter and Sasha learned that there was a problem with a chronic GI parasite infestation in the children that could be treated by medication that is given once every six months. The duo partnered with a Peruvian children's charity and provided hundreds of doses of the medication to school children in the High Andes region.
Raising a Preschool
Their current project is to help a kindergarten school in the village of Pillaray near Urabamba in Peru. The small, one room building provides food and education to more than 20 children in this rural community. The teacher cooks meals for the children in the room which has no electricity and no running water. The bathroom is a pit toilet with no running water and no way for the children to wash their hands after use. "I saw two little girls run from outhouses and go back in where meals we being served," Peter recalls. "They had no place to wash their hands. I think we can make a huge difference in their lives, not just in their health, but we can change their outlook for the future, which is really exciting."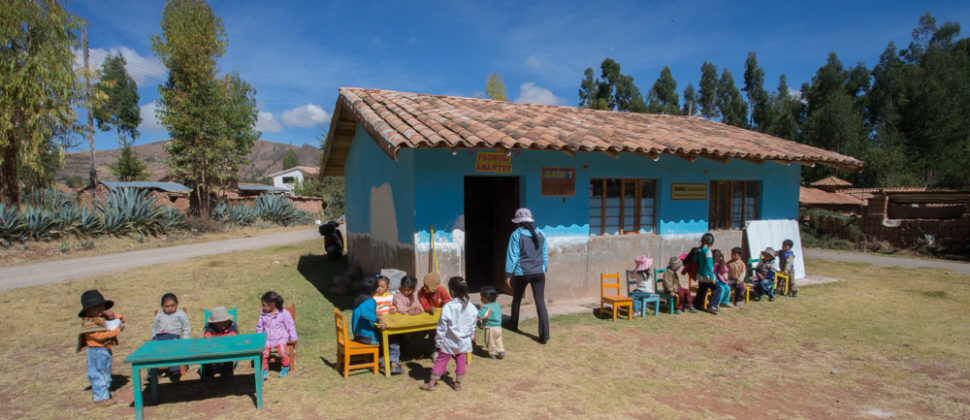 The play area for the children is unfenced, allowing the nearby farm animals. including cattle, sheep and dogs, to wander through. This poses a threat to the children's safety both physically, as well as hygienically. The animals soil the very ground the children are running and playing on – often barefoot.
"It's a really poor community made up of subsistence farmers and there is just no money to upgrade the school," says Peter.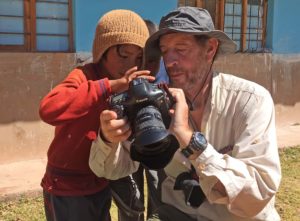 The Wakatinku Foundation is raising money through a GoFundMe campaign to build a new schoolroom. The new school will be twice the size of the old one, with electricity and running water, so children can wash their hands after using the facilities. They are also going to build a fence to keep the animals out of the play area. These changes will assist in avoiding the GI parasites, so hopefully the medication will not be needed in the future. The old building, renovated with running water and electricity, can then be utilized as a kitchen.
Sasha and Peter are working with the community to accomplish the dream. To reduce costs, the families of the children will be making the mud bricks for the fence. This project would not be possible without the help of local Peruvians to coordinate and orchestrate the school building project. Sasha and Peter are working closely with Valentin Baca Baños, a tour guide who has his own Cusco-based company and charity.
Their goal is to get the building done before the rainy season, which is in January and February. In order to accomplish this, ground breaking is set for October 1.  As of right now, they have raised just over 50 percent of their goal. The donations will not only pay for the school, but also for the electricity to run it.
To donate, visit their GoFundMe Campaign. Together, we can all make a difference in the lives of these children.  And to learn even more about this region and why Peter and Sasha Cavanagh are passionate about the people, watch this video.