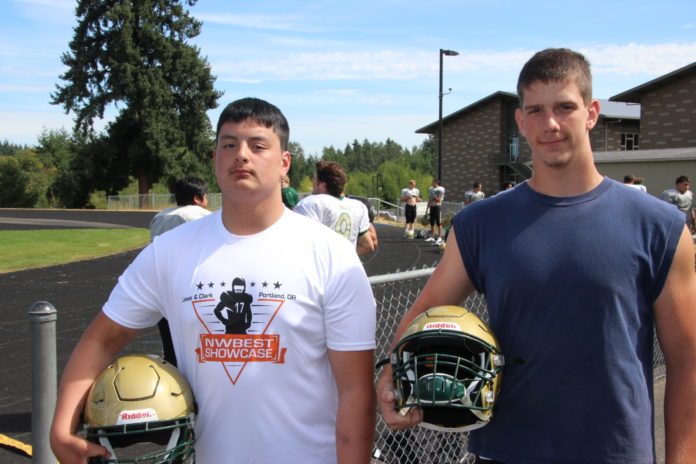 It was the first week of football practice for the Timberline Blazers, a time for "please to meet you" for some.
But Chase Bowes and Conner Warick needed no introductions. For the past 11 years, they've played on the same football team, made blocks on the same offensive line. Since they were in second grade, they've been teammates and buddies.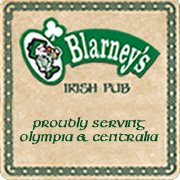 Their shared journey has taken them through Thurston County Youth Football League and their senior year at Timberline High School. Now, they are in their final season as teammates, their last hurrah.
Their yearly huddle has built a unique bond.
"We trust one another on the field," Bowes said prior to a recent practice. "We know each other's tendencies. We can rely and have trust that everyone is going to be doing their jobs on every single play. It builds that bond over the years we've been playing together."
Another pay off for being longtime teammates is you don't want to let a friend down.
"We're already trusting each other," Warick said. "We've already got each other's backs. Just knowing that is going to help."
Warick and Bowes have been two-way starters since they were sophomores, playing on the offensive and defensive lines.
And now, for the first time, Bowes is filling the shoes of his older brother, Cameron Bowes, who was a three-year starter at center and graduated in June. To make sure he's ready to play center, Bowes has been snapping the ball in his backyard over the summer, getting tips and insight from his brother, Cameron.
"It's easy to go to him (Cameron) and get advice," Bowes said. "To see what I have to do. And see what kind of things can help me during the season. This is my first year playing center."
Bowes has started at tackle, guard and now center. Defensively, he and Warick both play defensive end.
So, when Nick Mullen returned as the Blazers head coach this summer, ending a two-year hiatus after serving as head coach for eight years, he switched Bowes to center.
"This year, when I took back over, I just knew he was the guy we had to put at center because he's the one that's going to make everything click," Mullen said. "He's doing a real good job at center."
Bowes not only has the speed to play center, but he's also got the leadership, the savvy and the smarts.
"First of all, he's smart," Mullen said. "He's got high football IQ. He tells everyone where to go. He's a quiet leader. He's my kind of guy. He's puts himself second for the betterment of the team."
Besides their experience as starters and their physical skills, both Bowes and Warick have another weapon to use against opponents – their brains. They both have GPA's near 3.9. Bowes got his first B in high school last year as a junior.
Both Bowes and Warick are quick studies on the field. They adjust quickly.
"You're able to show them something once or twice and they're able to pick up very quickly," said Hal Bowes, the Blazers line coach.
"They're able to transfer it to other players as well," Hal Bowes continues. "They help out the other offensive linemen."
Besides being Chase Boews' line coach, Hal carries the title of "Dad." And, being both father and coach includes both joyful and difficult moments.
"It's fun sometimes and it's hard other times," Hal said with a chuckle. "It's kind of tough. We try not to take it home with us."
But, being able to share the sweaty practices and the intense games with his son are moments Hal will always treasure.
"It's a blessing," he said. "I had him in youth football. This is my 13th year of coaching my sons and I absolutely love it."
Hal recalls a lesson learned while coaching his sons in TCYFL from his own father, the boys' grandfather.
"After the game, my dad said to me, "The boys are riding home with me,'" Hal said, smiling as he reflected on the memory. "He was clear they were not riding home with me."
When Bowes and Warick play their last high school football game this season for the Blazers, they will not have played their last football game. They're both being recruited by college teams and even if Bowes isn't going to play center in college, he's still willing to play that position for the Blazers.
"Whatever it takes to make this team successful he's going to do," Mullen said.
This attitude shows Bowes knowledge that it's not just about him. Putting team first can be tough when you're thinking about playing college football, trying to promote and prove yourself to recruiters. Bowes, however, still puts team first.
"That's the thing we always try to preach at Timberline," Mullen said. "He's the guy who never likes any accolades. He likes being the guy helping the running back run for 100 yards in a game. Offensive line likes that."
Mullen stepped down as head coach two years ago when he became Timberline's athletic director and he's glad to be back coaching this year.
"For me, there was a hole in my heart," Mullen said. "I belong out on the field."