The Pacific Northwest is defined by water. Whether falling from the skies or providing endless opportunities for exploration and play, we love all it has to offer. This has been true for untold generations and across varied cultures.

Tribal groups in the area take their identity and livelihood from the waters and native fish . . . especially salmon. The Nisqually Tribe consider themselves the "People of the river, people of the grass," while the neighboring Squaxin Island Tribe are the "People of the water."
The Columbia River Inter-Tribal Fish Commission explains that "Salmon are the icon of this place. They are valued as food, as a resource and as a representation of the wildness and wilderness for which the Pacific Northwest is known. They shape our land use policies and power grid. Whether they realize it or not . . . we are all Salmon People."
When these amazing fish return home each year, their long journey is exciting to watch. Around Olympia, viewing platforms are set up, often with educational information and knowledgeable volunteers to answer questions. These provide a safe, fun, easily-accessible way to celebrate summer's end.
Turn the experience into a mini field-trip by reading up on the history of salmon in our region complete with vintage photographs and illustrations, at the University of Washington's "Salmon in the Northwest" free digital collection.
City Stroll
5th Avenue Bridge Fish Ladder – Fifth Avenue SW & Deschutes Parkway SW
The easiest place to watch the salmon is from the downtown 5th Avenue Bridge linking Budd Inlet to Capitol Lake. There you can see seals hunt for unwary fish and watch salmon jump the ladders underneath the bridges. Viewing here is best from the middle of August to the middle of September. Stream Team Salmon Stewards are on-site most weeknights and weekends. Lots of parking is available.
Easy Paths
Tumwater Falls Park – 110 Deschutes Parkway SW
Tumwater Falls Park is a local gem year-round, but during spawning season it is particularly exciting. Plenty of parking is available, but some walking is required. Most trails and paths are paved and easily accessible, but others require a little extra care for small children or visitors with mobility issues.
Do not miss the fish holding ponds at the top of the falls. Trails zig-zag down to Capitol Lake on both sides of the falls with salmon ladders full of jumping fish. Salmon Stewards can answer questions on weeknights and weekends. Beginning in late September on Monday, Wednesday and Friday mornings, staffers hold fish spawning operations that are free and open to the public.
Kennedy Creek Salmon Trail – Old Olympic Highway between Olympia & Shelton
Open weekends in November from 10:00 a.m. to 4:00 p.m., this half-mile trail is almost entirely ADA accessible, although wet weather can render the parking area quite muddy. Boots are recommended in wet conditions. There are educational signs along the path and several open viewing platforms. Kennedy Creek Salmon Trail can also be reserved by groups for field trips or classroom programs. Call 360-412-0808 with questions or to book your visit.
Read an in-depth story on the Kennedy Creek Salmon Trail here.
Winding Hike
McLane Creek Nature Trail – Delphi Road SW off Highway 101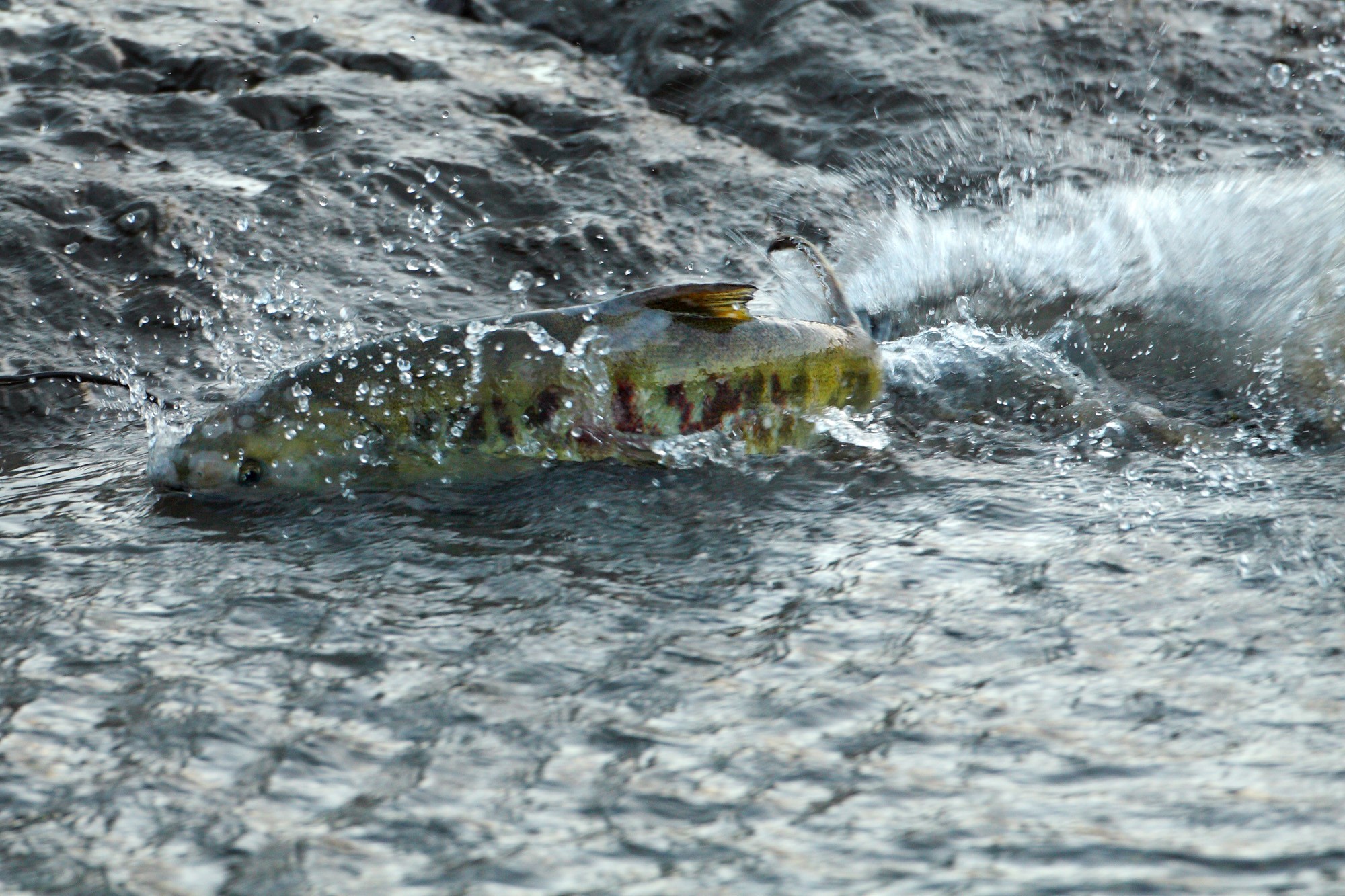 If you are looking for a lovely nature hike full of trees, fish, birds and wildlife, McLane Creek Nature Trail is for you. The 1.5-mile soft-surface path and boardwalk meanders near, and sometimes over, the creek providing easy access for young and old. ThurstonTalk recently took a stroll on the trail and you can read a turn-by-turn account of writer Jessica Hoppe's visit with her son here.
You will need your Discover Pass to park here unless you use one of the State Park Free Days. Salmon Stewards are on-site from 11:00 a.m. to 3:00 p.m. on weekends from the middle of November through early December.
Remember to leave dogs at home when viewing salmon up close; they can scare the fish, and salmon is toxic if eaten by wayward pups.
Thrifty Thurston highlights inexpensive family fun in Thurston County. The weekly series focuses on family-friendly activities throughout our community. If you have a suggestion for a post, send us a note at submit@thurstontalk.com. For more events and to learn what's happening in Olympia, Lacey, Tumwater and the surrounding area, visit our complete event calendar.