Growing up, Debra Kilcup's mother, Ila, wasn't really a baker or a cook. She didn't make everything from scratch like some mothers do. But she did make an amazing bleu cheese dressing. "It was so good, even people who said they didn't like blue cheese, loved her dressing," Debra says. This recipe would eventually lead Debra to start her own business, Ila's Foods.
When she went off to college, Debra's parents opened a restaurant where they served her famous dressing, along with other from-scratch gravies and sauces. When Ila passed away in 2000, one of her unfulfilled dreams was to jar and sell her dressing. She had just been too busy running the restaurant and raising four kids to do it.
Meanwhile, Debra had grown up and was teaching in North Thurston Public Schools. That was her passion. But Debra got very sick and, after time away, did not have a job to go back to. "It was horrible to suddenly have this job you loved disappear," she explains. "The truth is, I was just so depressed that for a year I barely got out of bed. Finally, I had had enough and knew I needed to do something about it."
A friend of hers told her about the Hoodsport 4th of July Celebration, which includes a market fair with local vendors. "I love to cook, so I got some pint jars and made about 30 jars of the bleu cheese dressing and 30 jars of the Vidalia onion relish," she recalls. "I sold out the first day and had to go home and make more."
It was also at that event where Debra learned you needed many different licenses to sell food. It took her a year to get all the paperwork in order, including a business name. Although maybe not the best name for her new business – Debra admits that no one can pronounce it – there was really no other name that would be right besides Ila's Foods in honor of her mother. "I knew she would be so pleased with that," Debra says. "My heart said 'do it for her.'"
From there, Debra, now a teacher-turned-business owner, said she still didn't know what she was doing. She would take her delicious jams, jellies, marmalades, relishes, sauces, rubs and dressings to church bazaars and community sales, nothing as grand as a Farmers Market she says. "It was really word of mouth that was helping me survive, I knew nothing about marketing or running a business," she adds.
A Growing Name
Fast forward seven years and Debra and Ila's Foods have their own production facility and sell over eighty different products. She still does most the work herself, with the help of family and friends who volunteer in the busy times. Some even come during their lunch hours to pitch in for a bit before returning to their regular jobs.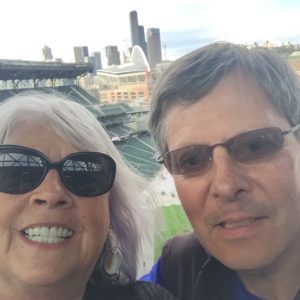 "A friend of mine who owns a cookie business stopped by at 9:00 a.m. the other day with her Uber driver and they stayed for five hours peeling onions," Debra says. "How beautiful is that? People are always coming to help me out and it's incredible."
Her products stand out from competitors because they are all made by hand, in small batches. For example, her Walla Walla onion relish – a batch underway as we talk – requires many steps, all done by hand. First all those onions need peeling and chopping. Then they are cooked in large pots, stirred by hand, that make about 20 to 25 jars per pot. The fresh tastes can be attributed to the fact that Debra only uses locally sourced ingredients from the Northwest. This not only guarantees freshness, but it allows her to have unique local flavors people are looking for, like her Scatter Creek Wine jam and her Hoodsport Winery blackberry cobbler jam. The latter is made with local Marion berries, Hoodsport Winery's blackberry wine and pie spices for a truly unique flavor perfect on a bagel, cheesecake or even ice cream.
"This was important for me because I love knowing the farmers personally," Debra says. "For example, when I got my blueberries in Rochester, we got to know the family and they were wonderful. We bought a lot of blueberries at that time and didn't have anywhere to keep them so they kept them in their freezer for us, which was pretty amazing. And the farmers love it. They are so appreciative of the business."
For those who like more savory additions to their food, her line of nine pepper jellies are truly unusual with pairings never seen before, like blueberry jalapeno. The Ila Food's pesto and raspberries & white chocolate spread are their best sellers. Their line of barbecue rubs are also very popular.
Ila's Foods does not use anything artificial, including preservatives. For this reason, many of her products are found in the refrigerated section, rather than on the shelf. This shows how fresh they really are. Her entire line is naturally gluten-free and she also has several products that have no-sugar added and no alternative sweeteners. She has a few products are sweetened with agave nectar, too.
You can purchase Ila's Foods mouth-watering products at several local shops and online on the Ila's Foods website. You can contact them with your order and arrange a pick-up to save shipping. You can do this via their contact form on their website or by calling 360-870-4109. The plant address is 8036 River Drive, Suite 204 in Olympia.
Debra says to feel free to stop by – she loves having visitors. Who knows? You may end up peeling onions, too.
Sponsored