Summertime in Thurston County is all about sunshine, exploration, and diving into our community through festivals and events. One of the main attractions for families this season has to be the Lacey in Tune Series. This wide array of entertainment can be enjoyed by every member of the family, all summer long.
Beginning Tuesday, June 20, 2017, Huntamer Park will play host to the seven week series featuring an array of musical talent and evening movies. "Lacey in Tune is great for families," explains Lacey Parks & Recreation supervisor, Jeannette Sieler. "It's free, it's fun, and there is truly something for everyone."
The series includes Tuesday evening entertainment acts for the whole family including magicians, stunt dogs and comedy. On Wednesdays, enjoy a noon concert, perfect for lunch on the lawn with your family or just a break in your workday. Saturday evenings include musical acts starting at 7:00 p.m. followed by an outdoor movie suited for nearly all ages at dusk.
One of the main reasons to check out this series of summer events has to be the music. "I love to feature local bands, bringing new acts to our stage as well as bringing back some favorites," says Sieler. "I look at who is playing around Western Washington in other music in the park series, then I start 'stalking' them on their websites to see if they would be a good fit, while trying to find a good mix of styles to appeal to all of our community."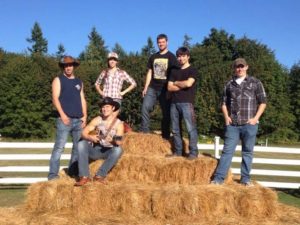 While many of the musicians, including the country stylings of local brothers The Olson Bros Band, renowned new age artist, Scott Cossu and local favorite Spike and the Impalers, have graced the stage in the past, there will be some newcomers to rock the park this year. These new faces include Norman Foote from BC, Blaze and Kelly from Idaho, Sundae & Mr. Goessl from Seattle, and the John Welsh Band out of BC.
The rocking afternoons during the week are soon followed by Saturday night fun. Evenings kick off with a musical act on the stage at 7:00 p.m. with a movie showing at dusk. "Huntamer Park is a great place for the movies," describes Sieler. "We have a giant 18 foot screen and the sloping hill lends itself to be a sort of amphitheater for movie viewing. Also, watching movies outdoors is a great treat for families and so much fun in the summertime! We select our movies based on what we think will be popular for families and also, something that works well on a big screen like a fun, action movie. We posted a survey with a list of a few movies we were considering on the city's Facebook page and let the people choose."
The people have spoken and they selected SING, School of Rock, The Lego Batman Movie, and Zootopia as this year's movies.  A full schedule of both bands and movies can be found online here.
"Our goal is to create a dynamic place that engages the entire community through music, art and shared experience – to create lasting memories for people of all ages," explains Sieler. Part of achieving that goal is through community based sponsors. "We could not do this without our generous sponsors. We have several levels and we love to work with businesses to help them reach their goals with their sponsorship dollars.  As we get closer to the start of the season, sponsors can choose a concert or movie to sponsor and they can then have a booth at that particular event and get some attention for their local business."
The Lacey in Tune Series is a way to connect families within our community and create new, sensational summer traditions. "From our Tuesday night children's entertainment to Wednesday's lunch time concerts, kids love to dance in the grass and meet new friends," says Sieler. "There is just nothing like sitting on a blanket on the grass, soaking up the sun and listening to music that is new and original as well as the old and familiar songs that you love to sing along to. Saturday concert and movie nights bring out lots of families and the kids are so excited to sit outside, under the stars, and enjoy a movie on the big screen. These are memories that will last a lifetime."
For a full schedule of the series' events see the official Lacey in Tune Event page.