The doctors at Eastside Chiropractic Services are passionate about and dedicated to their profession in part because they have all experienced first-hand the effectiveness of chiropractic care for injuries or chronic pain. Their newest doctor, Dr. Brent Manley, is no exception, having been a chiropractic patient since he was age 14. He brings his passion for helping others and diverse knowledge of techniques to an already excellent team at Eastside Chiropractic.
Although Dr. Manley was born in northern California, he spent half his childhood in Kenya. His parents both received job offers at a college and the family moved there when he was eight-years-old. "It was a wake-up call moving from northern California to Kenya for sure," he says. "As a kid, I got to learn about different cultures, foods and even different languages. One of the more important things I learned was to appreciate differences in people. The experience also gave me the desire to help people. When you live there, the "uniqueness" of the place becomes the new normal. It wasn't until I moved back to the U.S. that I realized how blessed I was to have had those opportunities."
Being a kid in Kenya had its perks. Dr. Manley enjoyed going on safari to the game reserves in Kenya and Tanzania, something his family did often for vacation. "Getting to see the wildlife in its natural habitat, instead of in a zoo, was amazing," he adds.
And, it was an experience he had in Kenya that helped steer him toward chiropractic work as a career. It was there that Dr. Manley first experienced chiropractic care. He was injured while playing rugby and had his back and ribs adjusted. "It really helped me feel a lot better and left a good impression on me regarding chiropractic work," he says.
When he returned to the United States at 17, he started college with the plan of becoming an architect. However, he decided architecture was not going to be fulfilling and switched his major to biology at Portland State University.
Dr. Manley explains:
"I spent time volunteering in a couple of different chiropractic offices around Portland and in my grandfather's office in southern California. I knew I wanted to do something that helped other people and to be able to use my hands. After talking to a career guidance counselor in college, chiropractic care fit both of those criteria so that is the direction I decided to go." 
Brent graduated from Life West Chiropractic College (LWCC).  He entered the chiropractic field where he finally felt like he was doing what he was meant to do – help people.
Dr. Manley has spent the last twenty-three years in the Pacific Northwest. When not at the office, Dr. Manley likes to work with his hands and still does carpentry and construction projects, as well as working on old Jeeps. He loves to spend time with his kids, especially outdoors. The family has a pug named Sierra that joins in all family activities.
Dr. Manley Uses Many Techniques to Help His Patients
Dr. Manley understands that the same treatment does not work with every patient and sought to learn a variety of techniques to meet patients' different needs. For this reason, he switched from Western State Chiropractic College to LWCC, which taught a more diverse range of methods. He studied five techniques while at LWCC which he utilizes today.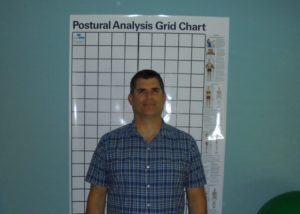 In addition to his knowledge on a wide-range of treatments, Dr. Manley has a unique perspective most chiropractors do not, as he has spent time in the construction field. "Because of my years in the construction trades, I understand how the body works and how much strain we put on ourselves when we have physically intensive careers such as in the medical field, emergency services, construction, logging – really, any strenuous job that requires you to stand for long hours or bend and lift with heavy loads throughout the day," he says. "The chiropractic techniques I use allow me to adjust people who have chronic inflammation, muscle fatigue or spinal injury."
He says one of the biggest issues he sees is people with ankle/feet dysfunctions. And, often, this can cause back issues. "Your feet are the platform for a well-balanced back," he says. "When it comes to back problems, I encourage patients to not give up as it will only get worse as we age."
Dr. Manley is excited to join Eastside Chiropractic, having been a patient of Dr. Murray Smith himself for the past three years before joining the team. "He has hired a great team and I am happy to be a part of it," Dr. Manley says. "All the way from office staff to massage therapists and other doctors. The patient comes first and Eastside Chiropractic Services is able to offer the best type of care for each unique situation. There is nothing greater than helping patients heal, rediscover their vitality and get back to living a healthy, active lifestyle. I am looking forward to growing my practice here and making a difference in this community."
For more information and to schedule an appointment with Dr. Manley or any of the physicians or practitioners, visit the Eastside Chiropractic website or call 360-459-9000.
Sponsored