The passage of time is a funny thing. The woes of Y2K may be long forgotten but play a beloved radio hit and you'll remember every verse, chorus and guitar riff. Fashion, slang and celebrity icons may come and go, but some things stand the test of time.
One favorite is still going strong since the big '00. Quinault Beach Resort and Casino celebrates their 17th anniversary this year and what better way to celebrate than at the annual Cookin' The Blues Festival, conveniently held on the weekend of June 17.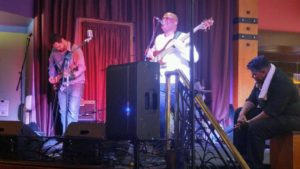 Running June 16-18, Cookin' the Blues is the perfect summer gateway event. There will be live blues music in the Ocean Lounge and on the casino floor from 9:00 p.m. until 1:00 a.m. Friday, noon until 1:00 a.m. on Saturday, and noon to 4:00 p.m. on Sunday. Take a break for cake (while supplies last) from 4:00 to 6:00 p.m. Friday and Saturday afternoons.
Attendees can stock up on celebratory cake to build energy for a weekend full of free blues music and dancing showcasing a traditional Blueback Salmon dinner on Saturday, June 17.
Hungry June 16 arrivals can feast at the Friday night Land and Sea Buffet from 5:00 to 9:00 p.m. in Emily's ocean-view restaurant for only $29.95. Saturday, June 17 is the traditional Native American salmon bake from 4:00 until 8:00 p.m. The meal is…you guessed it…$17 per person.
According to the Columbia River Inter-Tribal Fish Commission, "Salmon play an integral part of tribal religion, culture and physical sustenance…the annual salmon return and its celebration by the tribes assure the renewal and continuation of human and all other life."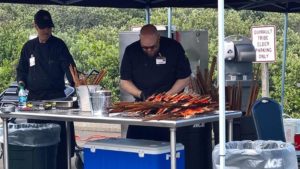 Traditionally at celebrations like these the salmon is served after whole filets are butterflied and slow cooked over an open flame on simple cedar or ironwood frames. At Quinault Beach, they keep this tradition alive and the smell of smoke and fresh fish mix perfectly with the salty ocean spray.
The meal begins with a blessing and opening ceremony while story teller Harvest Moon weaves a spell of folk tales and traditional histories as you dine.
Gaming fans, or those needing to stretch their legs after an amazing meal, can become Q-Club members for free. Once enrolled, pick up your coupon book for freebies and discounts throughout your visit. Members can earn points to be used like cash across the resort.
To celebrate with Quinault, consider joining the 'Running of the Blues.' This promotion provides bonus points every consecutive day you play. Swim upstream successfully and receive 10x the points all day June 23. Once accrued, Q-Club points can be used on-site for shopping, additional game play, and even gas for the trip home.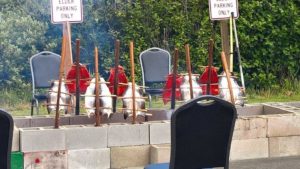 Don't forget to bring your dancing shoes. Seven different Blues groups will play all weekend long. Friday night enjoy the Linda Myers Band and Kim Archer. Saturday features Ericka Corban, Sour Owl, and the Michelle Taylor Band as well. Sunday winds things down with Tiffany Maki and Vinyl Moon and Steve Delacruz.
Call now and mention code BL17 or book online to turn Cookin' the Blues into that perfect weekend getaway. Packages include a two-night stay, the gaming coupon book, music, anniversary cake, and 2 tickets to the salmon bake.
Etiquette experts say the seventeenth anniversary is celebrated with gifts of shell. Bring friends, family, or just yourself, to shell-ibrate at the beach as Quinault Beach Resort and Casino puts on one of their favorite annual parties of the year. After three days of live music, salmon and surf, you'll be ready to kick off summer in whatever contemporary or vintage style you prefer.
Quinault Beach Resort and Casino is located at 78 State Route 115 in Ocean Shores. Call 888-461-2214 with questions or to reserve your spot.
Sponsored