Cross country wasn't on Ava Shackell's radar when she was in eighth grade.
Admittedly, she only decided to run the mile as a member of the Tumwater Middle School's track and field team simply due to the fact that "no other girls were running it."
Once she entered Black Hills High School, last year as a freshman, she knew she wanted to turn out for a fall sport, and she knew it would not be volleyball.

Given the fact she wasn't a swimmer or a soccer player, she was left with one option – cross country.
A year later and the girl who adopted the sport almost by default enters her sophomore year as one of the state's top cross country runners in the 2A classification.
"I don't think she really knew what to expect last year coming in," said Black Hills girls cross country coach Tom St. Clair. "It took her a little while to figure things out, but once she did, she just kept getting better."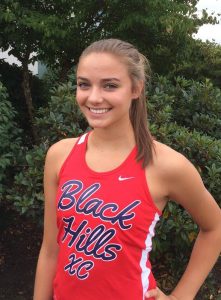 So much better that by season's end she was participating in the 2A state meet in Sun Willows Golf Course in Pasco where she placed 13th overall – one of only three freshmen to finish in the top 20.
"I had no expectations coming into state," said Shackell, who covered the 5,000-meter state distance in a speedy 19 minutes, 30 seconds. "I came in ranked 30th. It was an amazing feeling."
The high state placing came on the heels of her second-place finish at the 2A Evergreen Conference championships and a fourth place at the District 4 meet. Both races were won by Tumwater High School senior Lauren Ericks, who provided the bar for Shackell last year.
"I actually used (Ericks) to help set my goals," Shackell said. "Her times were always my motivation."
With Ericks setting the standard, Shackell constantly was able to better her own times from meet to meet, trimming more than 90 seconds off her runner-up performance in the EvCo championships (21:08.2) at the state meet and finishing tops among her conference runners.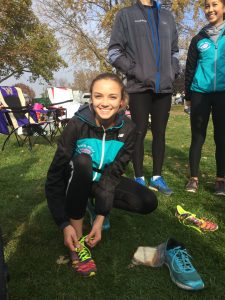 "She was always focused, but right around districts (last year) everything started to click for her. She just kept improving with every race leading up to the state meet," St. Clair said. "Once at state she laid it all out. She was able to get into the pack near the front and was in the top 20 at the first mile. Then she just started picking off runners."
It marked just the second time a Wolves freshman had competed at the state meet and was the best finish in school history.
"She's incredibly coachable," St. Clair said. "She came in as a freshman and listened to what her coaches wanted her to do, then she went out and did it. She knows she has some things she needs to improve on going from her freshman season to this year, but the great thing about her is she always wants to get better."
Prior to last year, fastpitch had always been Shackell's top sports priority. That has since changed.
She played for the Wolves' fastpitch team last season, but will now try her hand at track and field where she plans to run the 1,600 and 3,200.
"That was a tough decision," said Shackell, who is close to breaking the school's two-mile record. "I've always loved playing fastpitch. I'm glad I played it last year. I thought about track, but I wanted to play at leat one year of (fastpitch) so I wouldn't have any regrets. It's just the right decision for me to shift over to track now."
For the first time in quite some time Shackell's summer was fastpitch free as she spent time in Arcadia, California at a cross country camp and worked out frequently with members of Northwest Christian High School's team.
"I wanted to learn as much as possible this summer. I wanted to do everything I could do to improve. I want to get better in every aspect – fitness, technique, everything. Camp was really helpful with that," Shackell said. "And it was great training with Northwest Christian this summer. They were very welcoming and I got a lot out of it."
In addition to chasing conference, district and state titles, Shackell has added another lofty objective for herself this year.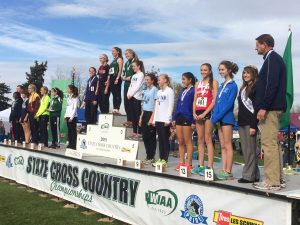 "Last year I didn't have any goals coming into the season," Shackell said. "This year I want to not just do well at state, but also be selected to run at Border Clash."
The Nike-produced Border Clash takes place in Beaverton, Oregon on November 21 and 22 and pits the top runners from Oregon against the best from Washington – the latter of which Shackell is well on her way to becoming.
Shackell and her Black Hills teammates open the 2016 cross country season on September 10 at the Capital Invite.