By Grant Clark

I'm a sprinter.
That's the thought that firmly stuck in Lauren Ericks' head during her freshman year at Tumwater High School.
It was actually hard to argue against such a claim as she certainly possessed the credentials to support the self-applied label. As a freshman, Ericks ran the second leg of the Thunderbirds' 4×400 girls relay team that advanced to the 2A state championships meet.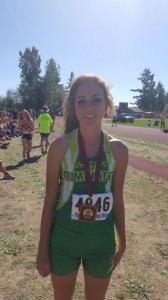 She was the only rookie on a squad that featured senior McKenzie May and sophomores Berhanie Knutzen and Jamie Crews.
"Back then I was really focused on the 400 relay," said the now-senior Ericks, who was also a member of Tumwater's 4×100 and 4×200 relay teams, as well as running the 100, 200 and 400 during her freshman season. "All I did was sprints back then."
Brewing inside, however, unbeknownst to her at the time, was a distance runner. It just took the right encouragement for that athletic side of her to surface.
"I was doing the 400 and for some reason coach (Bruce) Smith said I should try cross country," Ericks said. "I had never actually considered cross country before, but I took his advice. I remember my mom telling me to, 'Give it a try. You can always quit at the end of the season if you want to.'"
That ended up not being the case. Ericks, as it turned out, wasn't a sprinter after all. Sure, she was extremely fast, but stretch out the distances and she became even better.
"I would go on these six mile runs and felt pretty good afterwards," Ericks said.
Ericks began her cross country career as a sophomore. Her first meet was the Capital Invite, a unique 2.23-mile event that has athletes competing against other runners in their own grade as opposed to the traditional way of running against everyone.
"It was crazy. It's not like other cross country meets," said Ericks about her first Capital Invite, an annual event known for its large supportive crowds, continuous music and all-around festive atmosphere. "It's definitely a nice way to open up the season. For one thing it's a shorter race, so you can kind of ease into things. Plus you're competing against runners your own age. It helps build up your confidence."
A solid fifth place finish among 92 runners in her first cross country race ever certainly didn't do anything to hurt Ericks' confidence as she parlayed the early season success to a trip to the 2013 Class 2A state champions in Pasco where she finished 32nd overall with a time of 20:02.68.
"I kind of have a love/hate relationship with running," Ericks said. "I find the people who run cross country to be very supportive of each other. I think it's because we all know what it feels like to be out there running. We've experienced each other's pain."
That following spring, as a junior, she once again helped the 4×400 relay advance to the state meet, but had since added the 800 and 1600 to her resume – excelling at both events. She finished an impressive fourth in state in the 1600, crossing the wire in a Tumwater school-record time of 5:02.21.
With a season under her belt, she was even more impressive last year in cross country. Ericks opened up her junior campaign by running second in the Capital Invite, finishing the race in a speedy 14:19.82, which was more than a minute and half faster than her time the previous year.
She capped her junior season by winning both the 2A Evergreen Conference and 2A District 4 championships before finishing 10th at the state meet.
"People sometimes ask how I can go out and run that far," Ericks said. "It's not really that difficult to go out and do it. You just can't think about how long you are running. You just keep pushing. You need to narrow it down. Only think about getting through the next mile. When you think about it, it's only 18 to 19 minutes of your life and then you're done."
Ericks opened her senior season with a fourth place finish at the Capital Invite and finished 19th among the 153 runners in her flight at the always competitive Fort Steilacoom Invite, which draws schools from around the Pacific Northwest.
"This is my last year doing cross country," Ericks said. "Running will always be a part of my life, but this is the last time I will run like this. So, I am just going to go out and do what I can this season. Do my best."