By Isabelle Morrison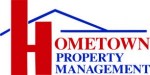 Abby's Cookies and Cupcakes, a popular dessert shop among Thurston County residents, is housed in an adorable pink building on 4th Avenue in downtown Olympia.
The shop opened its doors over three years ago, and shop owner Abby Mondau has been thrilled to see her small business take off and receive such positive reviews from the community.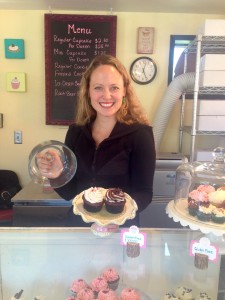 Self-taught, Mondau, began baking for fun when she was in high school. "I started baking chocolate chip cookies and little cakes for my friend's birthdays and different parties that we had," she reminisces.
Though her close group of customers urged her to start selling her products, Mondau was skeptical. "Baking is just something that is therapeutic for me and I enjoy doing," she explains. "Selling your product is a little different than making stuff for your friends and family."
It wasn't until she had spent 17 years bar tending and working in the restaurant industry that Mondau finally decided to turn her hobby into a business. She believes that she was influenced by a desire to work for herself while also trying something new.
"Working for yourself is a lot more difficult than people think – you're almost working all the time whether it's responding to customers, setting up accounts, or other tasks," admits Mondau. "Even when I'm not 'at work' I'm still thinking about it. It's like my fourth child," she laughs.
In the shop's early days, Mondau would arrive at her bakery in the south capitol neighborhood at 3:00 a.m. every morning to bake all of the cookies, cupcakes, and special orders for the day, then bring them over to her shop.
Since Abby's has gotten busier she's been able to expand her staff and set up baking shifts, giving her more time to focus on the technical aspects of the business and spending time with her three boys.
"I love baking because I love being creative.  It's so precise.  Even if you're making the same flavors over and over, you still have to be so careful about the measurements and make sure everything is consistent," says Mondau.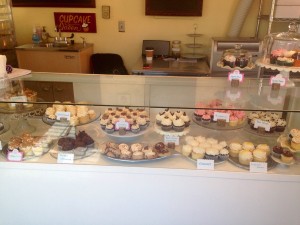 Some of Abby's best sellers are the salted caramel cupcakes and raspberry cupcakes. Mondau takes pride in keeping her desserts as wholesome as possible. "Everything is homemade and fresh. We try to use more fruits and limit the super sweet, sugary stuff and food coloring," describes Mondau.
If you've ever wondered what the secret is behind their incredible frosting, Mondau says it's all about the butter to sugar ratio. "We use all real butter in our frosting.  And we use way less powdered sugar," she explains. "A lot of frosting recipes will call for about six cups of powdered sugar, but we'll use three."
Mondau truly values her business, and proves the old saying to be true; if you do what you love, it will come back to you.
"My favorite part is putting a product out there that people will enjoy, and maybe make their day a little better," she shares. "And we have an awesome staff. We're all friends and we all work well together – everyday feels like a success."
Abby's Cookies and Cupcakes is located at 728 4th Avenue East in downtown Olympia.  Call ahead for special orders – 360-688-9411.  You can also follow the business on Facebook to keep up to date with all the yummy flavors.