Congratulations to the Thurston County high school students that have qualified for the WIAA state track meet.  Read a full story about Capital High School's track team here.
North Thurston's Peter Allegre qualified for state in the 3200 for a third consecutive year after finishing second at the 3A district meet (9:40.51).
River Ridge, the defending 2A state boys champions, should once again contend for the crown this year. Josh Braverman qualified in four events, the 110 and 300 hurdles, 200 and long jump. The junior enters state with the top times in both hurdle events.
The Hawks also have state qualifiers with freshman Taryn Lucas (girls high jump) and Jordan Skipper-Brown (high jump and long jump), Alex Coleman (triple jump), Derrick Smith (400 and long jump) and their 4×100 boys relay team, which finished first at districts (44.05). River Ridge has won the last two state titles in the 4×100 relay.
The Black Hills' boys team, fresh off a dominating performance at the 2A District 4 championships, could also challenge for the team title. The Wolves registered 120 total points at districts with Washougal coming in a distance second with 61.5 points.
Black Hills received district championships from Mark Melendres (100), Jason Underhill (400) and Austen Daisa, who broke the school shot put record with his throw of 50 feet, 10 inches. The Wolves' 4×100 and 4×400 relay teams also head to the state meet after capturing district crowns.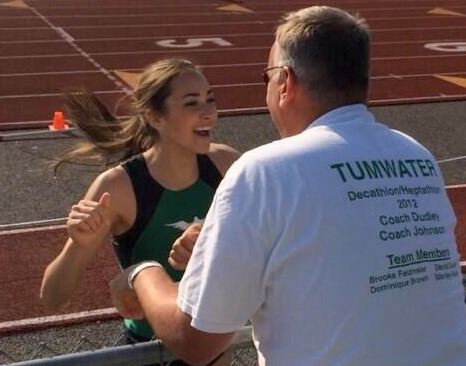 The Tumwater girls took home the district championship after receiving titles from Bella Foos (400), Isabella Najarro (discus) and Peyton Russell (triple jump). Russell, a senior, is the two-time defending state champion in the event.
The Thunderbirds' 4×200 and 4×400 relay teams also advanced to state following district title victories.
Heading to the 4A state meet will be Timberline's Jaylen Taylor (triple jump), Trenton Fisher (discus) and Selina So'oto (girls shot put) and Olympia's David Woodward (javelin), Jakob Steen (high jump), Ryan Underland (discus), Maia Halverson (girls javelin), Kiersten Kimminau (girls 3200).