Submitted by Westport Winery
Westport Winery's Roberts family has again collaborated with Johnny and Darlene Camp of Opal Art Glass in Cosmopolis. Together they designed and crafted a hand-blown glass lighthouse for Shelter From The Storm, the first true port-wine crafted by winemaker Dana Roberts.
The new bottle is a scale replica of the winery's lighthouse. Wine club members and their guests were treated to the unveiling of this unique bottle on Sunday, May 22, in the winery's event pavilion. Winery co-owner Kim Roberts said, "We have the westernmost vineyard in Washington State, so we made sure the architecture and theme of our business reflected our incredible coastal community. That's why we built a 40-foot lighthouse as part of our tasting room."
Like all of their wines Shelter From The Storm benefits a local charity. A portion of the proceeds from Shelter is donated to the Grays Harbor Hospital Foundation. Since they opened in 2008, the Roberts family has contributed over $300,000 to local charitable organizations.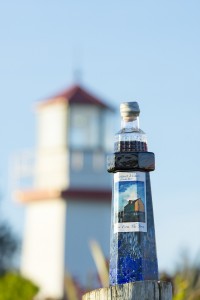 The wine's label features an original watercolor by Tokeland artist Wally Mann. Additionally, each wine is commemorated in the resort's gardens with a sculpture by a local artist. They Shelter sculpture was also created by Opal Art (as are two other sculptures in the park). The two companies continue to produce their popular "Float" bottle, designed to resemble a Japanese fishing float.
Westport Winery Garden Resort is located on the corner of Highway 105 and South Arbor Road halfway between Aberdeen and Westport. The winery (including the restaurant, bakery, nursery and gardens) is open daily and offers lunch and dinner from 11 a.m. to 7 p.m.