If you're tasked with updating the record book for the Capital High School track and field team this season it's probably best to write everything down in pencil.
That's because it seems every time the Cougars' 4×100 boys relay team steps on the track, a new benchmark for the program gets established.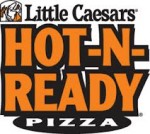 The quartet, which consists of seniors Zach Smith and Willie Broxton, junior Jason Turner and sophomore Tim Fisher, will have one last chance of bettering their own record and at the same time seek a state title when they compete at the 3A state championships at Mount Tahoma High School, May 26-28.
It was at last year's state meet where the team first broke the school record with a time of 43.79. They have since bested that mark four times this season, including a top time of 42.97 which was set at the 52nd annual Shaner Invitational at Tumwater High School on May 6.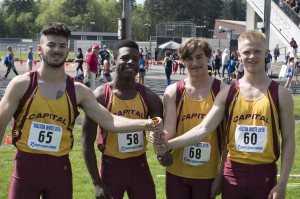 A second-place finish followed at the 3A Narrows League Championship when they were edged by a #1 state ranked Lincoln Abes' team before finishing third at the district meet.
Now, with loftier goals, the Cougars are looking to once again break their own record at the state meet and in the process challenge for a state championship.
"This team has really put in a lot of work," Capital coach Jerry Miller said. "It's been all of them, including the alternates (Ethan Au and Noah Hamilton). They have continued to push each other the entire season."
The group was formed last year, but didn't have its current running order until late in the 2015 season.
Once that was pieced together, records started to fall.
"It was awkward (at the start of last season) because we didn't have the order we have now. We haven't changed the exchange orders since," said Turner, who runs the third leg of the relay. "We feel the handoffs are really strong because we have this bond going for us."
Heading into the state meet, the Cougars' time of 42.97 is fourth among 3A relay teams, trailing Lincoln (42.42), Juanita (42.82) and Auburn Mountainview (42.93).
"I feel like we can really do something," said Broxton, the team's anchor. "We broke (the record) last year at state. We handled (Lincoln) last year at districts. If we work hard we can do it again."
Smith and Turner will both pull double duty at the state meet with Smith also competing in the 100 and Turner in the 200.
In addition, the Cougars' girls squad advanced Regie Grady (200), Bella Torres (3200) and Chloe Lamenzo (long jump) to the state meet.  The 4×100 relay (Laurel Mack-Wilson, Chloe Lamenzo, Paris Crawford, and Regie Grady) and the 4×200 relay (Laurel Mack-Wilson, Hannah Chamberlin, Chloe Lamenzo and Regie Grady) have also advanced.
Read more about local track teams heading to state in this article.