For 27 years South Puget Sound Community College (SPSCC) has hosted an annual daylong conference for middle school girls to explore careers in science, technology, engineering, and math (STEM).
From suturing stuffed animals and making "asphalt" out of melted chocolate, to welding metal and developing smart phone apps, the girls spend their time doing hands-on activities with women who are leaders in STEM fields.
"The cool thing about this longevity is we're now seeing the daughters of alumnae act as mentors—it's exciting to see," says Kelly Green, director of public relations and events for SPSCC.
Expanding Your Horizons Thurston County takes place on Saturday, March 5 at SPSCC and is open to sixth, seventh, and eighth grade girls. Thirty-five hands-on workshops, all led by women professionals, will take course throughout the day. The middle school girls will each get to experience three of the workshops, and hear keynote speaker Amber Smith, education manager at the WET Science Center, speak on water conservation.
Green, who also co-chairs Expanding Your Horizons Thurston County, has two daughters of her own, and praises the programs commitment to young women—to let them know it's ok to be good at science, technology, engineering, and math.
"At the heart of Expanding Your Horizons is to get younger girls excited," she says. "Research shows that when female students are exposed to female professionals, it allows them to truly see themselves in those careers. It's just a different learning environment. The girls experience a level of comfort that they won't always get in school."
The event is organized by nearly 50 volunteers from the community, including SPSCC faculty and staff. For example, SPSCC faculty member Dr. Sarah Cabbage teaches a course called "got DNA?"
"It's a passion," explains Green. "There's value in our staff getting to show off what they do. Several instructors volunteered their Saturday to support these classes. It's fun for them to see the next generations get excited about the same things that excited them when they were young. All of our mentors – more than 50 of them – do it for no return other than exposing STEM to these girls. My hat's off to them."
This year more medical and dental opportunities have been added, including workshops called "Real Life Nursing" and "Dental Assisting – The Art of Teeth." Other STEM course choices include Robots Can Line Dance, Radiation: Myth Busters, and Get out of My Hair—Toxins in Personal Care.
There is a maximum enrollment of 12 girls per class. "We try to keep class sizes small so that instruction can be really good, really immersive, with lots of opportunity for one on one engagement," says Green. "You see the girls coming out of the classes with a piece of welded metal or a polymer chemical ice-cream cone, sharing things with each other, and you can just see the excitement."
While STEM career opportunities and exposure is the core of Expanding Your Horizons mission, it's also beneficial for the students, and their parents, to spend time on a college campus. SPSCC has a commitment to encouraging math and science programs for girls as well as showing them what college life is all about.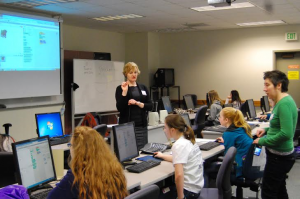 "We're thrilled to bring young women on campus to give them a glimpse of what a future STEM career could look and feel like," says Meg Estep-Woolf, SPSCC's outreach coordinator. "It's also a great time for youth to connect with leaders and role models, especially women in STEM fields."
For parents, workshops are available to help navigate their daughters' interests and how to plan for an education around these interests, including communication skills with tweens and teens, and lower cost ways to pay for higher education.
"Attendees, both parents and students, will explore and learn new ways of interacting with each other," explains Estep-Woolf. "And to experience first-hand the fantastic resource we have in SPSCC—a nationally-recognized 2-year college right here in our own community—that can take students wherever they want to go."
"Students and family members will learn new skills they can implement in their lives right away—whether that's tips on researching scholarships, connecting with others, building "college knowledge" in middle school, following their dreams, and more," continues Estep-Woolf.
Green says that the surveys they get back are overwhelming positive. In addition, many girls come back year after year. One parent commented on the Expanding Your Horizons Facebook page: "My daughter went to this and went to college graduating with an environmental science degree. It's a great event."
Visit the Expanding Your Horizons registration site for a complete list of offerings, and check out this cool video to learn more.
Sponsored