It certainly seemed like the right decision at the time for T.J. Borden.
Last year, toward the end of his junior season, Borden elected to quit the Black Hills High School wrestling team.

Albeit difficult, Wolves head coach Malambe Gonzales took the news in stride, informing his now former athlete that the door remained open for a return next year.
Borden simply told Gonzales he would let him know if you had a change of heart. Initially, neither truly believed that would occur.
"It was really tough on me. I lost a few nights of sleep, if you ask my wife, over T.J. quitting last year," Gonzales said. "I knew he was burned out. He was always the guy at 220 (pounds), wrestling really tough matches, and losing by 1 or 2 points to the top guys in the state. I feel like that's the reason why he quit originally. It's tough to constantly step back out on the mat when your end result is a loss."
There's a sign in Gonzales' office which reads: "Better never quits and quitters never get better."
Gonzales embraces this mindset and preaches it to his squad, and just because Borden had already turned in his singlet, Gonzales still considered him a part of the team.
"I approached him every time I saw him," Gonzales said. "I saw him in line at Dairy Queen and gave him a little nudge and said 'You know, you can still come out. No hard feelings."
That "No Quit" mentality applied to Gonzales' tactic at pursuing Borden. It was relentless and ultimately broke Borden, swaying him to return to the mat.
"I think he can really persuade anyone to do anything. He pretty much dragged me back into it," Borden said with a grin. "There is a little regret. At the beginning of the season I wasn't sure if I was going to wrestle. (Coach Gonzales) talked to me and then I was definitely into it. I am glad I came back out."
Borden went from not being a member of the team to triumph.
He claimed the 195-pound championship at the Class 2A Region III wrestling tournament and will now close his high school wrestling career at the state championships, which takes place February 19-20 at the Tacoma Dome.
"I think he's realizing how much better he'd be if he didn't quit," Gonzales said. "The drive that he has now, he knows what happened when he quit. There was no end result. I think because he quit last year he came in with a goal this year. He came in hungry. He's burning for it."
Fellow senior Gage Keesee (160 pounds) will join Borden at Mat Classic XXVIII, both looking to take home a state championship.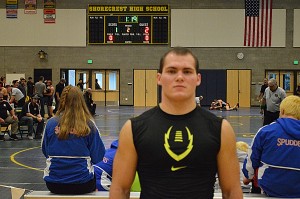 It will be Borden's first trip to state as a participating wrestler. As a freshman and sophomore he worked the tournament, helping notify referees when a round had ended and providing general assistance when called upon. This time around his tasks will be far more specific.
"It's pretty exciting. I'm excited to finally actually get to wrestle at the mat," he says. "I'm just going to try to go to the top."
Borden will face Tyee junior Conrado Barrera in the opening round at the state tournament. Borden enters the tournament as the No. 5 ranked 195 pounder in the 2A ranks by Washingtonwrestlingreport.net. A potential match-up with third-ranked Anthony Ruiz could take place in the quarterfinals, while two-time state champion Dylan Beeler of Clarkston sits on the opposite half of the bracket.
"He came back out and it was just great. It was a good feeling just having him step back out into the mat room," Gonzales said. "He picked it right back up. He's always been mentally tough in all of his matches."
Remarkably, Borden, who has a 3.4 grade point average, started the season in the heavyweight division, coming in at 235 pounds.
"We had a couple tournaments where kids didn't want to step out onto the mat with him," Gonzales said. "We went to a tournament in Renton. T.J. missed weight at 220 so I had to wrestle him at heavyweight and as soon as he took his shirt off they just gave a forfeit. It happened twice that day."
Gradually, Borden trimmed down to wrestle in the 195-pound category.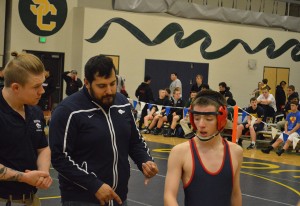 "We dropped down to 195 because how competitive it was. I feel T.J. can beat anybody," Gonzales said. "Once he dropped all that weight, why not drop down to 195 instead of wrestling guys that are 20 pounds heavier than you? He's overall just a beast."
Despite the weight loss, Borden still maintained his brutish strength, placing him among the state's strongest of wrestlers in the division, a fact he quickly realized.
"The first time I wrestled at 195 everything felt pretty light," Borden said. "I got used to it pretty quick. It's a tough weight class."
Borden will now look to end this season with a state title – an accomplishment which seemed farfetched this time last year.
"What I want my team to take away from this season is when the going gets tough, quitting is not where you want to go," Gonzales said. "I try to explain to my wrestlers, just try to be better than the day before."