By Rachel Thomson

Crayfish tails and green onions or a blend of beef and pork meatloaf aren't ingredients most come cooks would think of adding to macaroni and cheese.
It's a concept Steve Cobb hopes will catch on among Thurston County diners. The 52-year old owner of the Mac N' More restaurant in Lacey has spent the last few years integrating combinations of ingredients to one of America's favorite comfort foods.
"I strive to serve original food, stuff you can't get anywhere else in town," Cobb said. "We're taking mac and cheese, which is a traditional side dish and elevating it to a sophisticated main dish. We're also slightly twisted, off the normal path and want to appeal to foodies out there who are looking for something interesting and daring."
Mac N' More has a menu featuring eight or nine macaroni and cheese skillets. Each dish begins with a portion of traditional elbow macaroni smothered in a smooth, creamy sauce with a slightly smoky undertone featuring a blend of four cheeses including Tillamook aged extra sharp cheddar. Various ingredients such as crayfish and green onions (The "Mudbug"), tender chicken strips coated in a tangy buffalo sauce and blue cheese (the "Buffalo") are cooked along with the macaroni and cheese rather than simply tossed on top–a process Cobb says creates a marriage of flavor profiles. The dishes are finished with finely crushed corn flake crumbs to add a crunchy texture. Other combinations include "the loaded potato mac" (bacon, potatoes, green onion and cheddar cheese) and a mac and cheese meatloaf with a beef and pork meat blend, tomatoes, green onions and bacon. There's also a "garden" option featuring spinach, black olives, tomatoes and green onions.
Customers also have the option of channeling their internal macaroni artist by creating unique combinations using a choice of ingredients such as pickled jalapenos, hard boiled eggs, avocados, mushrooms, pesto and chili beans. And of course, there's always the original mac and cheese option with no mix-ins.
Cobb says with all the various ingredients and combinations on the menu, there are more than 1,000 different mac and cheese combinations.
Rise of the Mac
Steve Cobb and his wife had always dreamed of opening their own restaurant, but career and travel prevented them from doing so. His wife, Kati Cobb, was an Army soldier, and Cobb says he and his family lived as "nomads" for close to 26 years. Kati Cobb served three terms of deployment in Iraq. For a while, Steve was a stay-at home dad, and when his kids grew older, he held many positions in the restaurant industry and spent years refining his culinary skills before opening Mac N' More in 2011.
Eventually, Kati's military career brought them to the Pacific Northwest. Steve spent some time cooking for soldiers at JBLM. He studied some old recipes on Army recipe cards and made several dishes using their cooking techniques. He eventually rose to a shift leader, supervising eight cooks. Together they made thousands of meals for soldiers out in the field. Sometimes, they would make up to 1,000 meals per meal period. After leaving JBLM, he continued his career at Elyse's Catering in Tumwater for two years, where he became head chef. He also spent some time at the Dome Deli on the capitol campus cooking mainly when the legislature was in session.
By then, Kati had returned from her deployments in Iraq, and had risen to the rank of a First Sergeant. After three deployments, Kati decided it was time to retire. It was then that she and Steve revisited their dream that was more than two decades in the making.
"We always said that once she retired, we could open our own place," Steve said.
Opening a restaurant required a lot of planning, determination and research. Steve said he did a lot of market research about what kind of restaurant people would want in Thurston County that wasn't already there. He even spent time polling random passersby on the street. He also did research on various types of restaurants throughout the country, in larger cities. One restaurant he came across was S'Mac restaurant in New York City, where the menu featured macaroni and cheese as a main dish. He says macaroni and cheese restaurants were popular in larger cities and areas near universities, mostly because it was often an affordable late-night bar food dish, and it appealed to mass populations because it was a traditional comfort food. He says the restaurants were often called "urban mac and cheese houses."
"The concept was copied in big cities but not here," Steve said. And so the idea for Mac N' More was born.
Running Mac N' More has been truly a family affair, Steve said.
His son, Theo, often helps cook in the kitchen. Sam, the couple's daughter, who is a Washington State University business graduate helped develop the marketing plan. And his other daughter, Jordan has dreams of one day opening her own bakery and many of her baked treats are available at the restaurant.
"I'm all proud. They're a chip off the old block," he said of his children.
He also said he eventually wants to open five restaurants, including one in West Olympia and start offering gluten-free options.
'N More
Mac and cheese isn't the only thing on the menu. It also features a wide selection of American diner fare. There's fresh salads with crisp vegetables and homemade dressings such as champagne vinaigrette thousand island. There's soup, chili, meatloaf, buttermilk marinated chicken breast and a variety of classic sandwiches and burgers served on a giant English muffin.
The food isn't the only thing customers can enjoy. Each table is painted with a chalkboard friendly paint so you can draw on the tables with chalk while you eat.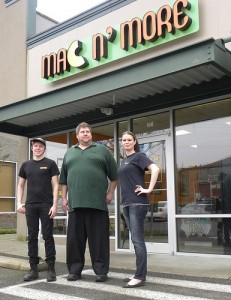 9323 Martin Way in Lacey
Hours: 10:30 a.m. – 8:30 p.m. Monday-Friday
9:00 a.m. – 8:00 p.m. Saturday and Sunday
Follow the restaurant on Facebook.