By Gail Wood

With a wide grin, a jubilant Darren Harris raised both his arms above his head and pointed three fingers on each hand.
This was his moment to celebrate, to savor his third state championship. In his final match as a Yelm Tornado, Harris, a senior and four-time state qualifier, put an exclamation point to his spectacular high school with a pin, of course, to win his third state title.
Harris, the state's all-time leader in pins with 112, pinned three of the four opponents he faced at the 4A state wrestling tournament in the Tacoma Dome. In the finals at 129 pounds against Lake Stevens' Alex Rodorigo, Harris led 8-2 after scoring on a near fall. Then Harris, as he's done so many times before, flipped his opponent to his back and won by a pin.
"This is the best possible feeling I could get," Harris said moments after winning his third state title. "I wanted to be a three-timer and that was it. I just set my mind to it and practiced way harder to achieve my goal."
Yelm High School coach Gaylord Strand didn't know whether to cheer or cry.
"It's been quite a ride," Strand said. "He's given the community so much joy and pride. Now, it's all come to an end. I'm happy and sad at the same time."
While focused on his end goal – to win three state titles – Harris wasn't focused only on himself. He was like a coach, always helping teammates with technique, giving them advice at practice.
"We're really going to miss him in the practice room because anybody he touches he's helped," Strand said.
After winning his first state title as a freshman – "That was my goal since I was in seventh grade," Harris said – he had a setback. He lost in the finals his sophomore year in a match that he led 8-1. Determined not to lose again, Harris went undefeated his next two seasons, stringing together 64 straight wins. He went 29-0 this year and finished 129-7 as a Tornado. He's the first to win a state title at Yelm.
"He's got a lot of drive," Strand said. "He sets his goals and nothing gets in the way. He's so focused. As you can see nothing gets in his way."
Harris' high school career is over. But his wrestling days aren't done. He's considering scholarship offers to wrestle at Boise State and Oregon State.
"I'm really going to miss it," Harris said about wrestling at Yelm. "Strand and all the coaches are great coaches. I'll still be coming by just to say hi to all my friends. It's been an honor to be part of the team."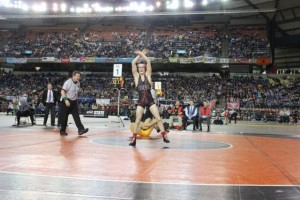 After winning the regional title, Yelm had 14 wrestlers qualify for state and the Tornadoes finished with four placers. Besides Harris, Tanner Page (138), Bo Campbell (170), Holden Miller (220) all placed.
Page won his first match 15-5 and then lost 5-2 in the quarterfinals and ended up placing sixth. Campbell lost his first match and then won his next two matches and placed seventh as he pinned his final opponent. Miller won his opening match 3-1 before losing 6-3 in the quarterfinals and finished seventh at 220 pounds, pinning his final opponent in 4:44.
In the 2A meet, Tumwater High School's Eric Schmidt, a senior who was an alternate to state last year, won his first three matches to reach the finals at 132 pounds against Orthello's Many Martinez, last year's state champ. Schmidt got into trouble early and lost by a first-round pin.
Schmidt overcame adversity during the season and impressed his coach, Tony Prentice. Before every match, Prentice always placed the emphasis on composure, not on winning.
"He's made huge strides," Prentice said. "This is such a bonus. He's had some other things going on personally that makes this story so much more dramatic. He's overcome so much."
Four of Tumwater's nine state qualifiers placed. Zach Slater placed third at 170, Sam Richards was fifth at 182, and freshman Cy Hicks was fifth at heavyweight.
Slater pinned his first opponent and then lost by a pin in the quarterfinals. Slater then won his next four matches, winning 4-2 in the consolations finals. Richards pinned his first opponent in 2:15 and then lost 8-2. He won his last match 8-7. Hicks won his first two matches 3-2 and 3-1 then lost 5-2 in the semifinals. He pinned his final opponent in 1:47.
Prentice was second guessing his decision not to go out for lunch after Saturday's morning round. But with about a 90-minute window, he decided to stay in the Tacoma Dome, making a decision most coaches would have made.
"We went 6-3 in the first round," the Tumwater coach said. "Then we went 3-7. Maybe if we had gotten our brain out of here for a bit, we probably would have done better."