By Holly Smith Peterson

Sometimes you just have to get outdoors during winter in the Pacific Northwest — earmark that mantra to infinity if you have kids of any age. And if you're in or near Thurston County, you're lucky; with 25 county-owned regional park sites that encompass some 47.5 miles of recreational trails and 2,800 acres of natural beauty, the places to kick up your heels and walk, bike, hike and jog abound. Even in the sloshy regional downpours, any of these are a healthy, heart-upticking activity that recharges your batteries.
However, as the fitness-conscious mom of three teenagers, who has been exploring trails both accompanied and alone for the past 17 years, I prefer the leisurely stroll to appreciate my surroundings. Here are some of our favorite winter weather walks; take your time and enjoy them.
Tumwater Falls Park
This gorgeous historic park's unique setting along the rushing Deschutes River and trio of waterfalls is our top pick in any weather. The half-mile trail is paved for the most part, and includes scenic bridges, old forests, marshy islands with wetland birds and historic buildings. Hemmed in by I-5, it's easy to access and terrific for teaching local history, as years ago the area was first occupied by the Salish Tribe, then was a 19th-century rendezvous point for the Hudson Bay Company and explorers from Fort Nisqually and Fort Vancouver. The name "Tumwater," in fact, is a Chinook tribal word meaning "falling water" that was adapted by the area in 1863.
In 1962, the Olympia Tumwater Foundation created this 15-acre park, which now attracts nearly 1 million visitors and local residents each year. Highlights include the Salish Native Plant Garden, with its 50-plus indigenous plant species courtesy of the region Chehalis, Nisqually and Squaxin Island tribes; numerous interpretive panels that show how the site was home to the first American settlement on the shores of Puget Sound, and later to eight water-dependent industries; and the state salmon hatchery operation. Down the road but still part of the park is the 20th-century Schmidt House, formerly owned by brewery magnate Leopold Schmidt.
Capitol Lake
It's just a 1.5-mile loop, but it's always so fascinating; ever-changing depending on the time of day and the weather. It's the best people-watching, with runners in skin-tight lycra finery, couples bundled up and hand-in-hand, families with children leaping at the sound of ducks and lunging at the sight of dogs who frequently trot along this route as well. To go fast, stay on the outside loop; to stroll with your hot cup of java or cocoa feel free to wander the central trail. Rain or shine, it's a wonderful way to appreciate the views of your state capital city (and often see some very famous faces along the way). Tip: To add toughness, hike up the hill to the Red Lion Hotel and back, or continue a mile or so along the boulevard toward Priest Point Park.
Percival Landing Boardwalk
Every once in a while you have to just do the near-mile waterfront loop again – the Budd Bay and Port of Olympia loop, that is, which is always teeming with local activity. Be it legislators, government or business officials hot to trot for some fresh air between meetings, a gaggle of extended family gawking at the Port's giant timbers, yachties yakking it up between motor board excursions, or simply the kookiest local artsy types, the walk itself is stories in the making. Along the main route, there's local visual art, restaurants and galleries, and a playground; keep going to the Port and you'll find abounding waterfront views.
Nisqually National Wildlife Refuge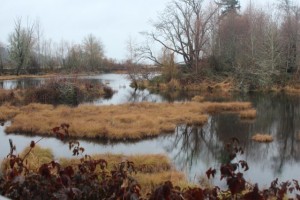 After 20 years in the Puget Sound region, I only just discovered this 2,818-acre refuge as part of the new Thurston County Bountiful Byway scenic driving route. And I first experienced it in a late-autumn downpour — which, coincidentally, is one of the best times to view birdlife. With the easy 5.5-mile Brown Farm Dike Trail and the paved 1-mile Twin Barns Loop Trail, the Nisqually National Wildlife Refuge is an excellent way to explore lower Puget Sound's marshes, saltwater tidal mudflats, creeks, rivers and at least a few species of its 20,000 migratory birds. Besides the ubiquitous mallards and Canada geese, look for great blue herons, peregrine falcons, red-tailed hawks, and bald eagles. Tip: A Great-horned Owl nest is in the attic of the north barn, and they're often in the tall, long-limbed cottonwood trees.
Priest Point Park & Ellis Cove Trail
My first experience on this 2.4-mile jaunt was on Mother's Day, which made it perfect for a woman who loves the outdoors. Once the site of ancient Squaxin Island family villages, the 341-acre park is now a forest of towering trees where osprey nest and otters play in the bay. Wear shoes that can get wet and muddy; the tidal shoreline trail crosses watersheds on the lowest shores of South Puget Sound. Besides dense forests, challenging uphills and downhills, and pretty beaches, there's a bonus – striking views of the State Capitol and downtown Olympia.
Black River/Mima Mounds Natural Area Preserve
To explore an unusual geological wonder while getting your fresh air, head to the 2.5 miles of trails in this park. Gently sloping mounts up to 7 feet tall by 30 feet wide punctuate the landscape here, with brochures available to highlight historical points. Note that the area is also known as the Glacial Heritage Preserve, and is a top-notch example of the 19th-century Puget Prairie ecosystem well-known by settlers of the time — only 2.6 percent of this former ecosystem now exists here.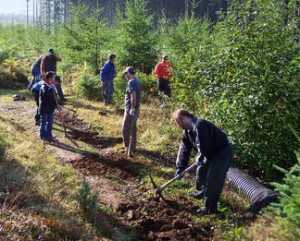 Yelm—Tenino Trail
If you're looking for a longer walk, this 14.5-mile trail through south Thurston County threads through Yelm, Rainier and Tenino and runs parallel to State Route 507. The corridor was acquired by Thurston County in 1993, but historically ran as a railroad from the late 1860s through the 1980s. Traversing forest and agricultural lands, wetlands, creeks, and other habitat, it has accessibly from any of these cities. Begin or end near Yelm City Hall, between Centre and Minnesota Streets behind Rainier Market in Rainier, or at Tenino City Park, and enjoy picturesque scenes of the Deschutes River and of McIntosh Lake. The track also bisects the Chehalis-Western Trail if you're interested in a long-range detour to Lacey, Olympia,  Tumwater and Puget Sound.
Rock Candy Mountain
At 2,356 feet, Rock Candy is the "third-highest officially-named" peak in the Black Hills; it's also the fifth-highest named summit in Thurston County. And while nearby Capitol Peak and Larch Mountain may be taller, Rock Candy has superior views of both those peaks as well as the Olympic range, the triumvirate of Mount Saint Helens, Mount Adams and Mount Baker, and the nearer points of Fuzzy Top and Buck Ridge.
Capitol Forest
With sweeping views from the Pacific Ocean to Mt. Rainier, this 90,000-acre park provides 160 miles of rugged track for multiple uses. Fortunately, there are several accessible 1-mile segments open to hikers (and walkers) only. There's access to 2659-foot Capitol Peak, from where you have overviews of all the classic Northwest summits and the Bald Hills.
Chehalis-Western Trail
Long walks through the Thurston County countryside follow the former tracks of the Chehalis Western Railroad, which links Woodard Bay with Lacey's Martin Way. The historic rail line, operational from 1926 through the mid-1980s, slices north-south through the heart of Thurston County, including ecosystems in both rural and urban areas. The 170 acres of parkland along the way front the Deschutes River, Chambers Lake and Puget Sound, as well as various wetlands, forests and farms. When you need to clear your mind for an extended period — or escape from kids, or exercise them — this is a perfect pick.
Bonus: Off-Leash Dog Park
Most of the above parks are dog-friendly, but sometimes Pete just needs to get off the leash. Here's where to go when you want a brisk trot with the dog, and then some freedom to sip your java. Start with the Off-Leash Dog Park in Lacey, open 8:00 a.m. – 5:00 p.m. daily. A paw-shaped patio, decorative fire hydrants, an expansive field, and fun canine play structures will keep the pup busy.
Thrifty Thurston highlights inexpensive family fun in Thurston County. The weekly series focuses on family-friendly activities throughout our community. If you have a suggestion for an article, send us a note at submit@thurstontalk.com. For more events and to learn what's happening in Olympia and the surrounding area, click here.