By Gail Wood
Amy Murry's love for swimming and passion for her profession as a massage therapist took her to a very unlikely place in December.
For 10 days, she was in Doha, Qatar, working at the FINA World Swimming Championship where the United States was one of 170 competing countries.
"It was great to have the opportunity to be in somebody else's culture," Murry said. "It was a great opportunity to see for myself what a small part of the Middle East was like. We were treated very well."
Two years ago, Murry, who lives in Olympia and has been a massage therapist for 18 years, first hooked up with the U.S. Olympic Team's sports medicine group. Murry worked at the World Cup in wrestling in Los Angeles last April. Her trip to the Middle East was her first abroad.
"This was a great opportunity to see the world and do my work at the same time," Murry said. "It was a win, win."
In the past year, Murry has worked many U.S. Olympic athletes, and not just swimmers. She's also worked with wrestlers and triathletes. Her massage experience with the U.S. Olympic teams dovetails nicely with her new business. About a year ago, she opened Human Body Works, a massage clinic in Lacey.
Her experience with the U.S. Olympic athletes isn't only a fun experience. It also helps boost her resume.
"It definitely broadens my work portfolio," Murry said.
There's another benefit. Murry also gets to see and talk with the swim coaches. She's coached her three children in club swimming over the years with the Evergreen Swim Club. Her oldest son, Wes, was a captain on the Olympia High School swim team and is now attending college.
Even though Murry, who is a certified coach with the American Swimming Coaches Association, isn't coaching right now, she was absorbing what she saw and heard the U.S. swim coaches do at the meet.
"It's fun to get some tips from coaches as well," Murry said. "I'm not coaching right now. That's on my back burner. I opened this clinic this past year. So, I've been focusing on that."
Murry was one of two massage therapists who went with the U.S. swim team to Doha, which is on the Persian Gulf and next to Saudi Arabia. Also on the sports medicine team making that trip was a chiropractor, an athletic trainer from Arizona and a doctor from Indiana. Murry is one of about 20 massage therapists who are on the list to go to international meets.
At Doha, Murry stayed busy, performing between 10 and 20 massages a day.
"We were very busy. Sports massage is a little different in an event situation than a regular massage when you go into a clinic," Murry said. "It's a more vigorous massage lasting for a few minutes, no more. Just shaking the muscles out and getting them ready. Get them pumped up and ready to race."
Her involvement with the U.S. Olympic teams came out of her involvement as a swimmer.
"I'm a lifelong swimmer. My family has always been in swimming," said Murry, who grew up in Minnesota and Wisconsin. "I was a swimming coach in the area for a long, long time while also working as a massage therapist."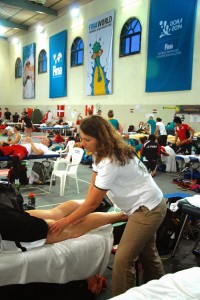 When Murry stopped coaching, getting involved with the U.S. Olympic athletes was a way to stay involved with sports.
"Swimming opened the door for me to work with other sports in the Olympic Committee governing body," Murry said.
Several times a year, Murry meets with the other members of the sports medicine team in Colorado Springs at the U.S. Olympic Training Center. While her experience at Los Angeles and Doha was rich, it wasn't that rewarding financially. Her experiences – flight, hotel and meals – were paid for, but she wasn't paid for her work.
"They take care of us and all our expense," Murry said. "But our actually working time is all volunteer."
For Murry, the experience, going to an international event in a foreign country and working with the U.S. Olympic athletes, is reward enough.
"We maybe didn't win as many medals as we were hoping," Murry said. "But the U.S. certainly dominates in swimming. It's always fun to be part of that. We have some amazing athletes representing our country."
To connect with Amy Murry, contact her at 360-402-6776 or visit her website.